Katherine L. Kraschel
Clinical Lecturer in Law, Research Scholar in Law, and Executive Director of the Solomon Center
---
Katherine Kraschel is a Clinical Lecturer in Law, Research Scholar in Law, and Executive Director of the Solomon Center at Yale Law School.
FULL BIOGRAPHY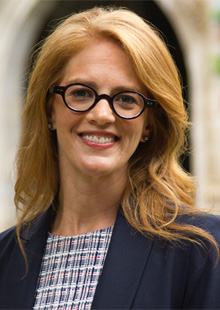 Education & Curriculum Vitae
---
J.D., Harvard Law School, 2012
B.A., Mount Holyoke College, 2006
Courses Taught
---
Reproductive Rights and Justice Project
Katherine L. Kraschel is the Executive Director of the Solomon Center for Health Law and Policy as well as a Clinical Lecturer in Law and Research Scholar in Law at Yale Law School. She co-teaches the Reproductive Justice Clinic and the Medical-Legal Partnership Seminar.  Previously, Kraschel was Associate Counsel at Yale New Haven Health System, focusing on corporate regulatory work including affiliations, clinical research, and Stark and Anti-kickback compliance. Prior to that, Kraschel was an associate at Foley & Lardner's Boston office and worked in their health care practice group. She also completed Harvard Medical School's Fellowship in Bioethics and serves on Yale New Haven Hospital's Ethics Committee. Prior to pursuing a career in law, Kraschel worked as a scientist at Pfizer.  She holds a bachelor's degree in biochemistry from Mount Holyoke College and a law degree from Harvard Law School, where she was a student fellow at the Petrie-Flom Center for Health Law Policy, Biotechnology, and Bioethics as well as Submissions Editor of the Harvard Journal of Law & Gender. She also served on the Mount Holyoke College Board of Trustees.
Kraschel has lectured on and published in the health law and bioethics space, and is particularly interested in assisted reproductive technologies, health policy & gender, reproductive rights, and clinical research ethics. Most recently, she co-authored a chapter in The Handbook of Gestational Surrogacy – International Clinical Practice and Policy Issues. She is also interested in non-profit law, higher education, and governance. In 2016, the National LGBT Bar Association named Kraschel one of the Best LGBT Lawyers Under 40.