The Schell Center provides resources to Yale undergraduates interested in pursuing human-rights related summer internships and research projects in the U.S. and abroad. Schell Center faculty refer students to relevant organizations and positions, and the Human Rights Program offers its students some funding to pursue summer human rights projects.
Check out our guide to human rights on campus and the Yale Student Grants Database for a more expansive list of grants and fellowships relating to human rights. Also, to see the complete list of summer human rights fellowship placements facilitated by the Schell Center since 1999, click here.
Keera Annamaneni
Keera Annamaneni, YC '20, spent summer 2018 working for the Bronx Defenders, a public defense nonprofit that represents low-income people in the Bronx in the criminal, civil, immigration, and family court systems. As a parent advocate intern, Annamaneni helped support parents navigating neglect and abuse cases in Bronx Family court. She specifically worked on the Bronx Defenders' groundbreaking new project, Early Defense, which provides representation for parents during the child protection investigation that takes place before a legal case is filed (68% of the cases where Bronx Defenders represented parents during this initial investigation did not result in a legal finding, enabling Bronx Defenders' clients to avoid court intervention altogether). As a part of the early defense team, Annamaneni advocated for Bronx Defenders' clients in ACS conferences, connected clients to resources, and collaborated with attorneys to limit court intervention. She also worked with Bronx Defenders' communications team to develop press strategy. At the end of the internship, Annamaneni helped write a proposal for a holistic early defense team. In her spare time, Annamaneni produced a documentary called "120 Years," about a New Haven man sentenced to life in prison for a crime he did not commit. After her experience in Bronx Family Court, she has "come to understand that the most accurate predictor of foster care involvement and child welfare is neither parental abuse nor neglect—it is poverty."
Zulfi Mannan
In the summer of 2018, Zulfi Mannan, YC '20, worked in Karachi, Pakistan for an organization called SOCH. SOCH, named for an Urdu word meaning "think," conducts responsible journalistic research on Pakistani issues and produces short videos on its findings. In contrast to much of the journalism in Pakistan, the videos are mostly in Urdu – switching to English where necessary – which makes them more accessible to the general Pakistani population. Mannan's main roles in the organization were to further promote content accessibility and participate in conducting interviews. Mannan also got to work on a documentary on Dastangoi, a precolonial form of storytelling common in Mughal society that uses mythical elements to invigorate social change; a set of graphics condensing Pakistani political parties' manifestos, which were shared online in an unprecedented way; and a research project Mannan pitched on whether the China-Pakistan Economic Corridor is neocolonial. While in Karachi, Mannan also participated in the city's vibrant artistic scene, performing their own work and meeting a variety of other artists. (Click here to listen to one of Mannan's poems, performed in a combination of Urdu and English, which provoked a massive response in Pakistan encompassing everything from praise to death threats.) Mannan said they came out of the summer feeling optimistic, explaining that they were able to see a whole new side of their home country of Pakistan. "Everywhere I went," they said, "I saw positive change."
Michael Borger
Michael Borger, YC '20, spent summer 2018 working at Freedom House in Washington D.C. Freedom House is an independent watchdog organization that promotes political rights and civil liberties across the globe by supporting human rights activists and civil society organizations and by publishing original research on freedoms around the world. Borger interned with Freedom House's Latin America and the Caribbean Program, where he provided programmatic, logistical, and research support. His responsibilities ranged from collecting short news roundups from regional media outlets to helping organize public and private events with human rights advocates, policymakers, and scholars. He also wrote briefs on the tactics authoritarian regimes use to subdue dissent and researched strategies for overcoming those tactics to achieve effective political mobilization in those countries. While at Freedom House, Borger had the opportunity to meet and assist activists whose right to free speech had been compromised by measures such as illegal detention and excessive use of force by government and paramilitary groups. Borger reflected, "I learned that to successfully promote democracy in the real world, it's crucial to meet local demands, work with on-the-ground organizations, and recognize the unique ways in which each country operates."
Rosa Shapiro-Thompson
In summer 2018, Rosa Shapiro-Thompson, YC '20, worked in New York City at the International Refugee Assistance Project (IRAP). As a policy intern, Shapiro-Thompson was engaged in legal casework, legislative research, and advocacy. Current political obstacles to refugee resettlement in the U.S. seriously constrain IRAP's work, but Shapiro-Thompson's work this summer reflected IRAP's efforts to seek out unconventional ways of making an impact. She performed intakes via phone with clients in Baghdad, Kabul, and Beirut, often seeking alternative methods outside of traditional refugee processing that might allow her clients to come to the United States. She particularly focused on family reunification and Special Immigrant Visas, which benefit Iraqis and Afghanis affiliated with the U.S., including former translators for the U.S. military. Shapiro-Thompson also coordinated efforts to have local and state politicians sign a letter in favor of refugee resettlement in their area to debunk anti-refugee rhetoric that relies on the idea that local leaders did not want or were not involved in decisions to accept refugees. Shapiro-Thompson acknowledged the difficulty of working on refugee issues in the current political moment, but emphasized the value of continuing to fight. In such unfavorable conditions, she said, "it was inspiring to be around people who were figuring out how to keep doing work."
Julia Char Gilbert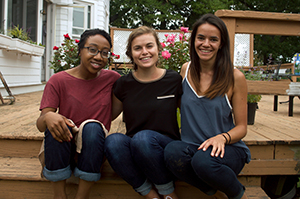 Julia Char Gilbert (pictured right), YC '19, spent summer 2017 working for Rural & Migrant Ministry, a non-profit organization that promotes justice for disenfranchised rural workers throughout the state of New York. As an intern at the Long Island Worker Education Center, she established an English Language Learning (ELL) program for migrant workers in the area. During the day, she developed lesson plans and visited local farms to recruit community members for the program. In the evenings, she facilitated classes that incorporated both language learning and critical discussions about justice in migrant communities. Her work was rooted in the popular education model, an approach to learning that understands education as a tool for social change: the weekly classes she led kicked off with English grammar and vocabulary, and then discussions would turn to labor rights, immigrant rights, women's rights, the right to health, and other pressing issues in her students' lives. "I emerged from the summer with a clearer picture of the unjust systems working against immigrants in the U.S. today — a picture that will inform and motivate my work in human rights moving forward," Gilbert said.
Laura Plata
Laura Plata, YC '19, spent summer 2017 researching the experiences of sub-Saharan migrants in Morocco and how colonial and postcolonial histories are manifest in their migration patterns. She visited migrant communities and conducted interviews, which illuminated the many obstacles faced by sub-Saharan migrants. As part of her research, she also worked at two different NGOs. The first, la Fondation Orient-Occident, provides social and cultural services to refugees, migrants, and asylum seekers. There, she taught English and Spanish classes to Moroccan children and refugees, and she created workshops on sexual and reproductive health and racism and discrimination. The second NGO was a startup legal clinic, where she helped asylum seekers writing appeals to have their cases reconsidered before the UN. Seeing firsthand the poverty suffered by sub-Saharan migrants in Morocco and hearing the stories of the traumas they had suffered was deeply disheartening. However, Plata remains hopeful and came away "feeling like change is possible," she said. "I might not know the answer right now––I might not be the person who can transform the entire system––but we as people can do that."
Maddy Batt
In the summer of 2017, Maddy Batt, YC '19, participated in anti-torture work at two different organizations, Solitary Watch and the North Carolina Commission of Inquiry on Torture (NCCIT). At Solitary Watch, she assisted the organization in its mission of investigating, documenting, and disseminating information about the use of solitary confinement in U.S. prisons and jails. For the NCCIT, she helped prepare a briefing book for a set of commissioners who will ultimately preside over a hearing focused on North Carolina's role in U.S. human rights abuses in the War on Terror. Both internships required her to engage in research and write articles or reports about her findings. Spending each day surrounded by the stories of victims of U.S. torture was challenging at times, she said. However, the knowledge that she was taking concrete steps to expose, limit, and correct the kinds of human rights abuses they faced prevented her from becoming discouraged. "Though my potential impact is limited by the fact that I am just one person and advances in human rights happen slowly, simply knowing that I was contributing to the extent that I could energized my efforts and gave me hope," she said. "I am incredibly grateful that I had the opportunity to spend my summer helping combat U.S. torture."
Sadé Kammen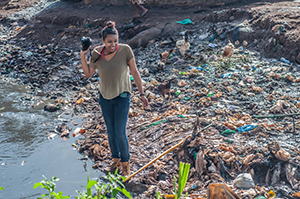 Sadé Kammen, YC '19, spent summer 2017 assisting the Human Needs Project with its work in Kibera, Kenya, the largest urban slum in Africa. While the Human Needs Project began with a project to build a well in Kibera, it has since expanded its scope to the provision of other services in Kibera and elsewhere. The organization's key achievement has been working with Kiberans to construct a "Town Center," which provides basic services like sanitation and "empowerment services" like adult education. This summer, Kammen worked from California, contributing to diverse projects that included starting a biofuel company and creating a grass field to protect children from the lung problems they develop when playing on packed dirt. She also had the opportunity to speak about the project's work at the UN. In the past, Kammen has done work on the ground, and she returned to Kibera around Thanksgiving of 2017 to evaluate the efficacy of the Center and track water in the region using drones. Kammen described the Town Center as empowering. "I see people come back to the center five years later, and it's helping lift people out of poverty," she said. "I think that's really important."