To engage with ideas in human rights scholarship and advocacy, students in the Human Rights Program attend human-rights-related events sponsored by the Schell Center and other Yale organizations and submit reflections on the events. Below, you can find excerpts of reflections submitted by Human Rights Program students.
2018-2019
Siduri Beckman
Class Year: 2020
Event: Diana Rodriguez-Franco, "The Radical Deprivation on Trial: The Impact of Judicial Activism on Socioeconomic Rights in the Global South," November 14, 2018
Reflection:
Last month, I attended Dr. Rodriguez-Franco's talk on what she called "institutional imagination." Her talk reframed judicial activism, a term that takes on polarizing meanings, and instead placed the concept in an almost evolutionary context. The role of the judiciary should change, and it should change through precise and forward-thinking applications of case law. Most significantly, Dr. Rodriguez emphasizes, is that judicial activism allows for socioeconomic rights to be justiciable. Given this, what should the role of the courts be in creating social change? How can a progressive court have the most impact by allowing follow up, all while avoiding the disruption of checks and balances?...When considering whether or not to address the socioeconomic rights of IDP and access to abortion, where do we draw the line with justiciability? Allowing a Court the ability to rule on policy creates the opportunity for a human rights abuse to be furthered by the court. How do we distinguish in scholarship precedent that can be undone without putting at risk all of the contested victories human rights organizations and individuals have won so far? I believe in the power of institutional imagination and agreed with Rodriguez's structure of material and symbolic wins shifting policy and culture. But the talk further challenged me to separate legally the interpretations that I felt were enshrined and those that I felt needed to be challenged as soon as possible. This challenge felt especially pressing given the American constitution, which does not explicitly protect many rights, such as socioeconomic and reproductive rights, and our current life-tenured Supreme Court, which becomes more conservative with every passing year.
Read a longer excerpt of Siduri's reflection.
Michael Borger
Class Year: 2020
Event: "A Conversation with Andrew Gilmour, Assistant UN Secretary-General for Human Rights and Head, New York Office of the UN High Commissioner for Human Rights," October 30, 2018
Reflection:
As the person in charge of Yale Model United Nations, I often feel comfortable in discussions regarding the failures and successes of past UN interventions, as well as well-versed in the global dynamics that underpin the UN's operations. In other words, it does not surprise me to hear that impasses emerge in the Security Council because of Russian vetoes or that the Chinese Mission to the UN refuses to acknowledge certain human rights conventions. But, the trajectory Gilmour described for the world's path ahead is disconcerting, and it was palpable that it left him uneasy, too...I was particularly shocked that not only has the UN been unable to stop some regimes, but it has also been complicit in certain human rights violations. Broadly, many of us know well about how the Security Council pulled out of countries such as Rwanda right before conflict escalated and reached its peak. But, Gilmour's comments made me better internalize the extent to which the UN system has not simply been imperfect. Rather, it has been detrimental under some circumstances. For instance, Gilmour briefly touched on occasions in which UN peacekeepers handed over boys for execution as part of negotiations to enter warzones without retaliation. The decision-making, in light of ethical considerations, behind this type of compromise is impermissible and reprehensible from a system that prides itself on universal defenses of human rights. Granted, the peacekeeping operations are often run by soldiers from various member countries, and it was unclear if this type of compromise is often made strategically by the UN or if it really is an on-the-ground question in which the deployed peacekeepers act on their accord. Still, I left the conversation with an increased awareness of not simply the imperfections of the UN, but rather its ability to be transformed into a tool of oppression if not properly run.
Read a longer excerpt of Michael's reflection.
Hala El Solh
Class Year: 2020
Event: "120 Years, A Film and Discussion about Wrongful Conviction and Exoneration," November 28, 2018
Reflection:
I was very impressed with this screening...I think this was a wonderful depiction of how stories can be incredibly moving, and can often inspire people more than textbook analyses of systemic injustice or outrageous statistics. I believe that narratives are underused in the human rights sphere, and are a strong way of making human rights more accessible and a tool to inspire change. This is one of the first rules of journalism: individual stories are more powerful than statements of facts. I think that if we want human rights abuses to be covered more thoroughly and to capture the attention of more people, we should think about the way we present them. Frameworks and human rights jargon are limiting and I think dissuade people from pursuing human rights in that human rights are presented as much more complex than they are. However, I strongly believe human rights affects everyone in some way, and the media, as well as the language we use, should reflect that. Using more individual narratives is one step in remedying this problem.
Read a longer excerpt of Hala's reflection.
Jordan Harris
Class Year: 2020
Event: "Poems in Pursuit of Peace: A Poetry Performance by Emi Mahmoud," October 29, 2018
Reflection:
Attending Emi Mahmoud's poetry reading and Q&A was a reminder of the different ways in which we have to approach human rights. As someone interested in the relationship between human rights and the arts, specifically theater, it was inspiring being in a room with an acclaimed poet who uses her art as a vessel for change. Using spoken word makes human rights more accessible to the general population. Not everyone has access to documents like the UDHR or Convention Relating to the Status of Refugees, and even if one does it is not a guarantee that they can be easily understood. Many of these treaties were written in such a way that makes it difficult to fully understand what is and is not protected. What Emi does is transform the information in those documents from abstract to engaging and concrete.
Read a longer excerpt of Jordan's reflection.
Branson Rideaux
Class Year: 2020
Event: Justin Hansford, "Lawyering for Black Lives in the Context of Human and Civil Rights," Human Rights Workshop, November 29, 2018
Reflection:

This lecture brings us to consider a re-invigorated insistence on America's human rights issues writ large, and how they must be brought to the global stage. We are no longer in a government that sees human rights as a priority, and we must sincerely accept that reality if we hope to make our country accountable. In the 1950s, Thurgood Marshall won in a court and country that was incredibly racist and global opinion became crucial to twisting the arm of policy. This country is no longer concerned with the treatment of black people, specifically the black lower class, and has not been since the early 1980s. Our (Black people's) best hope is international pressure. I believe that the same is true of immigration, refugee, and gender rights. That is not to say that shaming America globally will bring change in a time when the head of state is not concerned with public opinion, but I believe that we can strengthen the global recognition of human rights, through turning on America.  
Read a longer excerpt of Branson's reflection.
Daniela Schulman
Class Year: 2020
Event: "One Girl Walk: Organizing Against Violence in Sudan," October 29, 2018
Reflection: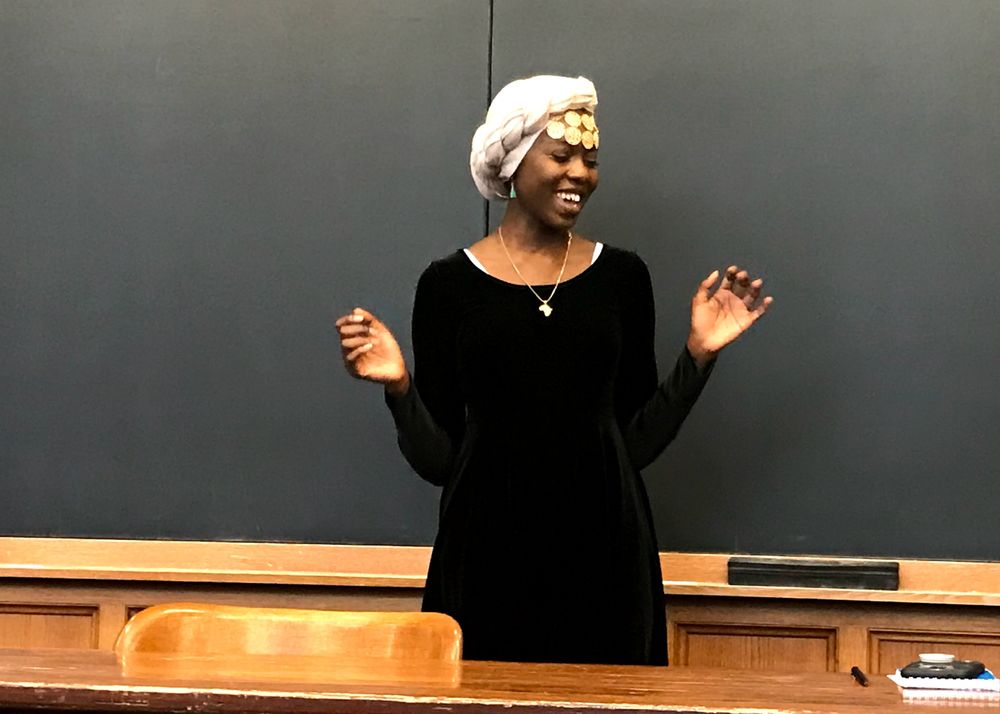 Emi Mahmoud (YC '16), Sudanese poet activist and UNHCR Goodwill Ambassador, packed a one-hour lunch event with more inspiration and wisdom than I could have possible anticipated. Warmly articulate, she alternated between moving poetry recitations and pithy observations on conflict resolution, family, disruption, and playing the patriarchy. Poetry offers people "truth where they least expect it," Emi explained. In an age where it seems like politicians and comedians have switched roles, and trust in the media is at an all-time low, spoken word creates a platform for people to both listen and share. Finding truth where you least expect it is my current motto of sorts, as I prepare to interview student climate activists at COP 24 in Poland next week. When I go, I hope to find truth in unexpected places, from the young, first-time observers instead of the heads of state. Following Emi's advice to ask questions, and to listen to the questions of others, I will record these interviews and try to be the person filling the space between words and action.
Read a longer excerpt of Daniela's reflection.
2017-2018
Antonia Ayres-Brown
Class Year: 2019
Event: "Delayed Justice for Comfort Women," April 17, 2018
Reflection:
"Will the wound go away if you apologize? No. The scars will remain, but my heart can heal," Gil Won-Ok remarks midway through The Apology, a 2016 documentary by Tiffany Hsiung about the Imperial Japanese Army's sexual enslavement of more than 200,000 "comfort women" during World War II. The film examines the modern-day movement urging the Japanese government to recognize its human rights abuses, focusing specifically on the stories of three survivors of "comfort stations," Grandma Gil in South Korea, Grandma Cao in China, and Grandma Adela in the Philippines...Watching and later reflecting on the film, I was struck by the distinct approach Hsiung took to framing the relationships between these three women and their children (especially daughters)—relationships that clearly exposed the tension around how the older generation of survivors wished to be recognized by the younger generation, youth at-risk of forgetting...
Madeline Batt
Class Year: 2019
Event: "Culture and Change," Bernstein Human Rights Symposium, April 13, 2018
Reflection:
The human rights framework is especially likely to be seen as an imposition when the institutions that are meant to uphold human rights are victimizing rather than uplifting the communities that they enter. I'm thinking here of the work of Sharanaya Kanikkannan (right) on UN Peacekeepers. When entities that hold themselves to be arbiters on matters of human rights construct narratives wherein certain violations and certain victims take precedence over others, and when there is no accountability for the violations that those entities themselves commit, human rights as a mode of understanding the world is compromised. The human rights framework cannot survive if it is operationalized by outside powers proceeding with a selective understanding of whom human rights should apply to...
Jordan Harris
Class Year: 2020
Event: "The Ethics/Politics of Finding Facts and Making Trust," Bernstein Human Rights Symposium, April 13, 2018
Reflection:

On April 13th, I attended the Bernstein Symposium panel titled The Ethics/Politics of Finding Facts and Making Truth. An aspect I found very interesting was the fact that the panel itself seemed to be engaging in fact finding by presenting the room with ideas that the general public is aware of and may even hold to be true but are not actually realized in practice. Matiangai Sirleaf (right) really solidified the point that truth does not always equal support and healing. There is the assumption that the public sharing of pain will create solidarity, but that doesn't always happen, and in many cases there is only a small chance of it happening in the first place. Anyone can be stigmatized, especially women, for sharing their pain if it is pain the world is not ready to acknowledge. For this reason, witnessing should be done in private, behind closed doors to help protect the identities of people telling their stories. Interviewers have to engage in a degree of self-censorship to ensure their data collection does not ultimately harm those they are interviewing…
Read Jordan's full reflection.
Jayashree Khemka
Class Year: 2020
Event: "The Global Movement for Legal Empowerment," Bernstein Human Rights Symposium, April 12, 2018
Reflection:

Working to help an Israeli woman return to her newborn child in the West Bank after being deported to Gaza, Sari Bashi (right) found herself at a crossroads. The government had agreed to allow this woman to reunite with her family, on the condition that she would be given a permit that would restrict her entry into the West Bank to a maximum of ten days. Unfortunately, this would be at complete odds with Bashi's larger goal of delegitimizing the government's efforts to restrict freedom of movement between Gaza and the West Bank. Bashi was faced with a tough decision; should she help this one individual woman despite the implications of this case on her larger line of work? I left Bashi's talk with questions about her dilemma still lingering in my mind. In which situations is it ethical to prioritize a movement over a person? How do we navigate situations where the long-term goals of a human rights movement contradict the short term needs of the people? …
Zulfiqar Mannan
Class Year: 2020
Event: Scott Long, "Gender and Sex in the Arab Winter: Body Politics and the Limits of Human Rights," March 28, 2018.
Reflection:

The momentum for LGBT rights worldwide has run into the most symbolizing obstacles and complications present in the larger global human rights movement. In his talk at the Schell Center, Scott Long (right) explored exactly this phenomenon. Having worked to document and advocate against human rights abuses based on sexuality and gender for decades, Long's experience with human rights advocacy compelled him to spend the majority of his lecture at the Yale Law School talking about the unexpected intersections complicit in the formation of today's LGBT rights landscape. He talked about the economic policies, pushed forward by the World Bank, that contributed to the socioeconomic reality which erupted into the Arab Spring. He explained how pre-political movements, based in labor or class-related struggles, have empowered identity-based rights advocacy much more powerfully than direct-action struggles concentrated on sexual orientation and gender identity rights. Long also talked about how the issue of homosexuality, or deviance in sexuality, becomes an issue of sovereignty in national discourse, seen in examples all over the world. It seems as if the advocacy for LGBT rights has required a confrontation with all the rights issues one could think of. If the relationship and inter-dependence of rights violations is so prominent, so obstructing even, what are the hopes and goals of a movement that aims to stop identity-based discrimination and persecution?...
Alejandra Padin-Dujon
Class Year: 2018
Event: "Yemen: is the US Breaking the Law?" April 13, 2018
Reflection:

Today's panel on U.S. involvement in the Yemeni civil war through the lens of international law was nothing if not predictable. While humanitarian Nathalie Weizman and researcher Kristine Beckerle detailed war crimes and human rights abuses subsidized by the United States, State Department attorney Brian Finucane and former CIA deputy director Avril Haines presented legal and policy justifications for U.S. complicity. The four panelists' contributions exposed competing priorities and moral assumptions: the independent parties prioritized human life and the mitigation of human suffering, while the agents of the United States government presented the execution of U.S. policy objectives as the highest moral good—to the extent that their priorities considered morality at all…
Liana Wang
Class Year: 2020
Event: Michael Doyle, "Beyond Migrants and Refugees: A Model International Mobility Convention," Human Rights Workshop, April 6, 2018
Reflection:

What motivates people to move? And where should they be able to go? What does it mean to be from a place? In his talk at the Human Rights Workshop on global migration, Michael Doyle (right, with Schell Center co-director Paul Kahn) focused mostly on the ways we can reform the harder and more definite aspects of legal systems and policy around the changing, softer questions of identity and belonging, especially as our perception of borders shift with globalization. As someone who spends a significant amount of time on asylum-related work, I've long questioned the parameters for legitimate migration—race, religion, nationality, social group, and political opinion—that leave few channels for people escaping violence, whether outbreaks of crises or longstanding structural violence. Thus, I am interested in the ways that a new convention on mobility can open doors for people for purely humanitarian reasons. But I also find it interesting how migration plays into mindsets about the global distribution of responsibility, resources, and wealth…
Read Liana's full reflection.
Matthew Wrocklage
Class Year: 2018
Event: "Human Rights Today": UN High Commissioner for Human Rights Zeid Ra'ad Al Hussein, April 4, 2018
Reflection:
During his visit to Yale Law School, UN High Commissioner for Human Rights Zeid Ra'ad Al Hussein's tone was strikingly that of the philosopher-diplomat.  Entitled "Human Rights Today" and sponsored by the MacMillan Center's Fox Fellowship Program, the High Commissioner's talk rendered itself as an introspective reflection upon the situation of human rights within a global political ecology increasingly characterized in many geopolitical arenas by movements of unprecedented populist and nationalist fervor...I found it compelling that the High Commissioner so acutely depicted the core problem at play not foremost one of governance, but one of human sensitivity, of a breakdown in our capacity to be shamed by the wrong we do and the wrong we leave unaddressed...