Director, The Door's Legal Services Center
---
A Typical Work Day at My Dream Job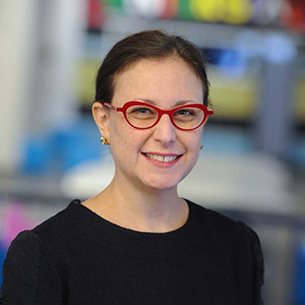 9 a.m.: I arrive at the "office." I put that word in quotes because The Door is not a typical law office. We're a youth development center with five big floors filled with services for people ages 12–21, including an adolescent health center, a drop-in program for runaway and homeless youth, High School Equivalency classes and a charter high school, career and college counseling, and a thriving arts program. The Legal Services Center provides direct representation to Door members in matters such as immigration, family law, and public benefits. Entering the building makes me feel great. Most public high schools (and many public buildings) in NYC have metal detectors, but The Door is much more welcoming. We don't have metal detectors and our security officer is in plain clothes and looks like one of the staff.
9:00 a.m.–12 p.m.: I check my email and voice mail, review my calendar, and plot out priorities for the day. In the morning, most of my staff is in court and many of our clients are in school or at work. So this is precious time for me to tackle projects that require a block of uninterrupted time. There is no normal day, but common morning tasks include writing grant reports and proposals, checking our case flow, reviewing the budget, preparing for audits, and meeting with colleagues in the Finance and Development departments.
12 a.m.–1 p.m.: I serve on various committees, including the Advisory Council on Immigration Issues in Family Court and the NYC Bar Association's Committee on Pro Bono and Legal Services. Both meet at lunch time. On other days, I have lunch with our supporters or other key contacts. It's important for me to foster personal relationships with supporters, legal services directors, and people in a position to help our clients, and sharing a meal is a good way to do this. If I don't have a lunch meeting, I have a working lunch at my desk.
1 p.m.–5:30 p.m.: This is the busiest part of the day. Staff, interns, and volunteers come in and out of my office to consult on cases, ask me to sign forms, and to troubleshoot problems. Other Door staff — for example, a case manager from the Homeless and Runaway Youth program — will call up to consult regarding a young person in crisis. Clients call and stop by unannounced. Our receptionist pops in to ask me where to refer a tricky case and how to manage the constant stream of young people seeking services from our tiny office. I run in and out of meetings. The phone rings a lot and my email gets backed up. I try to check my snail mail but sometimes forget.
5:30 p.m.–9 p.m.: Once a month, I am the Back-Up Manager on Duty for the whole agency. I hang out in Center Space and near the entrance to the building, where young people tend to congregate. I check in with the front desk and crisis staff to find out if there are any "triggers" — young people who have been showing signs of anger and may act out. I walk through the building and check the stairways and quieter corners. The Door serves dinner every night to our members, so I get to have dinner with staff and young people in the cafeteria. The food is delicious and if I'm lucky I score a chocolate milk.