Life at a Corporate Law Firm
---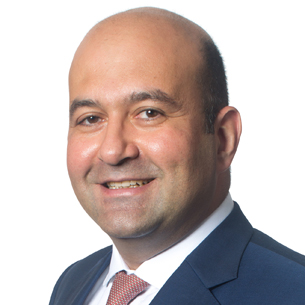 I am currently a partner in the Abu Dhabi office of Cleary Gottlieb Steen & Hamilton LLP. I graduated from Yale Law School in 1996, having previously completed a Masters degree at Stanford University and my undergraduate studies at Dartmouth College.
My practice focuses primarily on mergers and acquisitions, capital markets transactions and projects, specializing in cross-border transactions. Cleary Gottlieb is not rigidly organized by department, and encourages its lawyers to be multidisciplinary.
I always planned to have an international career, as I grew up in Kuwait and had the advantage of being schooled in English, Arabic and French. Cleary Gottlieb was a top choice for me because of the firm's international outlook. Nearly half of the firm's lawyers work in our 14 offices outside the United States.
Cleary Gottlieb promotes a "one-firm" culture in large part by encouraging lawyers to work in different offices. I started my career in the firm's New York office in 1997 and soon moved to the Paris office. I returned to New York in 2004 and became partner in 2006, at which time I returned to Paris.
As a partner in the Paris office I was required to become a member of the Paris Bar. Accordingly, I had to become (at least minimally) proficient in a legal system that is the cradle of the civil law tradition across the globe. It was a very interesting and rewarding experience, and certainly helped me be a more useful lawyer in countries with a civil law tradition (which undoubtedly represent the majority of countries today).
In 2011 I was offered the opportunity of opening a Cleary Gottlieb office in Abu Dhabi, which was intended to become the hub for our practice across the Middle East and North Africa region. Opening and managing the office has undoubtedly been the greatest challenge of my professional career. Working in the Middle East has transformed the nature of my work into something that is much more entrepreneurial than what I had experienced in Paris and New York. While the office itself is small, my team works closely with more than 20 partners and counsel in London, Paris, New York and other offices. We have had many successes but there have also been many challenges. The challenges are important for personal growth. Everyone deserves to have a humbling experience at least once in their career, in order to help them learn more about themselves, their strengths and their weaknesses.
One of the most challenging aspects of my work is needing to have the mental agility to successfully navigate the diverse legal systems in the Middle East region. When moving from country to country one must reset one's thought parameters before being able to provide advice on structuring transactions. In emerging markets, it is always a challenge to balance the need for robustness with the pressure to make the deal happen. One must often come up with creative solutions.
Yale Law School always emphasized the importance of public service and I take that to heart. This dovetailed with Cleary Gottlieb's support for pro bono work and public service. In 1999, as a second year associate, I requested from Cleary Gottlieb permission to take a sabbatical year in order to serve as a legal adviser to the Palestine Liberation Organization in the interim and permanent status negotiations with the Israeli side. This would have been a career-ending move at many other firms, but Cleary Gottlieb strongly encouraged me to seize the opportunity. My work in this role relied heavily on the research I had done for my Supervised Analytical Writing requirement, which analyzed Israeli practices as they related to Palestinian water resources under international human rights and humanitarian law.
In addition to my work advising the PLO, immediately following graduation I worked as a Schell Fellow at Human Rights Watch and am now on the advisory committee of the Human Rights Watch MENA division. I also serve on the Board of Trustees of Taawon, the leading Palestinian non-governmental organization. In addition to my general duties as a member of the board, Cleary Gottlieb provides pro bono advice to Taawon in a variety of areas including governance, lease agreements, anti-money laundering compliance issues and other areas. I believe it is important to do public service, not just to use the skills you have learnt for the benefit of society at large, but also to enrich one's own career.
The most rewarding aspects of my role are the intellectual stimulation I receive from my work and the rewards related to being part of the Cleary Gottlieb partnership. The firm values of collegiality, trust and respect aptly describe how our partnership operates. You could call it a mutual support group of 190+ highly talented and motivated people who are working together with a common purpose and supporting each other professionally, financially and personally.
I have always enjoyed working with YLS graduates. If you believe you will thrive in a firm that emphasizes excellence and collegiality and are enthusiastic about practicing law in a dynamic international setting, Cleary Gottlieb could be a good fit for you.
Updated September 2021