Partner, Brown, Goldstein & Levy, LLP, Baltimore, MD
---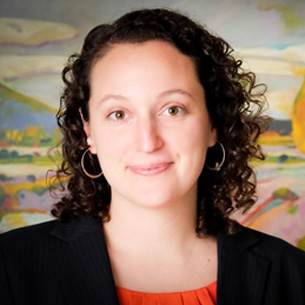 After graduating from law school, I moved to Baltimore for a clerkship. I had visited the city a few times, but never imagined living here. I was excited about clerking for my judge and figured Baltimore would be a fine place to spend a year. That year has now turned into eight and I hope to be here for many years to come! Soon after moving here, I quickly fell in love with this small, vibrant, quirky, affordable, artsy city—a city with some deep, systemic problems to be sure, but with a lot of energy devoted to creative solutions.
A few months into my clerkship, I learned of the Francis D. Murnaghan, Jr. Appellate Advocacy Fellowship at the Public Justice Center here in Baltimore. I was not sure if I wanted to spend a year doing only appellate work, but knew it would afford me an opportunity to work at a fantastic public interest organization on a wide variety of social justice issues. I went for it and was not disappointed. I learned that I loved appellate advocacy and the skills I honed that year have served me very well in my trial-level work as well. Because Baltimore has a very close-knit public interest legal community, the fellowship also gave me the chance to partner with and learn from many great attorneys in the city and throughout the state. When I was considering taking on a disability rights case, my supervisor suggested that I reach out to some of the attorneys at my current firm, Brown, Goldstein & Levy ("BGL"), who do extensive work in this area. I did and these attorneys encouraged me to take on the appeal (which ultimately proved successful and gave me my first opportunity to argue in a federal circuit court). When I was a law clerk, I had seen some of these attorneys argue a case involving blind law school graduates' access to the bar exam and was very impressed. I knew that BGL had a strong reputation as a leading civil rights law firm, but that it also handled other types of litigation. I liked the idea of litigating in a small law firm with great lawyers, working on a diverse array of cases (with an emphasis on those serving the public interest), and remaining in Baltimore. I became focused on trying to work at BGL following my fellowship. Because of the size of the firm, BGL does not regularly hire new associates. I was very fortunate that the timing worked out for me—although I did have to wait patiently until my fellowship was nearly over to receive the offer.
I have now been at BGL for almost six years and made partner this past January. In law school, I never thought I would end up at a law firm—I thought I would work for a non-profit—but I have loved life at my small, unique firm (with the exception of having to bill my time, which is never fun). I appreciate the diversity of my cases and clients. I frequently represent the National Federation of the Blind in cutting edge disability rights cases around the country, but I also enjoy representing individuals in the Maryland/DC area who are struggling with employment issues, trying to access benefits, or otherwise need legal assistance. I have also represented classes of employees, from school bus drivers to restaurant workers, seeking fair pay. Given the trend towards specialization in one particular subject area of the law, I am very grateful that I have gotten to work on such a broad array of cases. I think being able to draw on a wide range of experiences litigating different types of cases has made me a stronger and more creative litigator.
I have also been grateful for my firm's commitment to supporting work-life balance and community involvement. Associates and partners are encouraged to volunteer and be actively engaged in our communities. BGL has been incredibly supportive as I have devoted extensive time in the past few years serving as board president of FreeState Justice, Maryland's statewide LGBTQ legal services and policy advocacy organization, as well as serving on the board of the ACLU of Maryland. And my decision, as a non-birth parent, to take parental leave the summer before becoming a partner was met with enthusiasm.
A great benefit of working at a small/medium-sized firm (we are now 21 attorneys) is that cases are generally staffed more leanly, giving associates opportunities to develop real litigation skills. Within my first two years at BGL, I took and defended depositions, argued in court, met with clients on my own, handled settlement negotiations, and examined witnesses during trial. I don't know of any associates at large law firms who had similar experiences that early in their careers.
I feel very lucky to have ended up, somewhat haphazardly, in Baltimore and to have found BGL once here. I knew of one civil rights law firm in law school, but had not realized that there are a number of public-interest and public-interest-oriented small law firms around the country. I had also wrongly assumed that I would end up in New York (where I'm from) or DC. I think many law students don't consider the fulfilling work that can be done in smaller cities throughout the country and the variety of organizations and law firms from which one can do that work. So my advice to law students is to break out of the major city, big non-profit/big law firm bubble and think about other possibilities for doing engaging, high-level work in locations that could prove to be great places to live.