Litigation and Public Interest at the San Francisco City Attorney's Office
---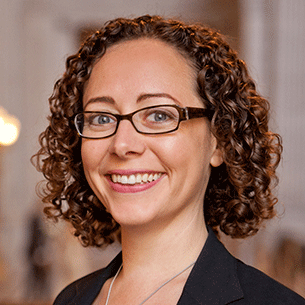 Mollie Lee '06 is Senior Assistant Attorney General at California Department of Justice. Prior to her current role, she served as senior staff attorney at the ACLU of Northern California, where she worked on issues including voting rights, immigrants' rights, and free speech. This interview was conducted when she was San Francisco Deputy City Attorney.
---
As a San Francisco Deputy City Attorney, I represent the City and County of San Francisco in high stakes litigation on matters of public importance. Currently, I am the lead attorney on City and County of San Francisco v. Trump, which challenges President Trump's Executive Order threatening to withhold federal funding from sanctuary cities. In prior cases, I helped bring marriage equality to California and the nation, defended campaign finance disclosure requirements, challenged deceptive practices by for-profit colleges and other businesses, and represented San Francisco in matters ranging from reproductive rights to water rights. Before becoming a litigator, I spent five years as General Counsel to the City's Department of Elections, and I continue to enjoy opportunities to advise City clients.
This varied practice has been immensely fulfilling. I was deeply involved in one of the great civil rights battles of my generation, and I am now leading litigation that raises equally important questions about federalism and separation of powers. I advise elected officials and department heads, and I am pleasantly surprised at how often they take my advice. I develop new cases, handle all phases of discovery, argue in state and federal court, and write Supreme Court briefs. Through the San Francisco Affirmative Litigation Project, I have the great joy of working with Yale Law School students, who are a secret weapon for the office and help litigate many of our most interesting cases. All in all, I have more fun being a lawyer than I ever imagined possible.
Looking back, my career path has been more of a meandering trail than an interstate highway. Before law school, I studied ethnobotany in graduate school, worked for the League of Women Voters, and then took time off to backpack around South America and sail across the Pacific Ocean. During law school, I spent one summer doing direct service work at a non-profit and the next summer as an associate at a law firm. I worked with terrific lawyers at both places, but neither one felt like quite the right fit. I applied for clerkships the summer before my 3L year, largely because I did not know what I wanted to do next, and I was fortunate enough to clerk for Judge James Browning on the Ninth Circuit Court of Appeals. When I heard about an opening in the office of San Francisco City Attorney Dennis Herrera, I jumped at the opportunity. Dennis had a reputation for bringing cutting-edge public interest cases, and I was thrilled to join his office as a member of the Ethics and Elections team. After five years on that team, I moved to the Complex and Affirmative Litigation team in 2013.
The longer I practice law, the more I appreciate Yale Law School. I am surprised at how often I consult class notes and outlines, not just for black letter law classes, but also for more theoretical courses like Legislation, Antidiscrimination Law, and Legislative and Popular Constitutionalism. Former professors have become mentors, sounding boards, and expert witnesses. In turn, I often return to the law school to guest lecture and mentor the next generation of public interest students. Through these interactions, Yale Law School continues to support and inspire my public interest work.
Updated August 2021