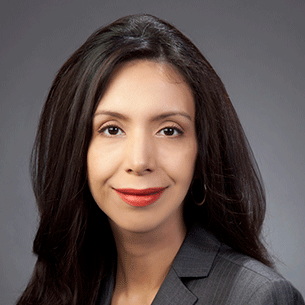 I didn't graduate law school with the intent, or even imagine the possibility, of being a career prosecutor. My husband and I had a baby during my third year of law school, and while we always wanted to return to El Paso, having a baby clinched the decision for us, as our entire support network was here. El Paso's a great place to live and raise a family, with warm, friendly people and the best Mexican food in the world. After graduation in 1996, we came home and I started working at a private firm in their international/ immigration law section. I was not happy with the work, and felt that being an advocate for our clients at times conflicted with my own values. I also felt more like a secretary than a lawyer. I'd spend 12 or more hours a day at the firm, often being told to just sit and wait for instructions, which was hard not only on my ego, but also on my baby.
When a high school friend who was working at the El Paso District Attorney's Office told me that they were hiring, I asked my supervisor's permission to take a lunch hour the following week—and used that hour to interview at the DA's Office. That was one of the best decisions of my life. I was nervous about being a real trial lawyer, because I didn't have any prior trial work experience and I hadn't even taken any trial advocacy classes during law school. However, when I started, I didn't have time to be nervous anymore, and the on-the-job training began. There was a lot of work to be done, and the way to learn it was by just being thrown in and doing it. The DA's office also sent me, along with the other recent hires, to what we call "Baby Prosecutor School" in Austin. Our boss, District Attorney Jaime Esparza, is wonderful.  He's demanding and expects the best of us, insisting that we always work hard and be fair in service to our community.
When I started in July of 1997, I was first assigned to screening misdemeanor and felony cases for prosecution. At first, I was a little worried that my pay cut would hurt our family, but at $37,000, I was still making more than most El Pasoans, and much more per hour than I was earning at the firm. I generally worked 8 to 5, and still do, unless I'm in a big trial. After a few months, I was moved into a misdemeanor court where I tried a case my first week. After another few months, I was moved up to a felony trial attorney position. I tried a couple of murder cases along with other felonies within my first few months as a felony trial lawyer. Then, I took a year and a half off after having our second baby. Our District Attorney hired me back once I was ready to return to work, and I've been here since 2000.
During my years as a prosecutor, I have made some of the best friends of my life. There is something to working with people who, despite cultural, political, and religious differences, all have a common goal—to see that justice is done. I have also tried dozens of cases, from misdemeanor assault cases all the way to capital murders. Trial is challenging, exhilarating, and incredibly fun. Every case is different, and every trial evokes powerful emotional responses, ranging from sorrow to hilarity, from fear to rage. It is very freeing to be able to do the right thing, always, despite whether it helps or hurts our client, the State of Texas. As a prosecutor, I've never felt I had to compromise my beliefs or do anything distasteful in furtherance of a goal. Because our aim is justice, all we have to be is fair and truthful.
I have spent the largest portion of my time with the DA's Special Crimes Unit ("SCU"), handling predominantly homicides. There, my job was to ensure that murder cases were ready for trial by assisting detectives with various types of search or arrest warrants and serving as a sounding board for investigative strategy, reading final police reports and witness statements, analyzing the collection of evidence and taking of confessions for legality, organizing and presenting cases to the grand jury, preparing all the written discovery to be filed in court, and writing briefs or doing research pertaining to legal issues that affected each case. My work involved daily dealings with law enforcement officers, other prosecutors, defense attorneys, forensic experts, and judges. I tried several of the more complicated or difficult murder cases. Being in trial is absolutely, without a doubt, the greatest part of this job.
A couple of years ago, I was promoted to the position of misdemeanor Trial Team Chief. In this position, I supervised 6 misdemeanor trial attorneys. Guiding and training new lawyers was a lot of fun; their eagerness and youth infuses energy into the office. After that, I was made a felony chief.  Now, I am back in the SCU as a co-chief.  My dear friend and co-chief, Denise, and I supervise the two SCU lawyers—one does murders and one does intoxication homicides—and 2 regular felony lawyers. In addition to the general SCU duties from before, we now train these four lawyers to prepare and try homicide cases.  I love our team and the challenging work we do. 
Over the years, my skills have improved through experience and watching my fellow prosecutors in trial. In El Paso, my job as a prosecutor helps my family enjoy a good life, and mostly, time together. My third year baby is now a junior in college, and I feel lucky that I got to be fully there for her, and for her younger brother. I also have the great satisfaction of knowing that I've helped to put away serial killers and other dangerous felons, and helped the families of the victims receive some measure of justice. While it can be very emotionally draining to deal with the victims of crime, particularly abused children or families of drunk driving victims, there is still nothing I can think of that's more rewarding than to be able to tell them that you're fighting for justice on their behalf. I love wearing the white hat. I think I have the best job in the world, and I am very grateful for it.