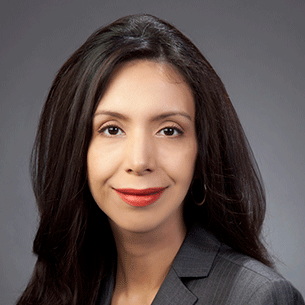 I never imagined I would end up as a career prosecutor, but interviewing at the El Paso District Attorney's Office was one of the best spur-of-the-moment decisions I've ever made. When I started at the El Paso County District Attorney's Office in 1997, I was nervous about being a trial lawyer, because I didn't have any prior trial work experience and I hadn't even taken any trial advocacy classes during law school. I was first assigned to screening misdemeanors and felonies. After about a month, when I was moved up from screening cases to a misdemeanor trial court, I had to confront those nerves and just go to trial. It was definitely a learning process, and back then it was definitely trial and error for me — mostly errors.  But I learned a lot and fell in love with trial.
I was soon assigned to district court where I tried a variety of felonies. I was able to try a couple of murder cases as second chair within the first few months. Eventually, I was given a spot in the Special Crimes Unit, which handles homicides.  SCU is where I have spent the largest portion of my time with the DA's office, first as a trial attorney, then as a chief. Along with supervisory responsibilities over three SCU attorneys and two felony attorneys, my job is predominantly to prepare and try homicide cases. I assist detectives with various types of search or arrest warrants and by serving as a sounding board for investigative strategy. I analyze the collection of evidence and taking of confessions for legality, organize and present cases to the grand jury, prepare all court filings, and write briefs or do research pertaining to legal issues that affect each case. My work involves daily dealings with law enforcement officers, other prosecutors, defense attorneys, forensic experts, and judges.
During my years as a prosecutor, I have made some of the best friends of my life. There is something to working with people who, despite cultural, political, and religious differences, all have a common goal — to see that justice is done. I have been able to try dozens of cases, including complex gang-related murders, serial killers, and violent criminals with interesting defenses. I get to learn new things in the fields of science and medicine as they relate (or as defense attorneys want to make them relate) to my cases. Trial is challenging, exhilarating, and incredibly fun. Every case is different, and every trial evokes powerful emotional responses, ranging from sorrow to hilarity, from fear to rage. Being in trial is the best part of this work.
An additional wonderful, but intangible, benefit of my job is the luxury of being able to always follow my conscience. It is very freeing to be able to do the right thing, always, despite whether it helps or hurts our case. As a prosecutor, I've never felt I had to compromise my beliefs or do anything distasteful in furtherance of a goal. Because our aim is justice, all we have to be is fair and truthful. I love my job, and I'm very grateful for it.