Finding the Work that Makes Us Greater
---
Richard Buery '97 isn't worried about the next job he's supposed to take. He's too busy changing lives.
Beury is a champion for the transformative power of education. He co-founded (with Matt Klein '98) the national youth mentoring organization iMentor.org and the youth development organization Groundwork before going on to work at the Children's Aid Society and becoming Deputy Mayor of New York City in Bill de Blasio's cabinet. He now leads the public policy, advocacy, marketing, and communications efforts at KIPP (Knowledge Is Power Program) Public Charter Schools, a network of more than 200 schools in 20 states.
How did your personal background shape you as you were growing up and deciding what you wanted to pursue as a career?
I grew up in East New York. My parents are immigrants from Panama, and my mother was a high school teacher. Like most resources, educational opportunity is not distributed equally or equitably in America, and that became painfully clear to me when I was admitted to Stuyvesant High School. Stuyvesant was my first experience going to school with students who weren't primarily Black and Brown and from underserved communities. Every day, as I rode the 3 train for an hour from East New York to Stuyvesant, I learned that
there were really two New York Cities. There was the New York City I grew up in—with poor schools, poor air quality, poor safety, and poor life outcomes. And then there was this other City—where children were expected to succeed and given the resources to do so.
Can you take us through your early career?
My career really started at college. A friend invited me to volunteer at an after-school program at a housing project in Roxbury, Massachusetts. I started volunteering a day or two each week, and by the end of my freshman year I was volunteering three or four days a week. I spent almost as much time there as I did on the Harvard campus! When I returned after my freshman year, I asked the kids what they had done all summer. And for most, the answer was nothing. Some friends and I (including Daniel Wilkinson '00) decided to do something about that. We started the Mission Hill Summer Program, an educational summer camp. I fell in love with teaching and youth development. But I really fell in love with the social entrepreneurship: the idea that—even as a 17-year-old college student—you could see a problem, organize resources, and do something about it.
At the Law School, I spent my summers doing public interest work—at the NACCP Legal Defense Fund, the Lawyers Committee for Civil Rights, and the DC Public Defender Service. After clerking for John Walker, I spent ten months at the Brennan Center for Justice, and that was pretty much the end of my legal career. The legal work was interesting, but I realized that the people who had the most interesting jobs were the community organizers and advocates who had hired us.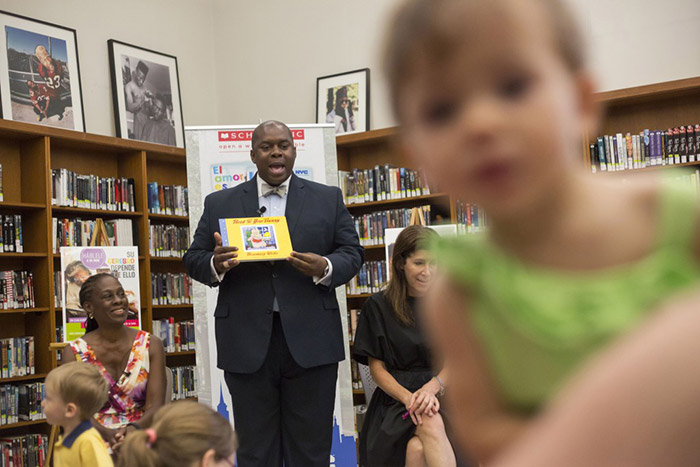 How do you feel serendipity has played a role in your career?
I think students worry too much about what job they should take after law school and spend too much time trying to map out their careers. If I had taken the traditional lawyer's path, I never would have started iMentor or Groundwork, and then I probably wouldn't have had the amazing professional opportunities that have come since. I don't know whether it's serendipity, but I have always challenged myself to stay open to unique opportunities; to worry less about the job you're supposed to take, and instead think about where you're going to have the best experience. Where will I have the smartest and most creative colleagues, and the wisest and most caring mentors? Where will I learn the most, and get to meet cool and interesting people? Where can I do the most good? I hate giving advice—but I will say that if something seems strange and risky and scary, that probably means you should do it.
July 2018