McKinsey Associate, Political Strategist
---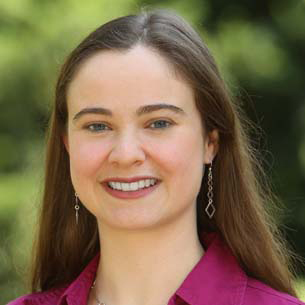 At age 15, Sarah Esty was the youngest person ever to graduate from the Women's Campaign School (WCS) at Yale. She attended in the summer of 2005 with her mother, Elizabeth Esty '85, who had just decided to run for Town Council in their hometown of Cheshire, CT. At the time, Sarah Esty had volunteered to run her mother's campaign. That successful campaign sparked a passion for politics that has since become a career. Sarah Esty reflects on what she has learned working in law and politics as well as why it is important for more women to get involved in this field. Esty is currently an Associate at McKinsey & Company, a global management consulting company, and was recently the National Region 2 Voter Protection Director for the Democratic National Committee and the Hillary Clinton Campaign.
Q: What made you apply to the WCS at Yale?
A: My mom had just decided to run for Town Council in our hometown of Cheshire, CT, and I volunteered to run her campaign. So she applied to learn how to be a candidate and I applied to learn how to be a campaign manager. Our whole family was already very politically active. We had volunteered on many campaigns, and we'd all been involved when my dad ran for Planning and Zoning Commission a decade earlier, but my mom and I realized that both of us needed more formal training in order to be successful in this bigger race. We also knew that women face special challenges in running for office, and appreciated that WCS offered instruction targeted to address those issues.
Q: What was your experience like going through the program? 
A: WCS was both informative and inspiring. We learned so much in that week, and loved being part of a cohort of politically engaged women from across the country and even the world. We left that week feeling so prepared to run her race and she won with 68% percent of the vote against an incumbent, so I'd say we were quite successful. 
My mom went on to run and win a seat in the CT State Legislature and then in the U.S. Congress. I've gone on to manage half a dozen campaigns, work on many more, and lead countless campaign skills training sessions for staff and volunteers. Both of us continually go back to the things we learned at WCS, and find that it provided us a solid foundation of skills and frameworks for a what has become a life of political work for both of us.
Q: What is your advice to women who are thinking about running for office or running a campaign? 
A: Do it. We so desperately need more women to run, and the evidence suggests that when women run, they win at the same rates as men or higher. The real source of the gender gap in politics is women not stepping up to run in the first place. There's an oft-quoted statistic that women need to be encouraged seven times to run before they actually do, so let me be one of those seven nudges for any woman thinking of running. Women have so many different skills and life experiences that they bring to the table, and we would all benefit from having more women at all levels of government. Also, know that by running, you're setting an amazing example for all the little girls out there.
Running for the first time can feel scary, but like anything new, it's hard at first and you get better as you go along, and no one else really knows what they're doing either, so just dive in. Programs like WCS help tremendously by giving you an overview of what's coming, building basic skills, and providing a support network of other women going through the same things as you, so I'd recommend doing a training if you can. I think many women aren't used to asking for things for themselves, but find that when they do start asking for help raising money, knocking on doors, taking pictures at events, or contacting voters, they receive overwhelming support from their friends and neighbors. So don't wait until some future date when you think you're qualified, because I bet if you're considering running, you already are.
Q: Why is it important to get more women into politics and public service?
A: For government to be truly representative, women should be half of our elected officials and appointed leaders, and we fall far short of that today. The underrepresentation of women means that the issues women care about don't get prioritized and funded, and our views don't get incorporated into laws and regulations. It also teaches little girls that people like them aren't equally in charge of shaping the future of our country, and that's terribly disempowering. And it doesn't need to be like this. Women have so much to offer and make great leaders. I wish more of them stepped up to run, because they would win and be awesome.