Stephanie Jacobs Luger '08
Stephanie Jacobs Luger '08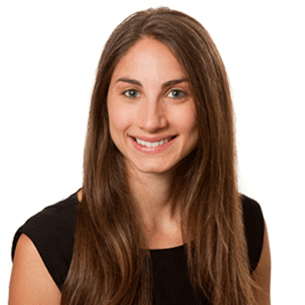 I have been working as an associate in the corporate group at Goldberg Kohn Ltd., a midsize Chicago law firm, for five years. I came to Goldberg after working as an associate in Sidley Austin's Chicago office for almost two years in their insurance and financial services group. While both positions were transactional in nature, my experience at Goldberg Kohn has been quite different from that at Sidley Austin. Both have been incredibly positive experiences.
I don't believe that one can really generalize about the "culture" of Sidley Austin. Particularly in the Chicago office, there are so many different groups and each group tends to have its own "culture." The insurance and financial services group was relatively laid back, especially for a large law firm. The associates and partners I worked with were friendly and sociable and generally very fun to be around. My colleagues at Sidley were also very hard working and definitely put in the long hours. I think that there are ups and downs in work flow in any transactional practice (especially given the changes in the economy in recent years) and I certainly experienced some extreme highs and lows with respect to work flow during my time at Sidley. Nevertheless, despite the frustration of unpredictable and often long hours, the work I did at Sidley was challenging and I often found it quite interesting.
The type of work that I did during my time at Sidley was transactional and was mainly focused on large insurance and reinsurance industry players. I worked on mergers and acquisitions and corporate governance matters for such companies and spent a good amount of time researching and analyzing insurance laws for our clients. Despite being a very junior associate, I did have some direct client contact and I know that as associates in my group became more senior, their interactions with clients as well as their responsibilities were increased.
The reason I decided to switch to a smaller firm was because I wanted to broaden my practice to more general corporate matters and to work with a variety of clients beyond the insurance and reinsurance arena. I also felt that I might prefer the more intimate setting of a smaller firm.
My experience at Goldberg Kohn has exceeded my expectations. The culture is very unique for a law firm. The size of the firm enables all associates, partners and staff to know one another. Everyone I work with is friendly and sociable, and I really feel that people here take an interest in getting to know each other on more than just a superficial or work-related level. The associates and partners that I work with are extremely intelligent and are very hard working. They also respect their own lives outside the firm as well as the lives of the other associates and partners that they work with. With respect to hours, I think that it varies from practice to practice and from group to group. As with any transactional practice, my hours are often unpredictable. However, I have not found the highs and lows in work flow to be very severe and I find that I have a greater degree of control over my schedule here in comparison to my experience at a larger firm.
It is hard to describe a typical day, as each day is different from the next. I am typically working on several different deals at once. I may spend a few hours reviewing documents, a few hours drafting or revising agreements (perhaps for the same deal or perhaps for different deals), thirty minutes on the phone with a client and another hour in a meeting with a colleague. My next day may be entirely focused on reviewing documents and the following day I may be running from meeting to meeting and call to call. It all just depends on which deals I am working on and which phase of the deal I am at (as is true with most corporate attorneys, as a closing nears, things get busier and busier). The clients that I work with are as varied as the work I may do in a day. In the four years that I've been with the firm, the clients I've worked with have included, among others, technology, financial, investment, media, publishing, food, drink, insurance, sporting goods, healthcare and medical supply companies. I have truly enjoyed the variety of types of clients I've been exposed to as well as the increased amount of interaction I've had with such clients. Most deals that I work on are staffed very leanly, and I spend a lot of time speaking directly with clients. I think that having the opportunity to communicate directly with clients as a junior associate is a function of the size of the firm as well as the types of clients that my group deals with (mostly small to medium size companies).