Monday, March 13, 2017
---
Kim Taylor-Thompson on Redefining the Age of Criminality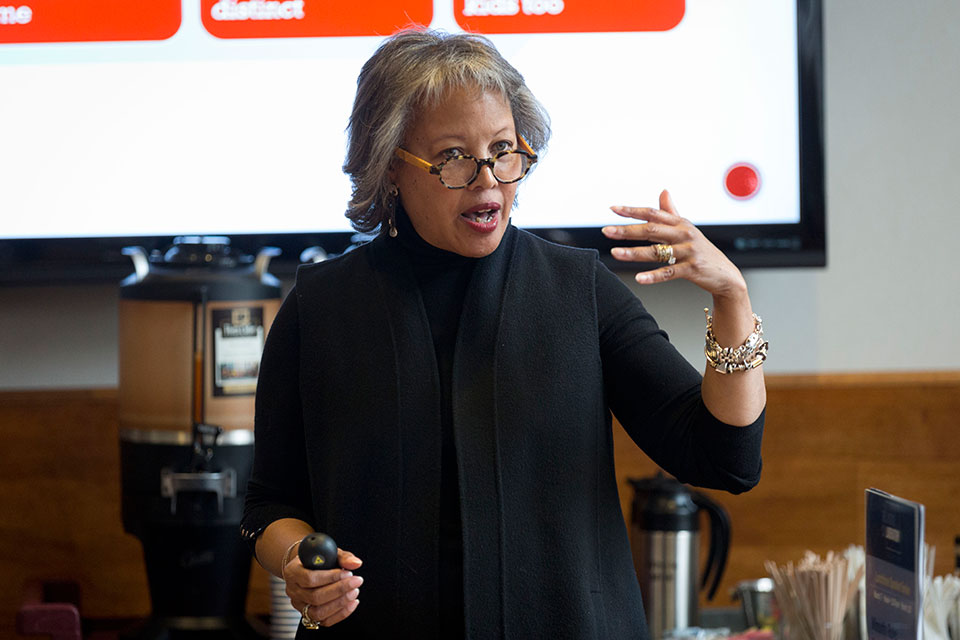 Kim Taylor-Thompson, Professor of Clinical Law at NYU, spoke to Yale Law students, faculty, and members of the New Haven community about the age of criminal responsibility, shifting approaches to children in conflict with the law, and new dilemmas in advancing racial justice agendas in juvenile justice policy conversations.
Taylor-Thompson's perspective on juvenile justice comes from decades of work at the intersections of policy and practice. After serving as a public defender and then the director of the DC Public Defender Service, Taylor-Thompson went on to teach and train young lawyers in criminal law and criminal defense at Stanford and NYU.  Taylor-Thompson has collaborated with Justice Collaboratory member BJ Casey on the question of when a juvenile becomes an adult and is a member of the Macarthur Foundation Law and Neuroscience network.
Taylor-Thompson provided a historical overview of approaches to young people in conflict with the law, charting the development of different narratives about youthful offending. She argued that we have shifted from a narrative in the 19th and 20th centuries about kids deserving care and rehabilitation, to the later part of the 20th century as one focusing on kids who do "adult crimes" deserving of "adult time." She pointed to new and emerging narratives, in part influenced by neuroscience research, that understand kids as developmentally distinct. These new narratives, she argued, have in part contributed to a number of state-based efforts to raise the age of criminal responsibility.
Taylor-Thompson argued that the missing piece of new discourses about young people's responsibility for offending is an intentional focus on advancing a racial justice agenda in juvenile justice policy reform. This should involve, she argues, resistance to ideas about the links between blackness and criminality through the deployment of social science research, such as that by upcoming Collaboratory speaker Jennifer Eberhardt (in her article, for example, "Seeing Black: Race, Crime and Visual Processing," which appears in the Journal of Personality and Social Psychology). It also involves challenging narratives of dangerousness that allow young Black men in particular to be associated with qualities of riskiness and dangerousness that treat them as beyond repair.
After Taylor-Thompson's talk, there was a question and answer period, with links made between her work and that of other Collaboratory members as well as upcoming talks in our speaker series, particularly those that relate to questions of implicit bias, youthful culpability, and adolescent development.