Monday, August 1, 2022
---
Q&A: Don Carlson on Studying and Practicing Leadership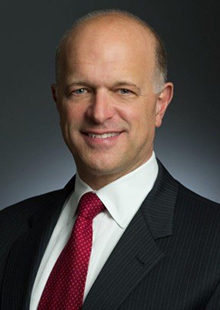 Don Carlson is Senior Executive Director for The Tsai Leadership Program at Yale Law School.
The Tsai Leadership Program is a transformative program that offers students programmatic opportunities and a broad curriculum taught by leading experts, off-site immersives, and a network of alumni to prepare students no matter their chosen career path.
Carlson joins The Tsai Leadership Program team with an extensive range of public sector, business, and legal experience.
He has served as a director of many high-growth companies in business services, technology, and renewable energy. He led two successful growth-stage companies as CEO, headed the financial services division at Axiom Legal, and joined with other active early-stage investors to launch Rubicon Venture Capital. Working in partnership with Goldman Sachs University, Carlson developed a comprehensive multilevel leadership curriculum built around self-awareness, empathy, principled negotiation skills, and emotional intelligence.
Carlson earned his B.A. from Williams College and his J.D. from Harvard Law School. He clerked for the Hon. Bruce M. Selya on the United States Court of Appeals for the First Circuit.
---
Leadership is a complicated and personal concept; how do you define it?
I imagine leadership as the art of summoning others to reach their full potential. Cultivating and celebrating the skills of others and helping others deploy their skills in rewarding pursuits is the heart of what a good leader does.
What have you learned about leadership in your own career?
That might take a couple of books to answer! Here are some recurring themes:
There are three words I put up on my wall that I aim to model every day in my new role at Yale Law School: empathy, compassion, and curiosity. I've learned that you can't go too far wrong if you hold close to those aspirations.
Great leaders succeed by empowering the people around them. Pushing responsibility and agency to talented people in all ranks of an organization is often the best way to encourage people to take full ownership for their results.
Leadership is often situational: what works for the Chief Justice of the Supreme Court — or the Dean of Yale Law School — is unlikely to work for first responders in the immediate aftermath of a flood or an earthquake. Our aim should be to help students understand the nuances of a situation and calibrate their leadership style to suit the need at hand.
Finally, every person's leadership style succeeds when it is authentic to her values and her personality. I've known many quiet people whose superpower was "leading from the second chair" and many social justice leaders whose authority flowed from the strength of their ideals. Clear-eyed self-awareness is the first step on the journey to becoming an effective leader.
We have an opportunity not only to teach but to model these principles of leadership right here in our program. In staff meetings we often find ourselves "going meta" to explore how we ourselves can put leadership philosophies to work in our interactions with each other and the broader YLS community.
What made you interested in taking on this role at Yale Law School?
I've been studying and practicing leadership all my life. From helping elected officials craft their rhetoric of leadership to leading growth-stage companies; from my youth as an Eagle Scout taking my troop on adventures to designing the leadership curriculum for Goldman Sachs University. Heading up The Tsai Leadership Program seems like a logical culmination to the many and varied roles that have taught me different perspectives on leadership.
Most important, history suggests that many of our current students will go on to consequential leadership positions. The opportunity to guide them to think intelligently about their theory and practice of leadership is irresistible.
What do you want students to know about The Tsai Leadership Program and the offerings of the Ludwig and Chae programs?
First, that our resources are available to all YLS students. We will have a robust curricular offering from courses to reading groups; a number of skills workshops and events throughout the academic year; a series of engaging speakers and seminars; and some new initiatives targeted at connecting YLS alumni more closely with students. Come and take full advantage of what The Tsai Leadership Program has to offer.
Second, that we are very much still in formation. The team is hungry for good ideas for how to study, model, and teach leadership in all its many forms. I've been meeting with the luminous people in our Alumni Advisory Council all summer, and I feel every meeting presents golden nuggets of wisdom, ideas, and advice, some of which are already coalescing into tangible initiatives. Our ambition is to try a lot of new programs in various formats and figure out what really sings.
What are you most excited about working on over the course of the next year?
I'm excited to work closely with Yale Law students and particularly with the newly selected fellows in the Ludwig and Chae programs. Margie Adler and Mary Herrington, respectively, will be doing the heavy lifting in advising and one-on-one counseling of the fellows on their career paths. They both bring tremendous knowledge and resourcefulness to that valuable work. I'm personally excited to get the fellows actively involved in planning our initiatives and events. In fact, I'm partnering with one new Chae Fellow to design a reading group that Joe Tsai and I will help teach this fall.
We have latitude to design programs that enrich the leadership of YLS graduates who are already working in the field. I'm excited about finding ways to deepen their skills while exposing current students to their experiences, challenges, and hard-won sagacity.
More broadly, I'm excited to pull together a team that creates a leadership program that makes the Law School proud, that prepares our students for the leadership roles they will have 20 and 40 years from now, and that enriches the intellectual life of this community.