Monday, May 20, 2019
---
Yale Law School Commencement 2019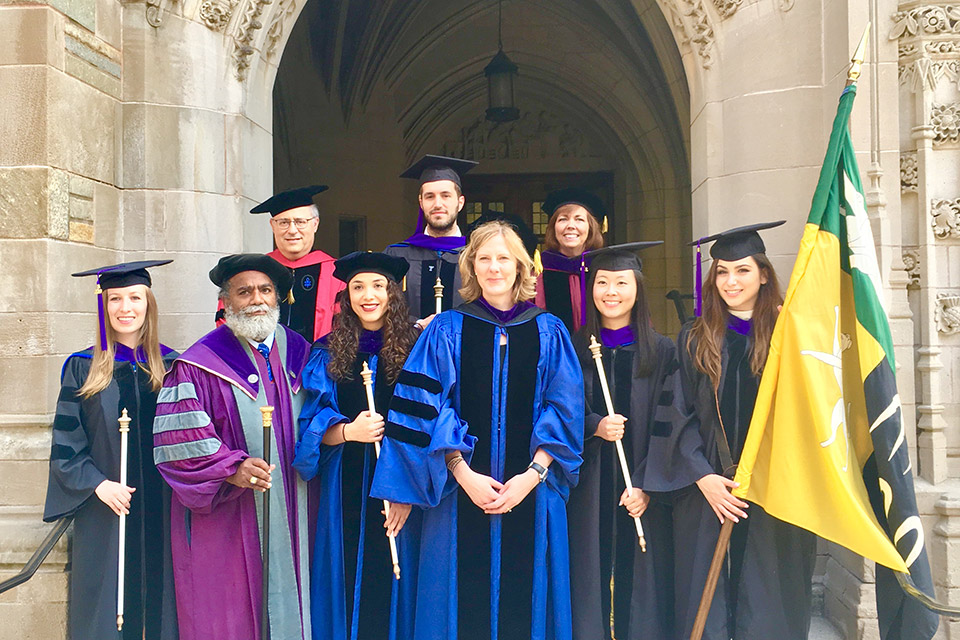 Yale Law School's 2019 Commencement ceremony takes place this morning, Monday, May 20, 2019.
WATCH LIVE: Yale Law School 2019 Commencement Livestream (begins approximately 11:45 a.m. Monday)
The University commencement ceremony begins at 10:30 a.m. on Old Campus. During the ceremony, the deans of the various schools present their candidates to the president. The president, in turn, confers the degrees. Student marshals from each school accept symbolic diplomas from the president on behalf of their colleagues. Honorary degrees are also conferred at the University commencement. The ceremony lasts approximately 1 hour and 15 minutes and is being livestreamed here.
Immediately after the University Commencement ceremony, at approximately 12:30 p.m., the Law School holds its individual ceremony at which each graduate is recognized by Dean Heather K. Gerken. The graduation ceremony, in the Lanman Center of the Payne Whitney Gymnasium, lasts approximately two hours. The Law School ceremony is being livestreamed starting at approximately 12:30 p.m. here.
Neal Katyal '95, former Acting Solicitor General of the United States speaks this morning at the ceremony. Katyal has argued 39 cases in front of the Supreme Court, currently serves as the Paul and Patricia Saunders Professor of National Security Law at Georgetown Law, and is a Litigation Partner at Hogan Lovells.
Judge Guido Calabresi '58, Sterling Professor Emeritus of Law and Senior Circuit Judge of the United States Court of Appeals for the Second Circuit, is the faculty speaker.
Following the Law School ceremony, at approximately 2:30 p.m., graduating students and guests will adjourn to the Sol Goldman Courtyard at the Law School for a champagne reception.
Last night, on Sunday evening, Dean Gerken hosted a reception for graduating students, their families, and guests from 5–7 p.m. in the Sol Goldman Courtyard at the Law School.
Find additional information on the Yale Law School Commencement website.
Visit the Yale 2019 Commencement website for further details about University Commencement.