2019-2020 Event Details
---
Tea At Two Virtual Series 
The Justice Collaboratory is pleased to host a series of virtual 'tea time' meetings highlighting our members who will present their research to a public audience for the first time.
Future dates and guest speakers will be announced. Registration is required.
---
Past Events:
On Wednesday, February 5, 2020 the Justice Collaboratory will co-sponsor an event titled "Fighting Gun Violence in Court" featuring Josh Koskoff, of Koskoff, Koskoff & Bieder (attorneys representing Sandy Hook families in Remington lawsuit), Johnathan Lowy, VP and Chief Counsel of the Leagal Action Project, Brady Center to Prevent Gun Violence, and Adam Skaggs, Chief Counsel and Policy Director, Giffords Law Center. This event is co-sponsored by the Solomon Center for Health Law and Policy and Yale Health Law and Policy Society (YHeLPS).
On Wednesday, January 29, 2020 as the Justice Collaboratory welcomes Chelsea Parsons, VP of Gun Violence Prevention, Center for American Progress and Robyn Thomas, Executive Director, Giffords Law Center to Prevent Gun Violence as they speak on "Lobbying Against Gun Control: The Lobbyists, the Industry, and the Politics". This event is co-sponsored by the Solomon Center for Health Law and Policy and Yale Health Law and Policy Society (YHeLPS).
On Tuesday, January 21, 2020 the Justice Collaboratory co-sponsored an event titled "The Uses and Abuses of History in Second Amendment Cases" with The Solomon Center for Health Law & Policy, Yale Legal History Forum, and the Yale Journal of Law & the Humanities. Guest speakers include Saul Cornell (Fordham), Jennifer Tucker (Wesleyan), Mark Frassetto (Everytown for Gun Safety).
On Wednesday, November 20th the Justice Collaboratory co-sponsored an event with Dwight Hall at Yale to welcome Will Snowden, Director of the New Orleans VERA Institute of Justice office. Mr. Snowden presented on the topic of "Reimagining Jury Duty & Bail Reform in the 21st Century".
In his role, Mr. Snowden continues and strengthens Vera's existing partnerships with criminal justice actors and community leaders while identifying new collaborative relationships with government entities and community organizations. The collaborations will focus on improving criminal justice systems in the South. Prior to joining Vera, Will was a public defender for five years representing New Orleanians in all stages of a case from arraignment to trial.
He has also developed a focus and specialization in advocacy around reforming the procedures, systems, and policies around jury duty in an effort to promote diversity and representativeness in the jury box. Snowden also launched The Juror Project—an initiative aiming to increase the diversity of jury panels while changing and challenging people's perspective of jury duty.
On Tuesday, October 29th, 2019 the Justice Collaboratory welcomed Michael Lwin, CEO of KoeKoe Tech as he presented "Facebook, Hate Speech, Misinformation, and Myanmar". This event was co-sponsored with the Yale Computation & Society Initiative.
In Myanmar, Facebook is the Internet. The New York Times reported that Facebook was used to spread hate speech and misinformation about the Rohingyas, contributing to sectarian tensions that erupted in violence, resulting in over 700,000 Rohingyas being forcibly moved across the border into Bangladesh, with many thousands killed, raped, and maimed.
In this presentation there will be a discussion of several problems involving Facebook, Hate Speech and Misinformation in the Myanmar context, with implications for the United States and global discourse for Facebook. Namely:
issues with the capacity of civil society in international legal and Facebook's own Community Policies definitions of "hate speech" and "misinformation" and civil society's flagging of Facebook content for review, as Facebook relies heavily on civil society to generate the "cases" for content review is countries with weak freedom of expression and the rule of law;
this lack of civil society capacity contributing to a lack of sound "training data", which computer scientists and computational social scientists need to train algorithms that have predictive accuracy in identifying hate speech and misinformation;
the inadvertent consequences of the recent $5 billion FTC fine against Facebook chilling Facebook's ability to provide its own training data to researchers;
an American-centric discussion on breaking up Facebook on antitrust grounds missing the implications for the Global South, as China's WeChat, with its policy of censorship and user-data funneling to the Chinese government, will sweep into countries Facebook, Messenger, and Whatsapp may have to exit depending on the nature of a potential antitrust breakup; and
Facebook's issues in content handling giving rise to a new area of law or "quasi"-law, which we style as Private First Amendment Law, and how regulators, legal academics, computer scientists, technologists, and civil society may need to reason through this new area of law against the backdrop of Facebook's impending Oversight Board.
On October 17, 2019, the Justice Collaboratory and the Solomon Center for Health Law and Policy co-sponsored a debate about the relationship between cannabis use, mental illness, and violence. The event featured Alex Berenson, author and a former New York Times reporter, and Dr. Peter Grinspoon, a primary care physician at Massachusetts General Hospital and instructor at Harvard Medical School. Berenson's controversial 2019 book Tell Your Children: The Truth about Marijuana, Mental Illness and Violence, and its argument that that cannabis significantly increases a long-term user's risk for developing psychosis and raises their risk for committing violent acts, provided the starting point for the debate and elicited a full-throated refutation from Dr. Grinspoon. The discussion was moderated by Professor Jason Schwartz, Assistant Professor in the Department of Health Policy and Management at the Yale School of Public Health.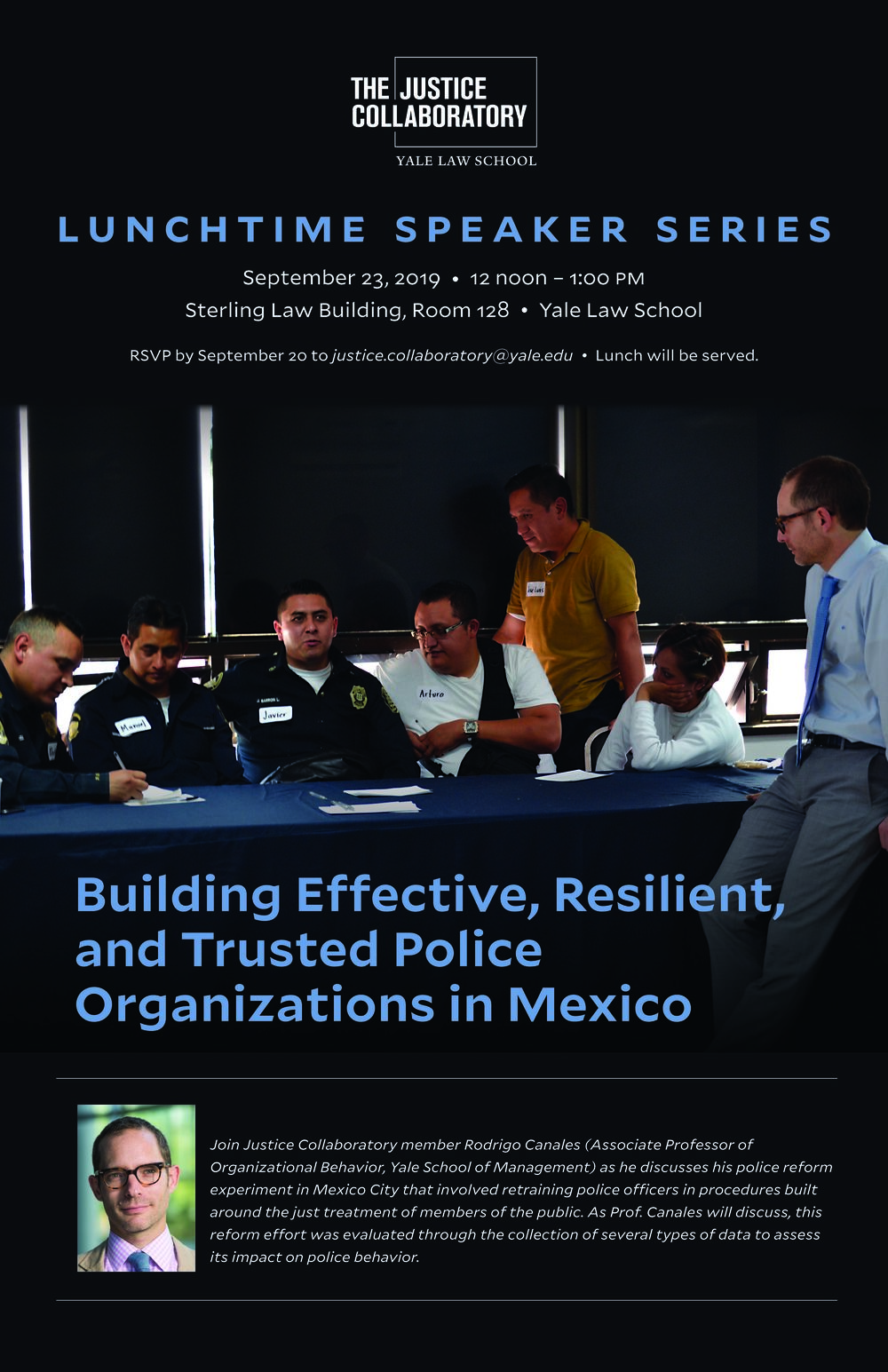 On September 28, 2019 the Justice Collaboratory welcomed member Prof. Rodrigo Canales (Associate Professor of Organizational Behavior, Yale School of Management) for a talk on "Building Effective, Resilient, and Trusted Police Organizations in Mexico City". Professor Canales discussed his police reform experiment in Mexico City that involved retraining police officers in procedures built around the just treatment of members of the public. This experiment was evaluated through the collection of several types of data to assess its impact on police behavior.