2019-2020 Event Details
---
Tea At Two Virtual Series 
The Justice Collaboratory is pleased to host a series of virtual 'tea time' meetings highlighting our members who will present their research to a public audience for the first time.
Repairing Technological Harms
Thursday, December 3, 2020
When: 2 PM - 3 PM (EDT)
Register here.
How should social media sites contend with harms users experience on the site, such as being targets of online harassment? Can harms be measured or quantified, and should they be?
This talk will explore how different justice theories, such as restorative justice, racial justice, and reparative justice, can expose approaches for remediating harms experienced online.
Biography
Sarita Schoenebeck is an Associate Professor in the School of Information at the University of Michigan. She directs the Living Online Lab and co-directs the Social Media Research Lab. Her research focuses on promoting more equitable and inclusive experiences online.
Sarita received her Ph.D. in Human-Centered Computing from Georgia Tech. She is the recipient of the NSF CAREER Award, the UMSI Diversity, Equity, and Inclusion Award, and Best Paper and Honorable Mention awards at CHI and CSCW. Her research has been covered multiple times in The New York Times, The Washington Post, NPR, and elsewhere. 
Grey Areas: Universal Standards, Cultural Difference and Local Contexts in Social Media Content Moderation
Thursday, November 19, 2020
When: 2 PM - 3 PM (EDT)
Link to register is
here
.
How do the main social media platforms (based primarily in two countries - the USA and China) contend with the wide cultural and linguistic variation of their global users as they endeavor to create and enforce universal standards? How can we situate this new attempt at the universalization of norms in the context of past and ongoing universalist exercises such as, for example, International Human Rights. In this presentation, Baron will address these questions through
an examination of content moderation policies and the controversies that surround them.
Biography
Baron Pineda is a cultural anthropologist specializing in human rights, indigenous peoples, and Latin America. He is the author of Shipwrecked Identities: Navigating Race on Nicaragua's Mosquito Coast (Rutgers University Press), as well as numerous articles in scholarly journals. He has a bachelor's degree in rhetoric and anthropology from the University of California, Berkeley, and a master's degree and PhD from the University of Chicago. Since 2002, he has been conducting field research on global indigenous politics at the United Nations Permanent Forum on Indigenous Issues.
He is currently a professor and former chair of anthropology at Oberlin College.
The Impact of Technology on Trust
Wednesday, October 28, 2020
Governance of Internet based technologies is not only about governing "data" or moderating "content". It's also about governing human behavior. One side-effect of ignoring people and communities in social media governance discussion is focusing on technology solutions, punitive governance mechanisms and post hoc remedies. As a result, these governance mechanisms send people to cyber jails and platform supreme courts. At Social Media Governance Initiative (SMGI) we want to put people (the users and the decision-makers) at the center of discussion.
We want to shift the narrative from the dominant stories about take-down, blocking, removal and so on, and move toward pro-social solutions and talk about how people perceive technology and the platforms' decision-makers. By pro-social solutions we mean using non-punitive mechanisms that can motivate people to comply, engage and cooperate. More broadly instead of focusing on the "authority" we want to focus on communities on the Internet. With the pro-social theme in mind, we have organized our first SMGI's #Tea@2 session. Our speaker is Paolo Parigi, a member of SMGI's Research Network. Paolo will talk to us about how technology transforms human trust.
The Impact of Technology on Trust
Technology has made establishing trust a lot easier than before. This is because of the quantity of information about others that is available online in the form of ratings and reviews has made
possible to trust strangers. Yet, a potential unintended side effect of technologically driven change is the emergence of a new meaning of the sentence, "I trust you". In this talk, Paolo will
explore both sides of how technology transforms relationships.
Biography
Paolo Parigi is a researcher at Facebook. He is interested in trust and in the broader area of how technology is impacting relationships. The key insight of his work is that technology is not only accumulating data about people but is transforming lives. We live in a largely engineered space where interactions are often designed by algorithms. A new space for an applied social science has now emerged as a result of the digital transformation. Paolo's current position in industry allows him to pursue this more applied side of computational social science.
Prior to his current position, Parigi has worked as an assistant professor at Stanford, senior data scientist at Uber and lead trust scientist at Airbnb.
---
Past Events:
On Wednesday, February 5, 2020 the Justice Collaboratory will co-sponsor an event titled "Fighting Gun Violence in Court" featuring Josh Koskoff, of Koskoff, Koskoff & Bieder (attorneys representing Sandy Hook families in Remington lawsuit), Johnathan Lowy, VP and Chief Counsel of the Leagal Action Project, Brady Center to Prevent Gun Violence, and Adam Skaggs, Chief Counsel and Policy Director, Giffords Law Center. This event is co-sponsored by the Solomon Center for Health Law and Policy and Yale Health Law and Policy Society (YHeLPS).
On Wednesday, January 29, 2020 as the Justice Collaboratory welcomes Chelsea Parsons, VP of Gun Violence Prevention, Center for American Progress and Robyn Thomas, Executive Director, Giffords Law Center to Prevent Gun Violence as they speak on "Lobbying Against Gun Control: The Lobbyists, the Industry, and the Politics". This event is co-sponsored by the Solomon Center for Health Law and Policy and Yale Health Law and Policy Society (YHeLPS).
On Tuesday, January 21, 2020 the Justice Collaboratory co-sponsored an event titled "The Uses and Abuses of History in Second Amendment Cases" with The Solomon Center for Health Law & Policy, Yale Legal History Forum, and the Yale Journal of Law & the Humanities. Guest speakers include Saul Cornell (Fordham), Jennifer Tucker (Wesleyan), Mark Frassetto (Everytown for Gun Safety).
On Wednesday, November 20th the Justice Collaboratory co-sponsored an event with Dwight Hall at Yale to welcome Will Snowden, Director of the New Orleans VERA Institute of Justice office. Mr. Snowden presented on the topic of "Reimagining Jury Duty & Bail Reform in the 21st Century".
In his role, Mr. Snowden continues and strengthens Vera's existing partnerships with criminal justice actors and community leaders while identifying new collaborative relationships with government entities and community organizations. The collaborations will focus on improving criminal justice systems in the South. Prior to joining Vera, Will was a public defender for five years representing New Orleanians in all stages of a case from arraignment to trial.
He has also developed a focus and specialization in advocacy around reforming the procedures, systems, and policies around jury duty in an effort to promote diversity and representativeness in the jury box. Snowden also launched The Juror Project—an initiative aiming to increase the diversity of jury panels while changing and challenging people's perspective of jury duty.
On Tuesday, October 29th, 2019 the Justice Collaboratory welcomed Michael Lwin, CEO of KoeKoe Tech as he presented "Facebook, Hate Speech, Misinformation, and Myanmar". This event was co-sponsored with the Yale Computation & Society Initiative.
In Myanmar, Facebook is the Internet. The New York Times reported that Facebook was used to spread hate speech and misinformation about the Rohingyas, contributing to sectarian tensions that erupted in violence, resulting in over 700,000 Rohingyas being forcibly moved across the border into Bangladesh, with many thousands killed, raped, and maimed.
In this presentation there will be a discussion of several problems involving Facebook, Hate Speech and Misinformation in the Myanmar context, with implications for the United States and global discourse for Facebook. Namely:
issues with the capacity of civil society in international legal and Facebook's own Community Policies definitions of "hate speech" and "misinformation" and civil society's flagging of Facebook content for review, as Facebook relies heavily on civil society to generate the "cases" for content review is countries with weak freedom of expression and the rule of law;
this lack of civil society capacity contributing to a lack of sound "training data", which computer scientists and computational social scientists need to train algorithms that have predictive accuracy in identifying hate speech and misinformation;
the inadvertent consequences of the recent $5 billion FTC fine against Facebook chilling Facebook's ability to provide its own training data to researchers;
an American-centric discussion on breaking up Facebook on antitrust grounds missing the implications for the Global South, as China's WeChat, with its policy of censorship and user-data funneling to the Chinese government, will sweep into countries Facebook, Messenger, and Whatsapp may have to exit depending on the nature of a potential antitrust breakup; and
Facebook's issues in content handling giving rise to a new area of law or "quasi"-law, which we style as Private First Amendment Law, and how regulators, legal academics, computer scientists, technologists, and civil society may need to reason through this new area of law against the backdrop of Facebook's impending Oversight Board.
On October 17, 2019, the Justice Collaboratory and the Solomon Center for Health Law and Policy co-sponsored a debate about the relationship between cannabis use, mental illness, and violence. The event featured Alex Berenson, author and a former New York Times reporter, and Dr. Peter Grinspoon, a primary care physician at Massachusetts General Hospital and instructor at Harvard Medical School. Berenson's controversial 2019 book Tell Your Children: The Truth about Marijuana, Mental Illness and Violence, and its argument that that cannabis significantly increases a long-term user's risk for developing psychosis and raises their risk for committing violent acts, provided the starting point for the debate and elicited a full-throated refutation from Dr. Grinspoon. The discussion was moderated by Professor Jason Schwartz, Assistant Professor in the Department of Health Policy and Management at the Yale School of Public Health.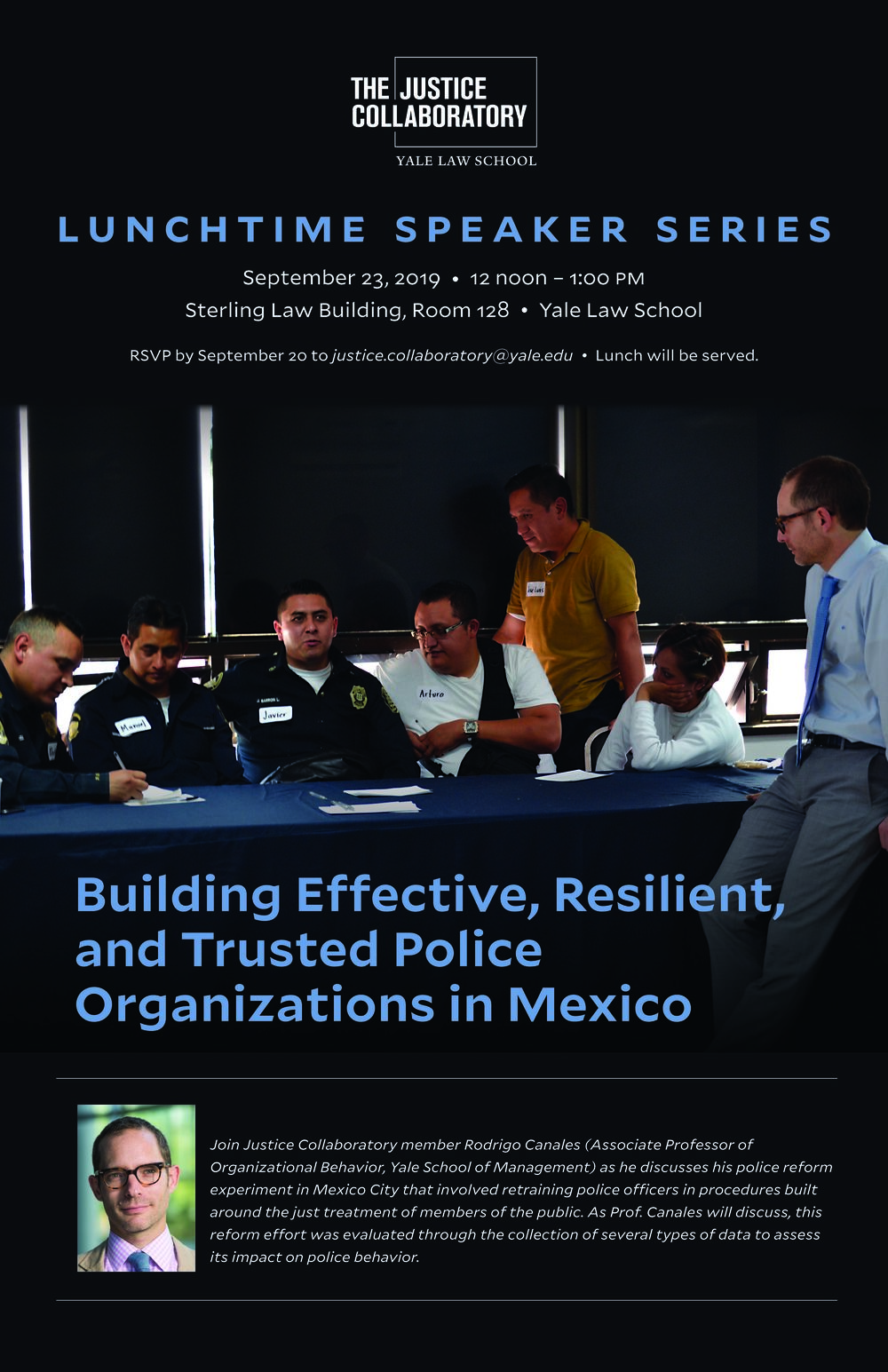 On September 28, 2019 the Justice Collaboratory welcomed member Prof. Rodrigo Canales (Associate Professor of Organizational Behavior, Yale School of Management) for a talk on "Building Effective, Resilient, and Trusted Police Organizations in Mexico City". Professor Canales discussed his police reform experiment in Mexico City that involved retraining police officers in procedures built around the just treatment of members of the public. This experiment was evaluated through the collection of several types of data to assess its impact on police behavior.