The Tsai Leadership Program Alumni Advisory Council
---
The Advisory Council is composed of Yale Law School alumni with wide-ranging leadership experiences inside and outside of the law, spanning industries, sectors, and class years. Its members serve as a resource to the Law School as the Dean and faculty develop the program. Although the Advisory Council is neither a governance nor an oversight committee, the Leadership Advisory Council supports deeper connections between the alumni and students and is available to the Dean and faculty as thought partners.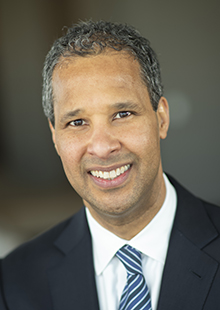 B. Marc Allen '02
B. Marc Allen is Chief Strategy Officer and Senior Vice President of Strategy and Corporate Development at The Boeing Company. He is responsible for the company's overarching strategy, including long-term planning, global business and corporate development, and strategic investments, acquisitions, and divestitures. Prior to Boeing, Allen practiced law in Washington, D.C., litigating complex commercial cases for domestic and international clients. Allen received his bachelor's degree summa cum laude from Princeton University, majoring in political science with a certificate in economics, and a J.D. degree from Yale Law School.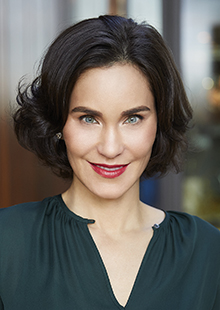 Laura Arnold '00
Laura Arnold is the Co‐Founder and Co‐Chair of Arnold Ventures, a national philanthropy focused on maximizing opportunity and minimizing injustice through public policy change. Before founding Arnold Ventures, Arnold served as a corporate lawyer and executive in the energy industry. Arnold earned her B.A. from Harvard College, M.Phil. in European studies from the University of Cambridge, and J.D. degree from Yale Law School.
Richard Buery Jr. '97
Richard Buery is CEO of Robin Hood, one of the nation's leading poverty-fighting organizations. Previously, Buery served as CEO of Achievement First, a network of 37 public charter schools providing an excellent education to 15,000 students across New York, Connecticut, and Rhode Island. Buery matriculated at Harvard College at the age of 16 and earned his J.D. degree at Yale Law School.
Yasmin Cader '92
Yasmin Cader works for the American Civil Liberties Union as a Deputy Legal Director to lead the Trone Center for Justice and Equality. She collaborates with national organizers and attorneys to secure the civil liberties of those most affected by criminal and racial justice issues. Prior to joining the American Civil Liberties Union, Cader co-founded Cader Adams Trial Lawyers, a Black-led, women-owned litigation boutique in Los Angeles. In this capacity, Yasmin litigated high-stakes civil and criminal matters and counseled higher education, nonprofit, and for-profit institutions seeking to transform organizational culture and enact systems to advance intersectional racial justice. She also has experience representing businesses and senior executives in complex white-collar crime charges and civil litigation matters. Cader earned a degree from Howard University and a J.D. degree from Yale Law School.
Carmela Castellano-Garcia '91
Carmela Castellano-Garcia is President of the Castellano Family Foundation. For 24 years, Castellano-Garcia was the CEO of the California Primary Care Association (CPCA), a professional organization representing more than 1,200 nonprofit community clinics and health centers in California that provide comprehensive, quality health care services to primarily low-income, uninsured and underserved Californians. Castellano-Garcia also served as Founder and Executive Director of the Latino Coalition for a Healthy California and as Managing Attorney with Public Advocates, Inc. Castellano-Garcia holds a bachelor's degree in political science from the University of California at Berkeley and a J.D. degree from Yale Law School.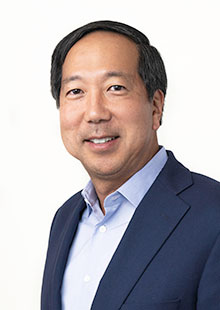 Michael Chae '97
Michael Chae is Blackstone's Chief Financial Officer and a member of the firm's Management Committee. Blackstone is the world's largest alternative asset management firm, with more than $700 billion in assets under management. Before joining Blackstone, Chae worked at The Carlyle Group. Chae received an A.B. from Harvard College, an M.Phil. in international relations from Cambridge University, and a J.D. degree from Yale Law School.
Gregory Fleming '88
Gregory Fleming is the Chief Executive Officer of Rockefeller Capital Management, a role he has held since the firm, formerly known as Rockefeller & Co., launched in March 2018. Prior to leading Rockefeller Capital Management, Fleming was the President of Morgan Stanley Wealth Management and Morgan Stanley Investment Management. Fleming is a Phi Beta Kappa, summa cum laude graduate of Colgate University with a bachelor's degree in economics. He received his J.D. degree from Yale Law School.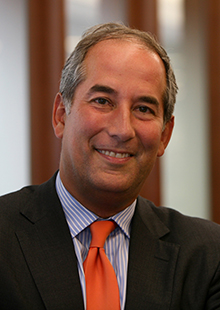 Thomas Glocer '84
Thomas Glocer is Executive Chair and Co-Founder of BlueVoyant LLC and Capitolis Inc., cyber defense and fintech companies, respectively. Glocer worked at Reuters Group PLC and its successor company, Thomson Reuters Corp. He was Chief Executive Officer of Thomson Reuters Corp., the leading news and professional information provider. Thomson Reuters was formed upon the acquisition of Reuters Group PLC, where Glocer served as CEO. Glocer holds a bachelor's degree in political science from Columbia University and a J.D. degree from Yale Law School.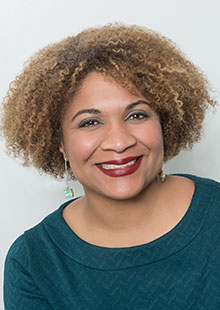 Fatima Goss Graves '01
Fatima Goss Graves is President and CEO of the National Women's Law Center, President of the National Women's Law Center Action Fund, and a co-founder of the TIME'S UP Legal Defense Fund. Prior to joining the National Women's Law Center, Goss Graves was an Associate with Mayer, Brown, Rowe & Maw. Goss Graves is a graduate of UCLA and has a J.D. degree from Yale Law School.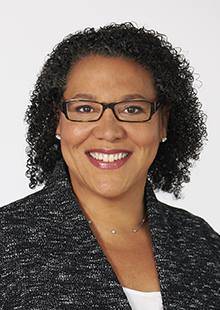 Kimberley Harris '96
Kimberley Harris is Executive Vice President of Comcast Corporation and General Counsel of NBCUniversal. In this role, Harris oversees all international government and regulatory affairs for Comcast, supporting the company's businesses worldwide. Additionally, as General Counsel of NBCUniversal, Harris provides legal advice to the senior management team and oversees the legal function across all NBCUniversal divisions. Prior to joining NBCUniversal, Harris was a litigation partner at Davis Polk & Wardwell. Harris graduated magna cum laude from Harvard University and holds a J.D. degree from Yale Law School.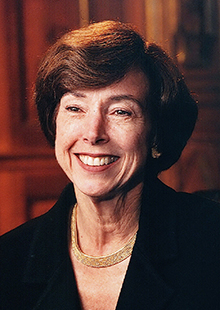 Carla Hills '58
Carla Hills is Chair and Chief Executive Officer of Hills & Company, International Consultants. The firm provides advice to U.S. businesses on investment, trade, and risk assessment issues abroad. Hills has served in government as an Assistant Attorney General for the Department of Justice, Secretary of the Department of Housing and Urban Development in the Ford Administration, and as a cabinet member for Presidents Gerald Ford and George H. W. Bush. Hills graduated from Stanford University, attended Oxford University's St. Hilda's College, and obtained her LL.B. degree from Yale Law School. She also holds honorary degrees from a number of colleges and universities.
Frank Jimenez '91
Frank Jimenez is Group Vice President and General Counsel of GE Healthcare, a leading global medical technology, pharmaceutical diagnostics, and digital solutions innovator. Previously, Jimenez served as Executive Vice President and General Counsel of Raytheon Technologies Corporation, a leader in technologies across the full spectrum of aviation, space and defense formed by the 2020 merger of Raytheon Company and United Technologies Corporation. Jimenez also served as general counsel of Raytheon Company, Bunge Limited, Xylem Inc., and ITT Corporation, where he managed the 2011 spin-offs of two public companies, Xylem and Exelis Inc. In prior public service, Jimenez served as the 21st General Counsel of the Navy, one of seven Senate-confirmed Pentagon civilians of four-star equivalent rank overseeing the U.S. Navy and Marine Corps; Deputy General Counsel (Legal Counsel) of the U.S. Department of Defense; Principal Deputy General Counsel of the Navy; Chief of Staff at the U.S. Department of Housing and Urban Development; and Deputy Chief of Staff and Acting General Counsel for Florida Governor Jeb Bush. Jimenez graduated from the University of Miami. He holds an M.B.A. from the University of Pennsylvania's Wharton School, an M.A. from the U.S. Naval War College, and a J.D. degree from Yale Law School.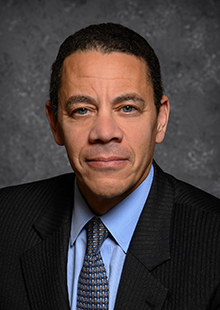 William Kennard '81
William Kennard is Co-Founder and Chairman of Velocitas Partners LLC, an asset management firm. He also serves as an advisor to and founding investor in Astra Capital Management and Staple Street Capital, both private equity firms. Kennard served as the U.S. Ambassador to the European Union from 2009 to 2013 and as chairman of the Federal Communications Commission from 1997-2001. Before serving as an Ambassador, he was Managing Director of The Carlyle Group, an asset management firm, from 2001 to 2009, where he led investments in the telecommunications and media sectors. Kennard is a graduate of Stanford University. He received his J.D. degree from Yale Law School. He has received honorary degrees from Howard University, Gallaudet University, and Long Island University.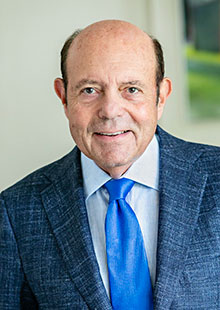 Gene Ludwig '73
Gene Ludwig is the CEO of Promontory MortgagePath, a technology-based mortgage fulfillment and solutions company, and Founder and Chairman of Promontory Financial Group, now an IBM Company. He is also the Founder and Former Chairman of Promontory Interfinancial Network (now IntraFi Network). In January 2020, Ludwig launched Canapi Ventures, a venture capital firm focused on investments in early to growth-stage fintech companies, where he serves as Co-Managing Partner. Ludwig founded The Ludwig Institute for Shared Economic Prosperity. He was previously Vice Chairman and Senior Control Officer of Bankers Trust New York Corp. Ludwig graduated magna cum laude from Haverford College and received a scholarship to Oxford University, where he earned a Master of Arts degree as a Keasbey Fellow. He earned a J.D. degree from Yale Law School.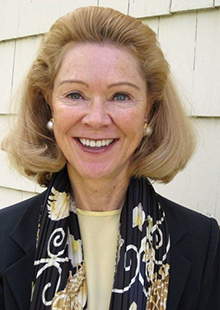 Siri Marshall '74
Siri Marshall retired as the Senior Vice President, General Counsel, Secretary, and Chief Compliance Officer of General Mills. In that role, she had responsibility for the company's worldwide legal and governance issues, compliance programs, government and public affairs, and philanthropy. Prior to joining General Mills, Marshall was Senior Vice President, General Counsel and Secretary of Avon Products in New York, with responsibility for global legal and government affairs. Marshall received her undergraduate degree with honors from Harvard University and a J.D. degree from Yale Law School.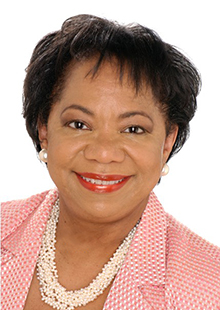 Rhonda Joy McLean '83
Rhonda Joy McLean is the President and CEO of RJMLEADS LLC, a leadership consulting company. Prior to starting her own business, McLean was the former Deputy General Counsel of Time Inc., a global media company, where she managed one-third of the law department for nearly 20 years and provided legal counsel to more than 200 clients, including the print, digital, and social media marketing staff for Time, People, Sports Illustrated, Fortune, Money, Entertainment Weekly, and Essence, among other top brands. McLean earned a J.D. degree from Yale Law School.
Lynn Neuner '92
Lynn Neuner is a partner at Simpson Thacher & Bartlett LLP. She focuses on litigation involving securities, mergers, insurance coverage, and false advertising. She has tried cases in federal and state court and conducted dozens of hearings before the National Advertising Division and the Networks. Her work involves the representation of large financial institutions, pharmaceutical companies, mega insurers, domestic manufacturers, and individual directors and officers. Neuner received her B.A., summa cum laude, from Williams College and her J.D. degree from Yale Law School.
Arthur Ochoa '95
Arthur Ochoa is Senior Vice President of Advancement and Chief Advancement Officer at Cedars-Sinai. He leads Cedars-Sinai's external relations, including community engagement, development, and marketing and communications. Prior to joining Cedars-Sinai, Ochoa practiced transactional and tax law for individual, corporate, and nonprofit clients at O'Melveny & Myers LLP and Irell & Manella LLP. Ochoa earned a Bachelor of Arts degree in history from the University of Southern California (cum laude and Phi Beta Kappa) and a J.D. degree from Yale Law School.
Robert Rubin '64
Robert Rubin, Co-Chairman Emeritus, Council on Foreign Relations, and former Secretary of the U.S. Treasury, began his career in finance at Goldman Sachs & Company in New York City. Rubin served as Vice-Chairman and Co-Chief Operating Officer and as Co-Senior Partner and Co-Chairman. Before joining Goldman, Rubin was an attorney at the firm of Cleary, Gottlieb, Steen & Hamilton. Rubin graduated summa cum laude from Harvard College with an A.B. in economics. He received an LL.B. degree from Yale Law School and attended the London School of Economics. He has received honorary degrees from Harvard, Yale, Columbia, and other universities.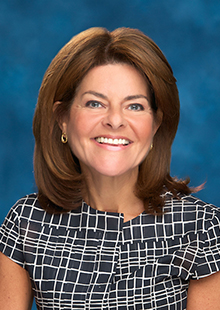 Amy Schulman '89
Amy Schulman is a healthcare investor and Managing Partner at Polaris Partners. She also co-founded and acts as Managing Partner of the Polaris Innovation Fund. Prior to joining Polaris, Schulman held various executive roles at Pfizer including as General Counsel, and President of Pfizer Consumer Healthcare and Pfizer Nutrition. Schulman is a Phi Beta Kappa graduate of Wesleyan University with a joint degree in philosophy and English and earned her J.D. degree from Yale Law School.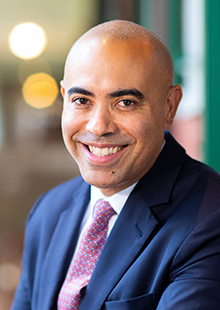 Ian Solomon '02
Ian Solomon is Dean of the Frank Batten School of Leadership and Public Policy at the University of Virginia, where he leads a multidisciplinary faculty of scholars and practitioners who are committed to creating new knowledge, developing ethical and effective leaders, and advancing solutions to humanity's greatest policy challenges. Solomon served in the U.S. Senate as legislative counsel to then-Senator Barack Obama. Later, under the Obama administration, he was confirmed unanimously by Congress as the U.S. Executive Director for the World Bank Group, where he championed private-sector development in Africa and negotiated a range of multi-stakeholder agreements. Solomon earned his A.B. from Harvard University and his J.D. degree from Yale Law School.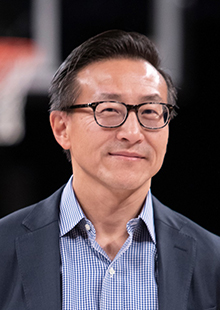 Joseph Tsai '90
Joseph Tsai is a Co-Founder and Executive Vice Chairman of Alibaba Group, a global Internet technology company based in China. His career at Alibaba spans more than 20 years, during which he was the company's Chief Financial Officer and oversaw strategic investments. Tsai practiced tax law as an associate with Sullivan & Cromwell LLP in New York. Through the Joe and Clara Tsai Foundation, Tsai and his wife Clara Wu Tsai are active philanthropists supporting initiatives in education, research, criminal justice reform, economic mobility, the arts, and humanitarian relief during the COVID-19 pandemic. Tsai earned a B.A. from Yale College and a J.D. degree from Yale Law School.
Nicholas Turner '96
Nicholas Turner is President and Director of Vera, an organization committed to ending overcriminalization and mass incarceration in America. Under Turner's leadership, Vera has focused its efforts on driving national change, tripled its budget, and strengthened its policy advocacy, and its ability to shape public debate. Turner previously served at Vera from 1998 to 2007 as Vice President and Chief Program Officer. Prior to rejoining Vera, Turner was a Managing Director at The Rockefeller Foundation, where he was a member of the foundation's senior leadership team. Turner has a bachelor's degree from Yale and a J.D. degree from Yale Law School.