Annual Giving sustains and promotes the core functions and initiatives that make YLS a leader in legal education. These critical gifts, which constitute roughly 10 percent of the Law School's yearly revenue, provide essential ongoing support for the Law School, especially the clinics, many of which are not endowed. In most years, the Dean looks to these funds to create new classes, fund new initiatives, and find new ways to support our students. In challenging years, like 2020-2021, these funds ensure that the Law School can stay the course, pushing forward its mission without laying off staff or sacrificing the quality of our students' experience.  
This is where the commitment of our alumni to the YLS mission shines particularly brightly and every gift matters. If you have a specific area you feel passionate about, you can also choose to designate your gift. Areas include:
Financial Aid/COAP
Clinical Programs
Lillian Goldman Law Library
Teaching and Research
Diversity and Inclusion
Graduate Programs
 
Travis Torrence '05 Begins Term as Fund Board Chair With Passion To Pay It Forward
---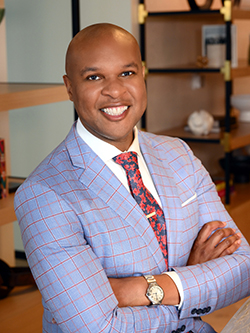 July 14, 2022
Travis Torrence '05 serves as Global Litigation Bankruptcy & Credit Team Lead at Shell USA, Inc., where he manages a team of attorneys and legal support professionals who handle all bankruptcy and credit legal issues for Shell's business units in the United States and Canada. Torrence received his J.D. from Yale Law School in 2005 and his B.A. from Tulane University. Prior to joining Shell, he was a senior associate at Fulbright & Jaworski LLP (now known as Norton Rose Fulbright). Torrence began his legal career as a law clerk for the Honorable Edward C. Prado of the United States Court of Appeals for the Fifth Circuit.
In addition to serving as Chair of the Yale Law School Fund Board, Torrence currently serves as President of the Board of Directors of the National LGBTQ+ Bar Foundation, Secretary of the Hollyfield Foundation, and a member of the Board of Directors of the Texas Access to Justice Foundation and the Alley Theatre. He is a member and former chair of several other not-for-profit boards and foundations. He was recently honored as the 2022 Grand Marshal of Houston's LGBTQ+ Pride Celebration.

Torrence is a former Dancing with the Houston Stars champion and has chaired numerous philanthropic events, including the World AIDS Day Luncheon, the Victory Fund Champagne Brunch, the Montrose Center's Out For Good Gala, Dining Out for Life, the Camp For All Gala, and the Houston Boychoir Luncheon. 

At the start of his term as Fund Board Chair, Yale Law School caught up with Torrence on why giving is so important to him.
 
Congratulations on being the new chair of the Yale Law School Fund Board. Why is this role meaningful to you?

Yale Law School consistently makes bold, inspiring, and empowering contributions to law, leadership, economics, research, and a myriad of other areas. These efforts strengthen our beloved Yale Law community and society at large while tackling humanity's greatest challenges. Many of the initiatives that drive the Law School's continued success have originated with discussions among members of the Fund Board, an organization whose members serve as ambassadors for the Law School and a "think tank" for cutting-edge ideas that aspire to transform and enhance legal education as we know it. Serving as Chair of this group of brilliant, talented, generous, and engaging leaders is truly an honor. Because I admire and respect the previous Chairs of the Fund Board so much, I am truly humbled to be a part of their legacy of steadfast and unwavering service to the Yale Law School community. I have deep conviction in the Fund Board's ambition, advice, and ability. 
 
Who made the biggest impact on your life and future during your time as a student at Yale Law School?

It is not lost on me that I am the grandson of sharecroppers from Mississippi, and the great-great-grandson of slaves who worked on plantations along the Mississippi River in Louisiana. I'm a testament to what is possible with sheer hope, determination, hard work, and most of all, mentorship. At Yale Law School, it was the mentorship of Professors John Simon '53 and Jan Deutsch '62 that enhanced my sense of belonging at the Law School, shaped the way in which I approached my career decisions, and fueled my passion to support underserved communities. Professor Simon was my small group professor and the faculty advisor of the Nonprofit Organizations Clinic, for which I served as the Student Director. He singlehandedly revealed a culture of philanthropy and service that I did not know existed. Since law school, because of his tutelage, I have led and served on several nonprofit boards and made significant gifts to organizations that are doing amazing work across the country. Professor Deutsch, on the other hand, taught a seminar on the rule of law and supervised my SAW. Among my fondest memories of my 2L year are the weekly 7:30 a.m. breakfasts we would have at Atticus to discuss everything from judicial clerkships to foreign legal regimes. He took me under his wing at a time when I was seriously questioning whether law school was right for me. The generosity, sage counsel, and encouragement of those two professors continue to inspire me to pursue my dreams authentically and unapologetically.  
 
Why do you give to Yale Law School?

I give because graduating from Yale Law School is one of the best things that has ever happened to me. I value the educational opportunities, friendships, cultural experiences, diversity, and amazing Indian and Thai food that I enjoyed during my time in New Haven more than anyone will ever know. While I did not face significant financial hardships while in law school, as a first-generation law student from a middle-class family, there was no economic safety net for me, which influenced almost every decision I made while I was at Yale and for the first few years of my career. I want current and future students to have an even better experience than I had and the freedom to explore the countless opportunities that a Yale education brings. In addition, as the legal industry evolves, I want to help to shepherd the creation of a new kind of legal education grounded in equity and focused on cultivating deep knowledge and high-impact opportunities that will give future leaders the tools to tackle society's greatest challenges.
 
What do you wish more alumni and friends knew about the importance of annual giving?

Every single dollar contributed to Yale Law School supports our community's most pressing needs — scholarships, student emergencies, innovative programming and educational opportunities, our clinical programs' responses to pressing legal challenges, and vital faculty needs — which keeps us resilient and competitive in the face of challenges. Tuition only covers a portion of the cost of a legal education. Generous gifts made by past donors subsidized so many of our alumni community members' educations, so we owe it to future generations to help ensure they receive the best education possible. Every gift matters; small gifts add up. What really counts is that we, as graduates, are consistently making investments in the future of our beloved institution, its students, and the communities they will someday lead.