At 2018 Bernstein Symposium, Bernstein and Robina Fellows Discuss Solidarity in the Face of Hostility to Human Rights
---
The Bernstein Fellowship and the Symposium honor Bob Bernstein (pictured), the founder and former chair of Human Rights Watch.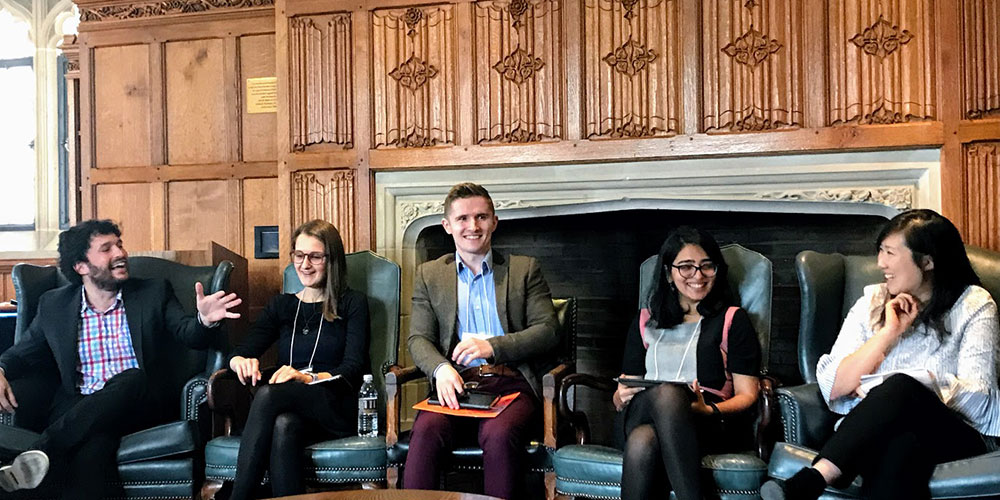 The Symposium kicked off with a panel featuring the current Bernstein and Robina Fellows. From left to right: Sebastian Guidi '17 LLM and Iulia Padeanu '17, who are both Robina Fellows at the European Court of Human Rights; Conor Casey '17 LLM, a Bernstein Fellow at the Mercy Law Resources Centre; Sanya Kumar '17 LLM, a Bernstein Fellow at Reprieve; and Claire Kim '17, a Bernstein Fellow at the Center for Reproductive Rights.
In his keynote address, Vivek Maru '01, emphasized, "We need to turn law from abstraction into something everyone can understand, use, and shape."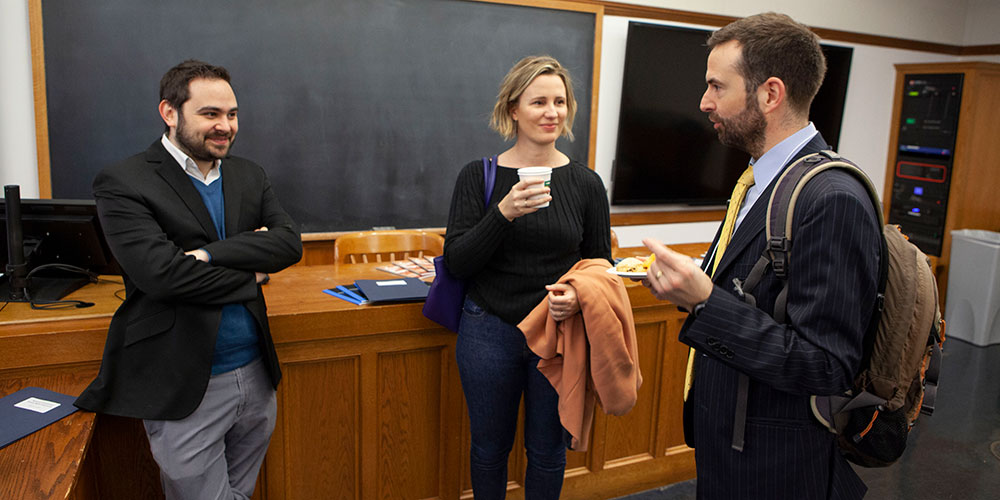 Asaf Lubin '15 LLM (left), Lani Inverarity '15 LLM (center), and Joshua Andresen '15 (right) were among the 63 former Bernstein and Robina Fellows who returned for the 2018 Symposium.
Allana Kemababazi '15, a former Bernstein Fellow who is now a Programs Manager on the Right to Health at the Initiative for Social & Economic Rights in Uganda, said she sees an increasing number of people viewing not just law, but also human rights as increasingly inaccessible and irrelevant.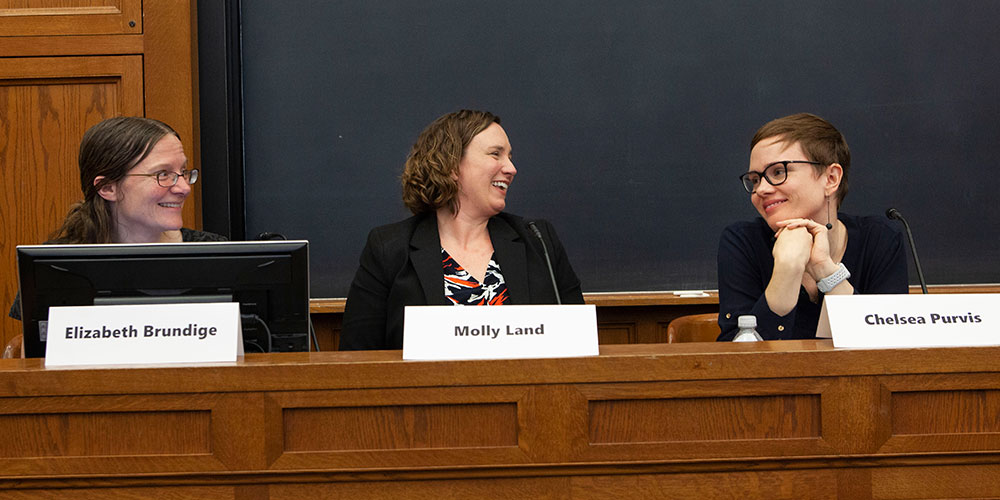 Former Bernstein fellows Elizabeth Brundige '03, Molly Land '01, and Chelsea Purvis '11, presented on a panel about the ethics and politics of human rights fact-finding.
Sari Bashi '03, a former Bernstein Fellow who founded the organization Gisha and is now the Israel/Palestine Advocacy Director at Human Rights Watch, compared human rights work to marathons and advised the audience to "find beauty in the struggle."
Former Fellows Michelle Jonker-Argueta '11, Sharanya Kanikkannan '11, Erin Evers '11, and Alisha Bjerregaard '08, with Jim Silk.
At the Bernstein Symposium's opening reception, former fellows, including Marco Simons '01 (left), connected with current law students.
Former Fellows Lani Inverarity '15 LLM and Tiemnu Ma '14, with Hope Metcalf.
Former Bernstein Fellows Tara Melish '00 and Jeff Prescott '97, with Jim Silk.
Tara Melish '00, Ryan Thoreson '14, Meghan McCormack '14, Efren Olivares '08, and Sharanya Kanikkannan '11 discussed clashes that occur between human rights and cultural traditions.
Marco Simons '01 moderated a panel on the environment and human rights, featuring Julie Hunter '13, Michelle Jonker-Argueta '11, Etelle Higonnet '05, and Lani Inverarity '15.
Former Bernstein Fellows Mark Templeton '99 and Nick Robinson '06, with Jim Silk
Matiangai Sirleaf '08 and Maria Burnett '05 were on the panel that explored the ethical, political, and practical challenges of fact-finding.
Maria Burnett '05 maintained that human rights language and institutions can provide critical support for change, provided that international advocates stay humble and alert to the needs of domestic advocates.
In the final panel, Leah Zamore '14, a Senior Policy Analyst at NYU's Center on International Cooperation, discussed the flaws of the current international refugee regime and the need to reconstruct it.
To close the Bernstien Sympoisum, Jeff Prescott '97 emphasized that addressing the various challenges facing the human rights movement "has to start with a community." He added, "I can really think of no better one to do this than a roomful of Bernstein and Robina Fellows."