February 7, 2019
Masih Alinejad, "Women as Agents of Change in Iran"
Masih Alinejad visited the Schell Center in February to talk about her activism for women's rights in Iran. Alinejad's fight against compulsory hijab laws, which she began in 2014, is now the largest civil disobedience campaign in the history of the Islamic Republic of Iran. Alinejad dismissed the assumption that opposing compulsory hijab laws legitimizes Islamophobic sentiment in the West. She called in particular on feminists in the West to support their Iranian counterparts' efforts to dismantle the discriminatory regime.

February 21, 2019
Julieta Lemaitre, "Colombia's Special Jurisdiction for Peace: An Embattled Transition"
Former Robina Human Rights Visiting Scholar Julieta Lemaitre returned to the Schell Center to speak about the challenges and breakthroughs of Colombia's Special Jurisdiction for Peace, a tribunal created in 2016 to try the Revolutionary Armed Forces of Colombia (FARC) and former members of the Colombian military for war crimes. Lemaitre, a professor of law at Los Andes University in Bogotá, presides as a judge on one of the tribunals. In her talk, Lemaitre emphasized the pioneering, restorative approach the Special Jurisdiction has taken to achieve justice. This approach prioritizes addressing the harms victims have suffered over conventional punishment for perpetrators.
February 28, 2019
Human Rights Workshop: Azmat Khan, "How to Investigate Civilian Deaths in War"
Award-winning investigative journalist Azmat Khan told the story of her investigation into civilian deaths from U.S.-led coalition airstrikes in Iraq. She found that the rate of civilian deaths exceeded the U.S. military's official figures by 31 times. Using sophisticated data analysis and on-the-ground interviews, Khan discovered that rather than the 1 in 157 death rate that the military reported, roughly 1 in 5 airstrikes killed civilians. In addition, in contrast to the military's claims, half of the lethal airstrikes were the result of acting on poor or outdated intelligence.
March 21, 2019
Panel, "Engaging the Oppressor: How Activists Approach the Dominant Group"
Schell Center Visiting Human Rights Fellow and former Bernstein Fellow Sari Bashi '03 convened this panel of activists from Israel-Palestine, South Africa, and the United States to compare their experiences working with and responding to oppressive groups and institutions. Activists debated the merits of appealing to or negotiating with oppressors rather than taking a more consistently adversarial or combative approach.
April 16, 2019
Laurel E. Fletcher, "Let's Talk About the Boteros: Law, Memory, and the Torture Memos at Berkeley Law"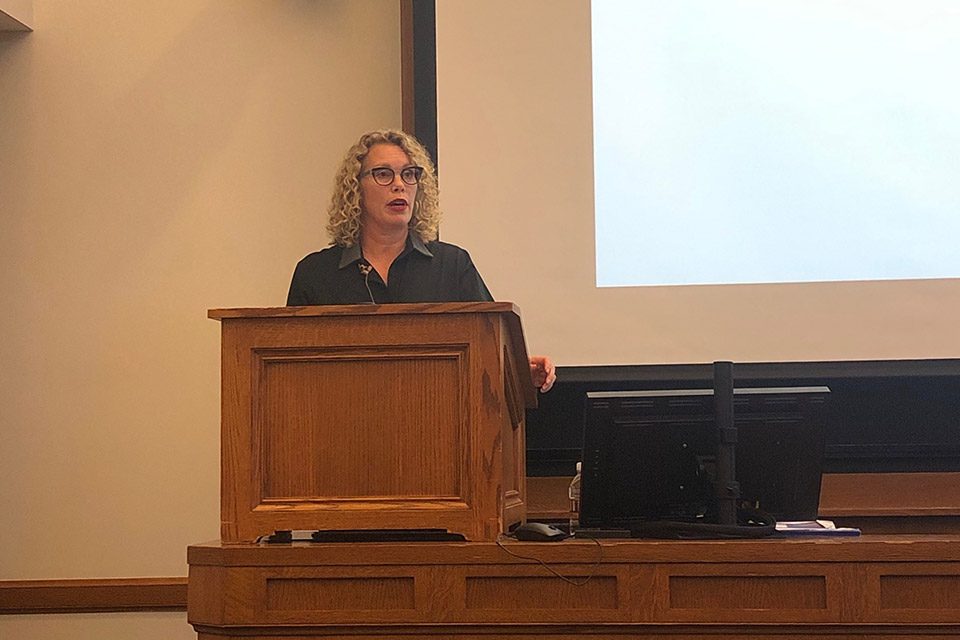 U.C. Berkeley Professor of Law Laurel E. Fletcher argued that a series of Fernando Botero paintings graphically depicting U.S. torture at Abu Ghraib should remain hanging prominently in Berkeley Law School, despite requests to take them down. The paintings have particular resonance at Berkeley Law because John Yoo, a tenured professor there, co-authored the "torture memos" used to justify the abuses when he was Deputy Assistant U.S. Attorney General in the Office of Legal Counse in the Bush Administration's Department of Justice. Fletcher based her support for the continued presence of the paintings on her understanding of art as a unique tool for accountability, capable of generating multiple meanings.
April 19, 2018
Regan Ralph, "Civil Society is Not the Enemy: Responding to Escalating Attacks  on Human Rights Norms and Defenders" 
Regan Ralph '91, president and CEO of the Fund for Global Human Rights, spoke about a recurring theme in Schell Center events this year: the global crackdown on civil society. The Fund for Global Rights supports many human rights defenders and organizations suffering from this crackdown and the global rise of authoritarianism. To Ralph, the challenges human rights defenders face today are subtler than in other periods of history, and include bans on foreign funding and state registration requirements. Ralph closed by sharing creative strategies that local activists are using to resist authoritarianism and develop new forms of advocacy.


April 5, 2018
Human Rights Workshop: Michael W. Doyle, "Beyond Migrants and Refugees: A Model International Mobility Convention"
At the Workshop, Columbia Professor Michael W. Doyle pitched the Model International Mobility Convention, a new international migration convention that was drafted by the Columbia Global Policy Initiative, which Doyle directs. This proposed, new international agreement would seek to fill the gaps in the preexisting international migration regime and give more protections to all classes of migrants. Doyle described the convention's features, such as setting out minimum protections for all migrants and the rights and duties that correspond to each migration status. He explained the convention's enforcement mechanism – a bottom-up approach that models the Paris climate accord, but involves the UN Refugee Agency as an independent enforcer. He acknowledged that the convention needs revisions and the world needs more leaders who would support more progressive migration policies, before the convention can be passed. Finally, Doyle asked the audience to show their support for the convention.


April 4, 2018
Zeid Ra'ad Al Hussein, "Human Rights Today" Commissioner for Human Rights
With the Fox International Fellowship and the MacMillan Center for International and Area Studies, the Schell Center hosted U.N. High Commissioner for Human Rights Zeid Ra'ad al-Hussein. Al-Hussein spoke about rising hostility to human rights causes and advocates around the world and declining trust in international human rights institutions such as the International Criminal Court. Al-Hussein urged his audience to fight for human rights with not just law, but also with political advocacy. "You can do anything else," he told the audience, "but be a human rights defender. It won't be easy, but I guarantee it will be the most meaningful part of your life."


April 3, 2018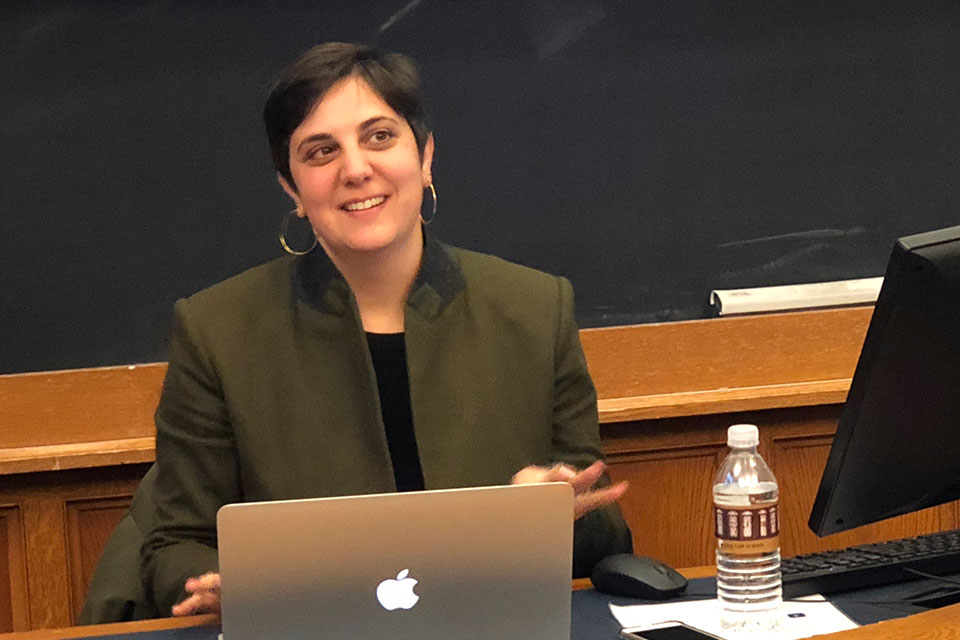 Sirine Shebaya, "Fighting the Many Faces of the Muslim Ban"
Sirine Shebaya '12, a senior staff attorney at Muslim Advocates, discussed her work defending the civil rights of Muslim, Arab, and South Asian communities in the United States. She focused her talk on the practices and policies that have threatened Muslims since President Trump took office, beginning with but extending far beyond the travel ban barring migration from certain Muslim-majority countries. Shebaya emphasized how the travel ban, other Trump-administration policies, and increased scrutiny by immigration and law enforcement have chilled Muslim civil society and slowed down Muslim immigration to the United States. She concluded by stressing the need to fight against the normalization of these discriminatory policies.


April 2, 2018
Seth Freed Wessler, "Prisoners at Sea: Uncovering the Coast Guard's Hidden Drug-War Detention System"
Seth Wessler is an investigative reporter who has been published in many media outlets, including The Nation, ProPublica, and This American Life. Wessler spoke to the Schell Center about the investigation behind his New York Times Magazine story, "The Coast Guard's 'Floating Guantanamos,'" which exposes the U.S. Coast Guard's imprisonment of low-level drug smugglers on international waters. Many of the smugglers Wessler spoke to had come from poor fishing villages in South America. After the Coast Guard apprehended their ships, they would take the men onboard their own ships and keep them there – in limbo – for weeks, or even months on end. The men were not told where they were being taken next. Many men described the same, horrible conditions of detention: they were shackled to the side of the boat for long periods of time, forced to use the bathroom outside and sleep on thin mats. At least one man died from these conditions. Some were deported back to their home countries, and others were sentenced to up to twenty years in U.S. federal prison for their role in drug trafficking. Wessler said that the investigation taught him about the multiple actors accountable for the human rights violations the men suffered.


March 28, 2018
Scott Long, "Gender and Sex in the Arab Winter: Body Politics and the Limits of Human Rights"
Scott Long, the founder and former director of Human Rights Watch's Lesbian, Gay, Bisexual, and Transgender Rights Program, spoke at the Schell Center about LGBT rights movements in the Middle East. Like many speakers this semester, Long argued that theories traditionally held by many human rights activists – namely, that violators of human rights can be swayed by moral arguments – are no longer reliable, because criticism by other countries or human rights advocates is not causing autocratic leaders to budge. To Long, one potential alternative strategy to naming and shaming is to deploy the "body as a resource in material struggles." As Long explained, many gender and LGBT activists have been doing this for a long time, because LGBT rights implicate the relationship between the public and private, between the state and the human body, etc. Long described Egyptian activists who are using tactics such as physically shielding women from sexual harassment during protests. He said that such activists inspire him because they remind us that victories can still happen, even in situations where there are serious human rights violations.


March 8, 2018
Human Rights Workshop: Richard Ashby Wilson, "'Get 'Em Out of Here!': The Law of Incitement in an Era of Racist Populism"
In his Workshop, Richard Ashby Wilson, Professor of Anthropology and Law, University of Connecticut, argued that U.S. incitement law is underdeveloped and rarely used to prosecute those who seemingly provoke or encourage others to commit violence. Wilson had just finished writing a book on international incitement law when the 2016 election began to heat up: suddenly, there were videos of Donald Trump campaign rallies showing Trump supporters forcibly ejecting protestors while Trump shouted, "Get 'em outta here!"; the FBI was reporting an increase in the number of hate crimes committed. Wilson wanted to investigate the strong correlation between Trump's presidency and campaign and hate crimes. Wilson finished by describing the new framework for incitement law that he created to address deficiencies in domestic incitement law and do more to protect minorities from violence.


March 1, 2018
Human Rights Workshop: Louisa Lombard, "Ethics in Wars of Protection: Peacekeepers Caught Between Bureaucracy, Sympathy, and Violence"
Louisa Lombard, an Assistant Professor of Anthropology at Yale, shared her research on the ways that peacekeepers construct their codes of ethics and deal with their everyday moral dilemmas in peacekeeping missions all over the world. Lombard has interviewed peacekeepers in the Central African Republic, India, Sudan, and even attended a peacekeeper training in Rwanda. From these contexts, she has seen that peacekeepers are placed in contradictory situations: they are put in the middle of fighting and forbidden from taking sides; they have to make locals trust them, while making it clear that they don't support any one side. As Lombard has observed, many peacekeepers respond to their everyday moral conflicts by bending rules they find anti-humanitarian, such as regulations that forbid peacekeepers from sharing their leftover food with locals or rehabilitating schools.


February 1, 2018
Human Rights Workshop: Maria J. Stephan, "Why Civil Resistance Works and its Relevance to Resurgent Authoritarianism"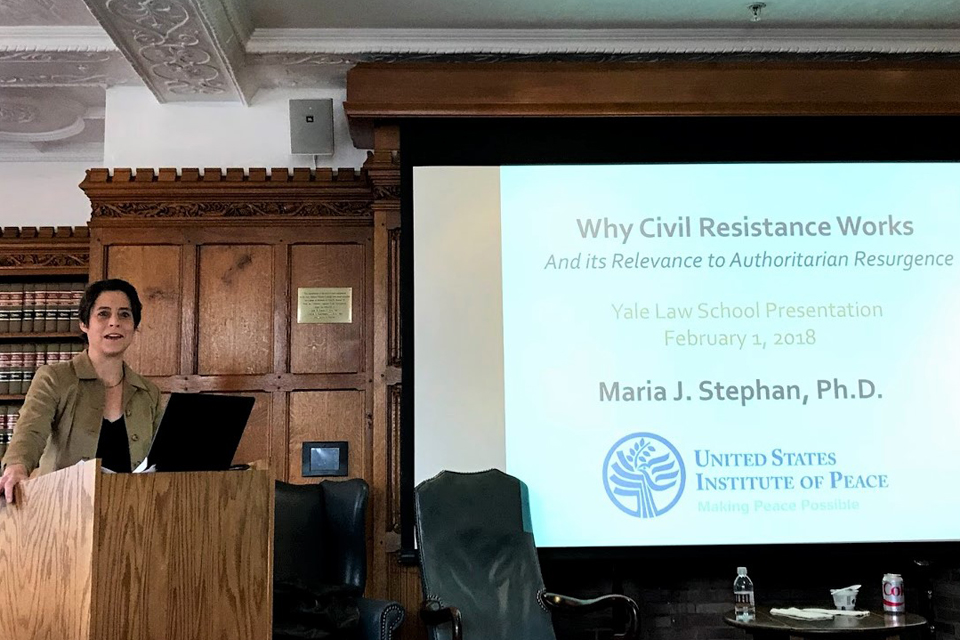 Maria J. Stephan is the Director of the Program on Nonviolent Action at the U.S. Institute for Peace. Over the past few years, Stephan has been researching the efficacy of nonviolent campaigns from the early 1900s to the 2000s. She found that history tells us that nonviolent campaigns that challenged an incumbent regime or sought self-determination have been successful in their long-term political impact twice as often as violent ones. The research findings suggest that nonviolent campaigns succeeded in part because of their diversity. Stephan acknowledged that the rise in authoritarian and reactionary populist movements is currently making it very difficult for nonviolent movements to succeed. She encouraged lawyers to help activists and dissidents develop more tactical approaches to resisting authoritarians, and to learn from grassroots movements, which Stephan argued should be considered an enforcement mechanism for human rights.
November 27, 2017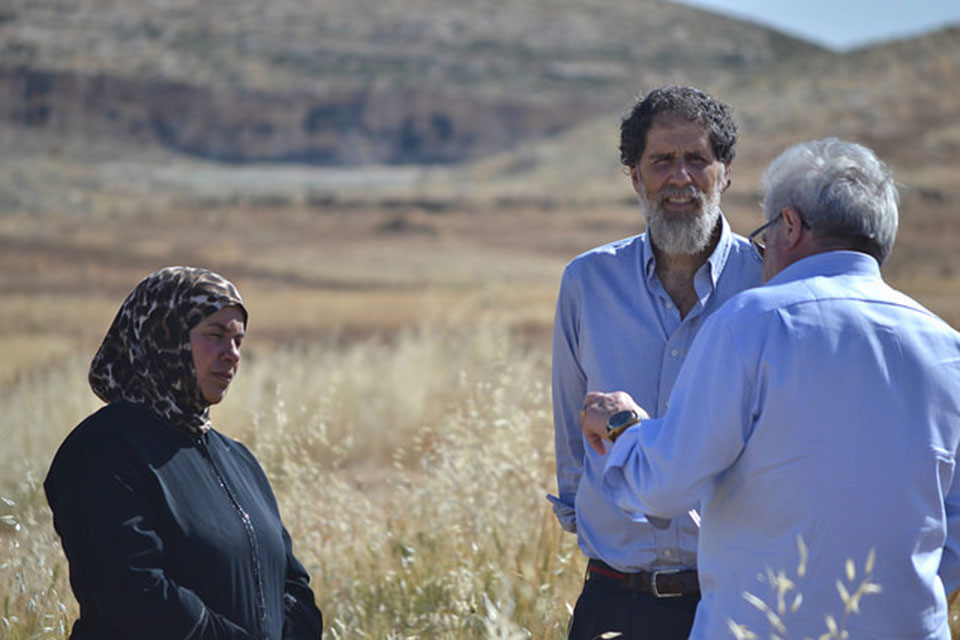 Rabbi Arik Ascherman, "Using Israel's Legal System in the Struggle for Human Rights in Israel/Palestine"
Rabbi Arik Ascherman is the founder and director of "Torat Tzedek" (Torah of Justice), which defends the human rights of all Israelis and those under Israeli control, advocating for Palestinians, socioeconomic justice for Israelis, African asylum seekers, and Israel's Negev Bedouin citizens. Previously, Rabbi Ascherman served as co-director and executive director of Rabbis for Human Rights. Rabbi Ascherman was also the director of Hillel at U.C. Davis and Congregation Mevakshei Derekh in Jerusalem, and the rabbi of Temple Beth Hillel in Richmond, CA, and Kibbutz Yahel. While in Richmond, Rabbi Ascherman set up a homeless shelter rotating between Beth Hillel and local churches. At the Schell Center, Rabbi Ascherman discussed the possibilities and limits of the law in addressing human rights violations in Israel.
 
November 9, 2017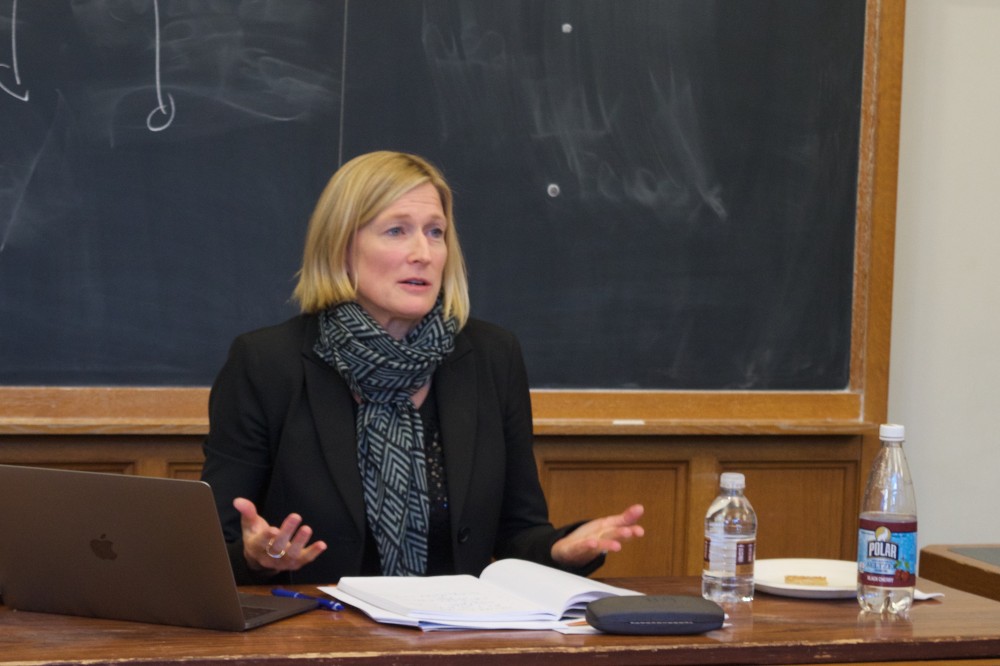 Human Rights Workshop: Melissa Hooper, ""Lessons from Poland's Attacks on Independent Institutions: Civil Society, the Media, and the Judiciary"
Melissa Hooper is a lawyer, rule of law expert, and the Director of Human Rights and Civil Society programs at Human Rights First. Her research focuses on Russia's foreign policy strategies of spreading Russian influence and undermining democratic institutions and the intersection of these strategies with autocratic or anti-democratic trends in neighboring countries, most recently in Eastern Europe. For instance, she has recently investigated Russia's use of non-governmental organizations, such as foundations and think tanks, to spread anti-democratic ideas and disinformation in Europe, including around the German elections. She discussed this and other concerning trends at the Schell Center.
 
November 6, 2017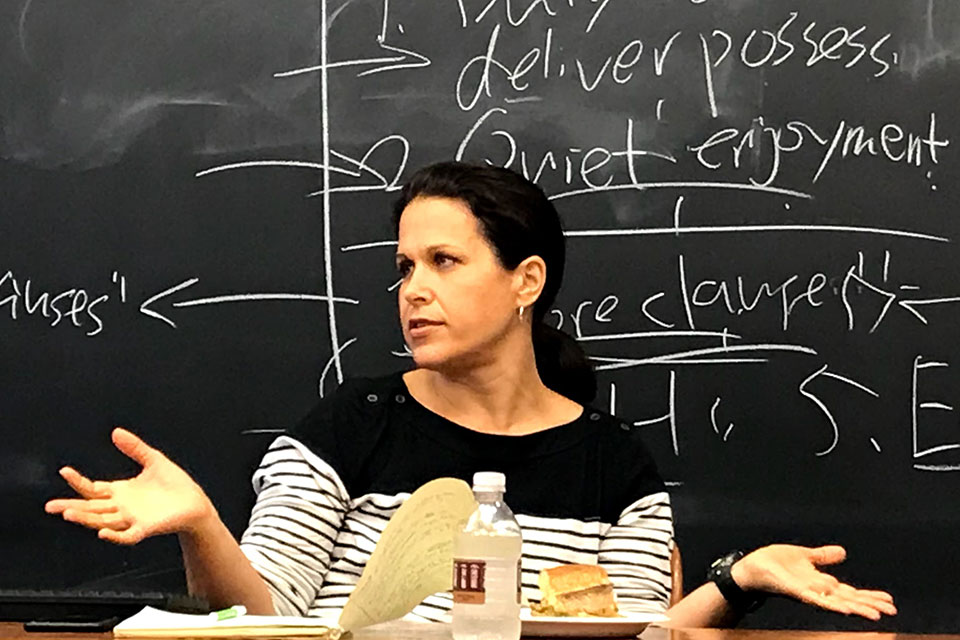 Maria Burnett '05, "Human Rights Abuse and Threats to Civil Society in East Africa"
Maria Burnett is an Associate Director at Human Rights Watch and in charge of the organization's work on East Africa, with expertise in Uganda, emerging human rights issues in Central Africa, and Somalia. She has worked with the organization since 2005, first as the Burundi researcher in the Bujumbura field office. Burnett has worked on a range of human rights issues, including child soldiers, torture and killings by intelligence and counterterrorism agents, abuses by the Lord's Resistance Army, and justice reform in Central and East Africa. Before joining Human Rights Watch, Burnett worked as an architect and journalist in Africa. Burnett discussed the challenges to human rights she sees in Uganda, Ethiopia, Kenya, and Burundi.
 
November 2, 2017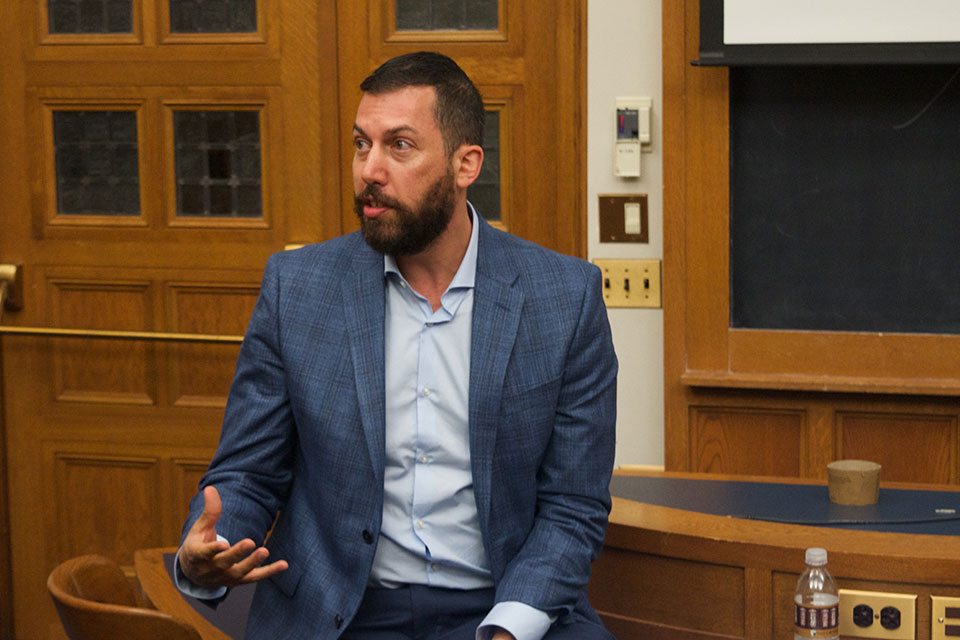 Gregory Khalil '03, "An Unholy Alliance? Faith, Politics and the Law: America and the 'Holy Land'"
Greg Khalil is President and Co-Founder of the Telos Group.  Prior to that Greg lived in Ramallah, the West Bank, where he advised the Palestinian leadership on peace negotiations with Israel. Although Greg was born and raised in San Diego, California, much of his extended family still lives in Beit Sahour, a predominantly Palestinian Christian town near Bethlehem. He has lectured widely on the Middle East and has been published by The Review of Faith & International Affairs and The New York Times. At the Schell Center, Khalil spoke about his work to promote a deeper understanding of Israeli-Palestinian issues among American leaders.
 
November 2, 2017
Human Rights Workshop: Sarah Azaransky, "Global Roots of the U.S. Civil Rights Movement"
Sarah Azaransky is assistant professor of social ethics at Union Theological Seminary in New York City. At the Human Rights Workshop, she discussed her new book, This Worldwide Struggle: Religion and the International Roots of the Civil Rights Movement. Azaransky is also the editor of Religion and Politics in America's Borderlands, and she co-wrote the successful application for Pauli Murray's childhood home to receive National Historic Landmark designation.
 
October 19, 2017
Human Rights Workshop: David D. Cole, "Fighting the Muslim Ban and Defending Liberty in the Trump Era"
David Cole is National Legal Director at the American Civil Liberties Union.  He has litigated many constitutional cases in the Supreme Court, including Texas v. Johnson and United States v. Eichman, which extended First Amendment protection to flag burning; National Endowment for the Arts v. Finley, which challenged political content restriction on NEA funding; and Holder v. Humanitarian Law Project, which challenged a federal statute that, under the guise of prohibiting "material support" to terrorist groups, makes it a crime to advocate for peace and human rights. Cole is the Hon. George J. Mitchell Professor in Law and Public Policy at Georgetown University. Cole writes regularly for The Nation, New York Review of Books, Washington Post, and many other periodicals. He is the author or editor of ten books. At the Human Rights Workshop, he discussed the legal and other difficulties of fighting for human rights in the U.S. today.
 
October 16, 2017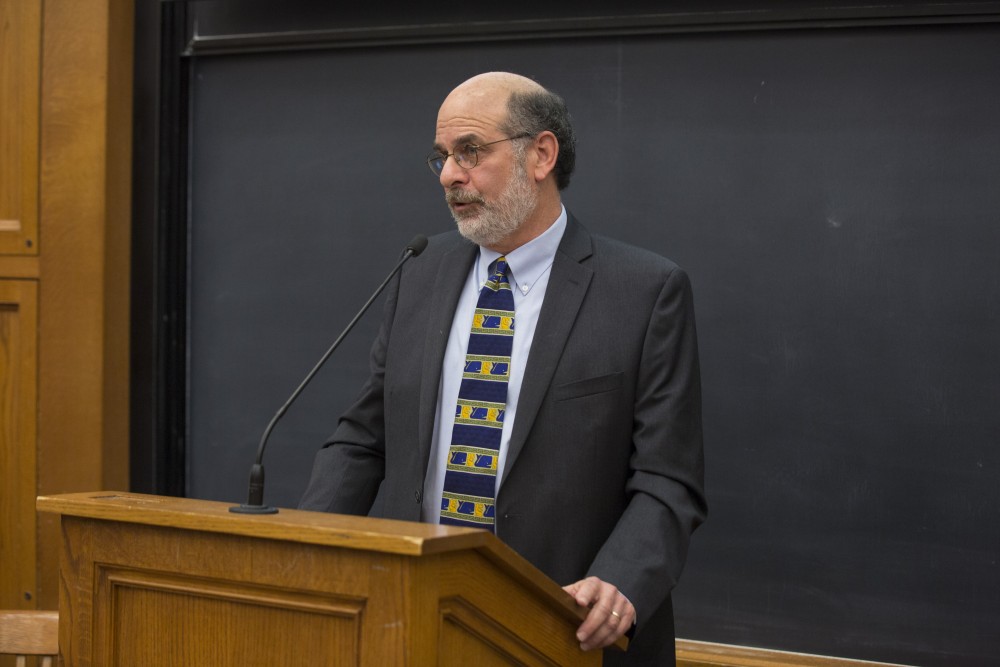 Binger Inaugural Lecture with Professor Jim Silk '89, "From Nuremberg to the Netherlands to Nineveh? The Book of Jonah, International Criminal Justice and the Promise of Human Rights"
In October, Schell Center Co-Director Jim Silk delivered the Inaugural Lecture for the Binger Clinical Chair in Human Rights. The Robina Foundation endowed this professorship as part of its January 2017 $13-million gift to the Law School. In his talk, Silk described his youthful veneration of the Nuremberg Trials, which began to waver as he studied the trial of Ivan Demjanjuk in Israel and worked for Justice Aharon Barak during Demjanjuk's appeal. His misgivings about international criminal justice grew as tribunals for the former Yugoslavia and for Rwanda and the International Criminal Court were established and the discourse of human rights increasingly invested its support and hopes in international criminal justice rather than on addressing systemic human rights violations — in other words, holding individuals retrospectively accountable rather than holding states contemporaneously accountable. Silk concluded his lecture by interpreting the biblical Book of Jonah, a morality tale that has long fascinated him, to address his concern that the enthusiasm for retributive justice endangers the most fundamental principles of human rights.
October 4, 2017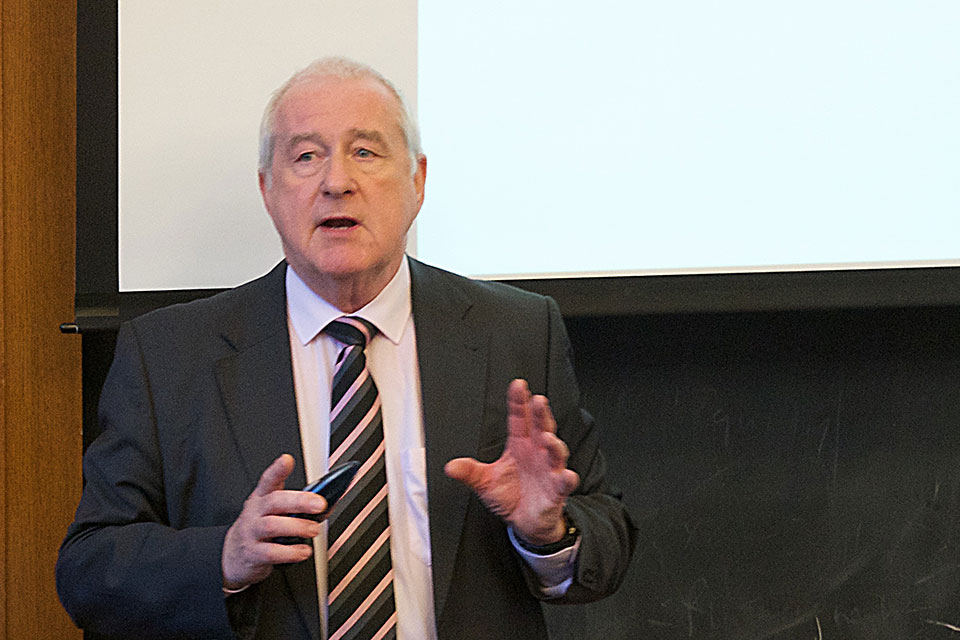 Guy S. Goodwin Gill, "The International Refugee Protection Regime Under Threat: Are the Global Compacts the Way Ahead?"
Guy S. Goodwin Gill is Professor of Law at the University of New South Wales and the Acting Director of the Kaldor Centre for International Refugee Law. He is also Emeritus Fellow of All Souls College and Emeritus Professor of International Refugee Law of the University of Oxford, and practices as a barrister from Blackstone Chambers in London. He is a Patron of Asylum Aid in the United Kingdom and served as the President of Refugee & Migrant Justice, the President of the Media Appeals Board of Kosovo, and the Founding Editor and Editor-in-Chief of the International Journal of Refugee Law. Between 1976 and 1988, he worked for UNHCR in various roles, including as Senior Legal Research Officer, Legal Adviser (Europe and North America Bureau), Deputy Chief Resettlement, and Legal Adviser (Australia and New Zealand). At the Schell Center, he discussed the history of the international refugee regime and the challenges it currently faces.
 
September 26, 2017
JJ Rosenbaum, Daniel Castellanos, & Gerardo Reyes Chávez, "Fighting for the Rights of Low-Wage and Guest Workers"
Gerardo Reyes Chávez is a leader of the Coalition of Immokalee Workers (CIW), a worker-based human rights organization that has negotiated with corporations such as Taco Bell and Wal-Mart to raise workers' wages and protect workers' rights. Daniel Castellanos, a former guestworker himself, is one of the co-founders of the National Guestworker Alliance (NGA), which works to empower low-wage and contingent workers across the United States. Former Schell Fellow JJ Rosenbaum, who was recently honored by the National Day Laborer Organizing Network and is working on a project addressing abuses in the global supply chain, hosted this conversation with these prominent workers' rights advocates.
September 14, 2017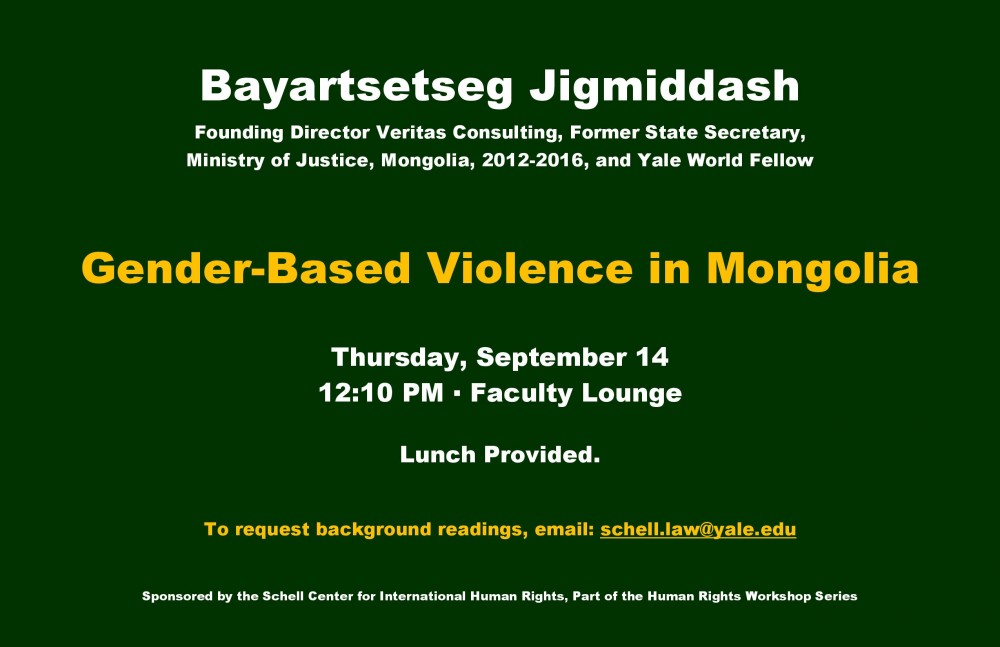 Human Rights Workshop: Bayartsetseg Jigmiddash, "Gender-Based Violence in Mongolia"
Bayartsetseg Jigmiddash is a lawyer with more than 15 years of professional experience in the field of rule of law and human rights. She is currently the CEO and Founding Director of Veritas Consulting, an agency specializing in strategic development, management and government compliance. From 2012 to 2016, Jigmiddash served as Secretary of State of the Ministry of Justice of Mongolia, becoming the first woman appointed in this position. In this role, she oversaw the strategy and operations of the ministry and law enforcement agencies. Under her leadership, the legal policy on gender-based violence has been significantly improved, including through the criminalization of domestic violence. Prior to this top civil service post, she served as legal advisor to the president of Mongolia, and has been involved in the judicial reform as well as the abolishment of death penalty in Mongolia. She has extensive civil society experience and pioneered an array of initiatives to promote human rights and access to justice. At the Schell Center, she discussed her work to protect the rights of Mongolian women.