Medical-Legal Partnerships
Medical-Legal Partnerships
Medical-Legal Partnerships
The medical-legal partnership (MLP) model combines health and legal services at a single site of care to address social determinants of health and provide holistic care.
Our work spans across the continuum of care and life experiences serving eight patient populations. YLS students who participate in an MLP are supervised by an MLP attorney and collaborate across disciplines with physicians, nurses, social workers, community health workers, and other experts, and meet with patients at local health clinics to help address legal needs like access to government programs, housing, employment, immigration, and family law matters.
Several of these MLPs partner with legal service organizations in the area, including New Haven Legal Assistance Association, the Center for Children's Advocacy, and Connecticut Veterans Legal Center.
The Solomon Center coordinates student participation in the following MLPs:
Geriatric MLP
The Geriatric MLP is the first law school-based MLP and targets legal services to the elderly in collaboration with medical providers, elder service organizations, and elder justice policy advocates. Doctor Richard Marottoli of the Dorothy Adler Geriatric Assessment Clinic at Yale New Haven Hospital and Doctor James Lai, the Associate Chief of Clinical Affairs for Geriatric Affairs at the Yale School of Medicine, serve as the medical partners for the clinic, screening their patients for social legal needs and refer them to this MLP. The major health-harming legal issues the MLP aims to address are elder abuse, public benefits, housing conditions, and estate planning.
Haven MLP
The Haven MLP is a partnership with HAVEN, a free clinic operated by Yale medical students every Saturday for uninsured patients, the great majority of whom are also undocumented immigrants. Law student volunteers work onsite at the clinic and meet directly with patients to conduct legal screenings.  Volunteers provide advice, referrals, or representation, depending on the situation.  Common legal issues include immigration, wage theft, landlord/tenant concerns, and domestic violence. Law students also provide legal training to other Haven volunteers and collaborate with community organizations on campaigns for structural change.
Oncology MLP
The Oncology MLP works with breast cancer patients at the Smilow Cancer Hospital at Yale New Haven Hospital.  Students in the Oncology MLP work with social workers and nurses to screen patients for legal needs.  This MLP addresses a wide range of legal issues, including employment, public benefits, immigration, and housing.
Palliative Care MLP
The Palliative Care MLP works with Day Pitney LLP to provide civil legal services to palliative care and cancer patients at the Smilow Cancer Hospital at Yale-New Haven Hospital (YNHH). Students in the Palliative Care MLP conduct intake interviews with clients and draft desired documents, such as wills, power-of-attorney agreements, guardianship, and advanced health care directives. Depending on patients' needs, students may also work on real-estate transactions and guardianship issues.
Pediatric Care MLP
The Pediatric MLP is a partnership between the Center for Childrens Advocacy, the Pediatric Primary Care Center at Yale New Haven Hospital, and Yale Law Students, who work together on legal issues, as well as policy and advocacy to address housing conditions,/instability, and education access. In 2013, the Center for Children's Advocacy (CCA) established an MLP in the pediatric primary care center at Yale-New Haven Hospital (YNHH), focusing on issues of childhood poverty and access to services. One student each semester participates in this MLP and works directly with a CCA attorney, Alice Rosenthal. Students engage in both direct client services—working with physicians in the clinic to identify patient-specific and systemic issues, as well as policy research and advocacy.
Pediatric Gender MLP
The Pediatric Gender MLP is one of the first gender MLPs in the country. This MLP, in partnership with the Yale Pediatric Gender Clinic, assists patients and families with consultations and training on name and gender marker change, education on gender expression, and provides legal support for families with children receiving gender-based care at Yale New Haven Hospital. 
Transitions MLP
The Transitions MLP is based in the Transitions Clinic in the adult primary care center at Yale-New Haven Hospital (YNHH) that serves those returning home from prison on issues like public benefits, housing, and employment. Law students screen patients for health-harming legal needs, train residents, patients, and other medical providers on the rights of patients, and participate in community campaigns for structural change.
Veterans MLP
Connecticut Veterans Legal Center (CVLC) operates an MLP at VA Connecticut's Errera Community Care Center (ECCC). Students work directly with the attorneys at CVLC to provide direct client services and to engage in research and advocacy on relevant policy issues. This clinic provides services such as debt, benefits denials, eviction, unemployment, housing insecurity, and discharge upgrades.
2023 Conference, "Medical-Legal Partnerships: Equity, Evaluation & Evolution" 
In March, the Solomon Center for Health Law and Policy at Yale Law School held a two-day conference, "Medical-Legal Partnerships: Equity, Evaluation and Evolution." The event was co-hosted with the Georgetown University Health Justice Alliance and Penn State Dickinson Law and supported by the Oscar M. Ruebhausen Fund at Yale Law School. In conjunction with the conference, the host organizations will guest edit a special issue of The Journal of Law, Medicine, and Ethics (JLME). 

Medical-legal partnerships (MLPs) integrate legal services into health care settings to enable more holistic care addressing social determinants of health, increase access to justice, and treat legal issues early — a practice of "preventive lawyering" that can often resolve issues before they become crises.

The Solomon Center supports student work in MLPs across the continuum of care and life experiences. These MLPs serve eight patient populations, including pediatric and elder patients, cancer patients, veterans, palliative care patients, uninsured and immigrant patients, and patients who have recently returned from incarceration. 

This year's convening draws on and advances conversations started during the center's 2017 symposium on building and strengthening academic MLPs. Three core questions emerged for this year's event: 
How do we evaluate the impact of MLPs?
How do we ensure racial justice and equity are served by MLPs?
How do we engage in effective policy?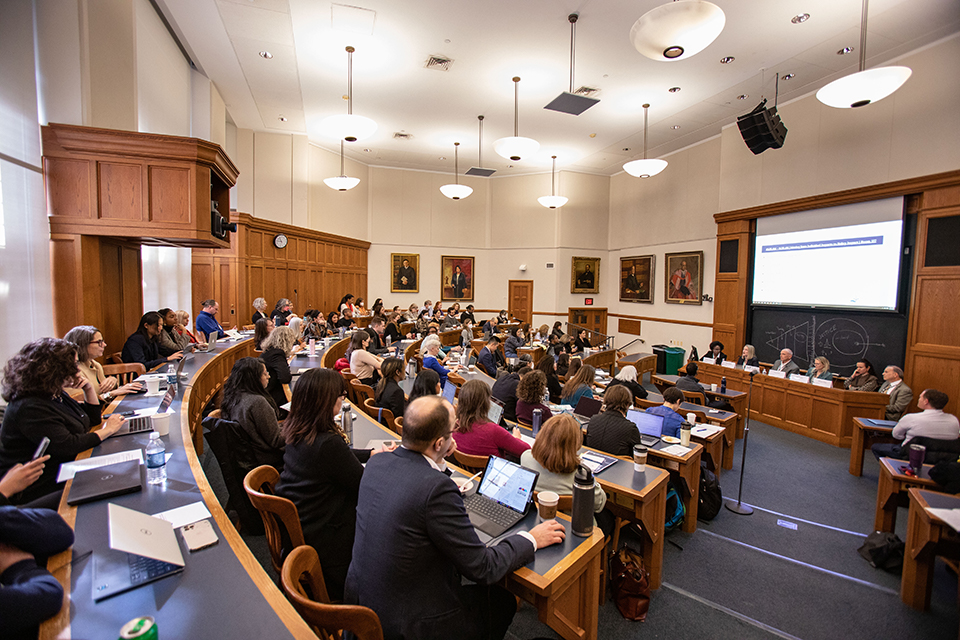 The conference began with a tour of New Haven, which included visits to key sites that encouraged meaningful discussion around the impact of and need for community support, new urbanization policies, and healthcare access for residents, and centered the role MLPs play in achieving change in those areas. The final stop on the tour was the Child Study Center at the Yale School of Medicine for a conversation with Solomon's MLP partners at the Center for Children's Advocacy to discuss collaborative efforts around pediatric MLPs. The Child Study Center MLP is the first on the east coast dedicated exclusively to interdisciplinary advocacy in a children's behavioral health setting. 

Day one wrapped up with a keynote moderated by Katherine Kraschel, Senior Advisor and former Executive Director of the Solomon Center, and featuring Dayna Bowen Matthew, Dean and Harold H. Greene Professor of Law of The George Washington University Law School, and Philip Alberti, Founding Director of AAMC Center for Health Justice. Matthew and Alberti challenged listeners to think about the next phase of MLPs, to push beyond the legal and medical elements, and begin to think about what other components are needed to enhance impact. Suggestions included more emphasis on the research aspect of MLPs to better identify and collect data on the strengths, gaps, and key areas of impact. Another was social work, named a key but often unrecognized component of a successful MLP. Community was noted as perhaps the most important element of all because success could not be achieved without everyone involved in working tirelessly to make an MLP successful. Speakers added that the patient community, as well as the community in which an MLP sits, must be engaged collaboratively to help inform all that an MLP does, from the medical, to the legal, to the policy and beyond. 

Day two was packed with sessions and workshops organized around our key themes of data, policy, racial justice, and collaboration. Events were designed with the goal of encouraging engagement between longtime MLP practitioners and champions as well as those getting started. Each of the panels featured authors whose papers will be published in the upcoming symposium issue in JLME. 

 
The first panel, Evaluating MLPs: Innovation and Current Research, explored four questions: 
How can data enhance innovation and drive research?
How can MLPs identify and develop programs to address patterns illuminated in data? 
What are the ethical issues associated with data collection and empirical research? 
What are the opportunities to extend data to pursue population and health justice? 
The second panel, "Moving from Individual Impacts to Policy Impact," covered issues such as addressing and overcoming the challenges of professionals working in silos, the importance of interdisciplinary approaches to care, teaching students how to address upstream structural and political systems, and the ways in which MLPs can serve as incubators for change, especially policy change.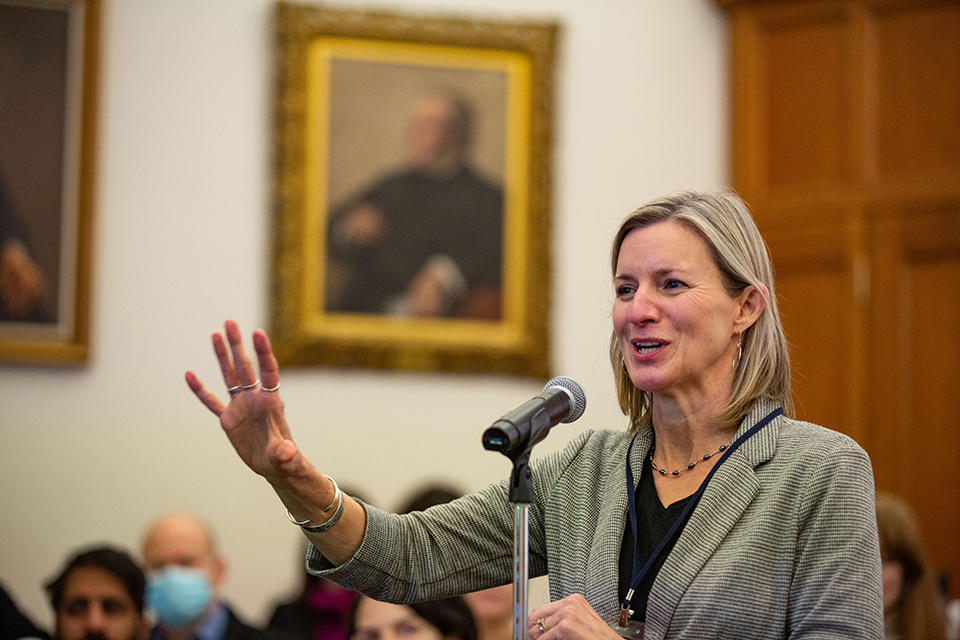 The third panel, "The Role of MLP in Advancing Racial Justice," put forth the thesis that MLP practitioners and scholars must grapple with medicine and law's historic role in furthering and ignoring racial injustice and violence, and pushed attendees to reprioritize racial justice as a centerpiece of MLP work. The panelists discussed intent versus impact, how and who is best positioned to prioritize policy goals related to justice and equity, how to more clearly connect and delineate anti-poverty work to anti-racism efforts, how to design teaching and training efforts around anti-racism, and how MLPs and their practitioners and partners can think more about racial justice. 

The fourth panel, "Conversation on the Future of Academic MLPs," started with the 2022 report The Academic Medical-Legal Partnership for context. Participants then formed smaller groups for in-depth conversations around two topics: "Sustainability and Scalability of the Movement: The Role of Academic MLPs in Research, Evaluation and Scholarship" or "Sharing and Spreading the Benefits of Interprofessional Education as Part of the A-MLP Mission."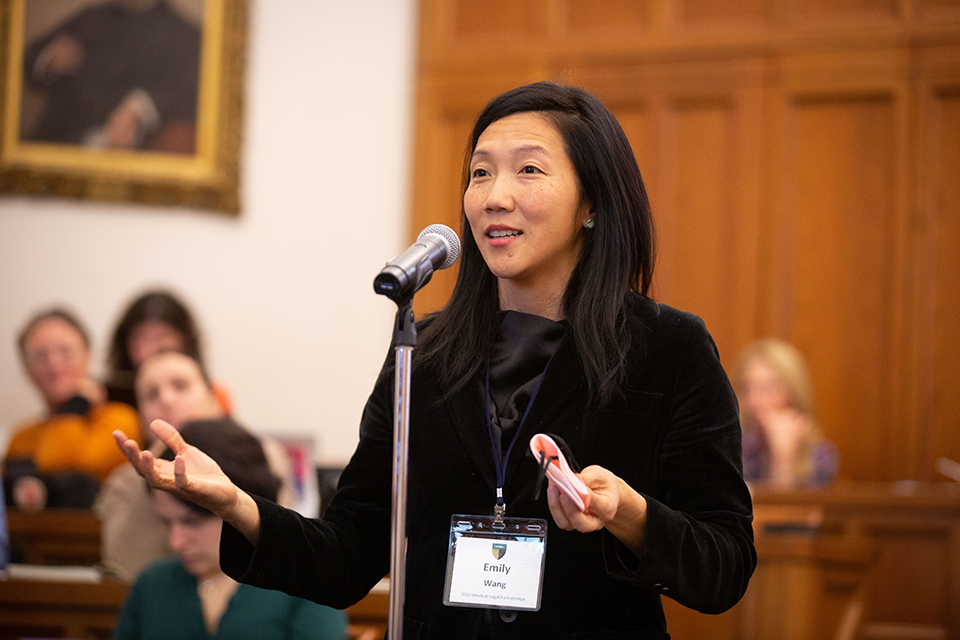 Before the conference wrapped up for the day, attendees could apply what they learned in one of two concurrent workshops: "Connecting Scholarly MLP Research to Decisionmakers and the Public" or "MLP Medical Champions Conversation." Both workshops focused on information sharing, brainstorming, and equipping attendees with tools that can be applied to their MLPs. 

The day finished with a reflection on those conversations, encouragement for continued efforts in creating and strengthening MLPs, and a commitment to reconvene. 



2017 MLP Symposium and Special Issue of the Yale Journal of Health Policy, Law & Ethics
On March 3, 2017, the Solomon Center hosted a symposium on medical-legal partnerships: Building an Academic Agenda to Enhance MLP Practice. The articles emerging from this symposium were published in a special issue of the Yale Journal of Health Policy, Law, and Ethics: Symposium, "Medical Legal Partnerships" 17 Yale Journal of Health Policy, Law & Ethics 251 (2017):
Publications & News
Rebecca Iannantuoni (Palliative Care MLP)
Rebecca Iannantuoni is the legal supervisor at the palliative care MLP. She has particular expertise in elder law and planning for persons with special needs. She is a member of the Estates and Probate Section and Elder Law Sections of the Connecticut Bar Association and a member of the National Association of Elder Law Attorneys. She currently is a counsel in Day Pitney's Individual Clients department representing fiduciaries estate administration and advising clients regarding all aspects of estate planning with extensive experience with Title XIX Medicaid planning. Rebecca received her B.A. from Manhattanville College with Departmental Honors in Political Science and her J.D. cum laude from Quinnipiac University School of Law.
Christy Fischer (Veterans MLP)
Christy Fisher is a public interest attorney and the legal supervisor for at the veterens MLP, with a legal career centered in Connecticut and Washington, DC. She worked at New Haven Legal Assistance Association (LAA), in both its Derby and New Haven offices, handling public benefit, employment and consumer cases and also pursuing group representation, assisting Save Our Clinic in its successful effort to maintain a community-based dental clinic. As the Managing Attorney, Christy expanded its connections with the social service community, and held inaugural leadership posts on both the Valley Council for Health & Human Services, which advocates for community-wide and culturally diverse approaches to local issues, and the Healthy Valley 2000 campaign, aimed at improving the quality of residents' life and health while also enhancing regional economic development. Since 2014, Christy has served as Senior Counsel with the Connecticut Veterans Legal Center (CVLC), a medical-legal partnership working with the Department of Veterans Affairs to provide free civil legal assistance to veterans from throughout the state. She currently co-teaches a veterans' law clinical class at Quinnipiac University School of Law, in addition to participating as a supervisor with Yale's Medical-Legal Partnership course.
Lisa Puglisi (Transitions MLP)
Dr. Lisa Puglisi is an Assistant Professor of Medicine, a primary care physician and director of Transitions Clinic New Haven at the Yale Primary Care Center, a program specializing in providing primary care and social service linkage to individuals returning from incarceration to the community. In this role she works directly with the MLP students to identify civil legal needs that influence the health and success of patient reentry. Dr. Puglisi leads educational interventions to expand knowledge and exposure of internal medicine trainees to the health impacts of incarceration to improve medical care for this population. She received her undergraduate degree from Tufts University and an M.D. from Albert Einstein College of Medicine and completely her residency training at Yale.
Alice Rosenthal (Pediatric Care MLP)
Alice Rosenthal is an attorney for the Center for Children's Advocacy and coordinates the MLP at Yale New Haven Hospital. She represents children and families on legal issues affecting the health and well-being of children, such as housing, public benefits, healthcare access, and education and works collaboratively with hospital staff and providers. Prior to working at the Center for Children's Advocacy, Rosenthal worked as an education law attorney at Advocates for Children of New York, representing children involved in the child welfare system on access to an appropriate education, first as an Equal Justice Works Fellow and then as a project director. Prior to law school, Rosenthal worked as an advocate on children's issues with Good Shepherd Services and the Center for Court Innovation. Rosenthal received a B.A. in Psychology and Social Welfare from the University of Wisconsin-Madison and a J.D. from Rutgers Law School-Newark. She is admitted to practice in Connecticut and New York.
Alexis Smith (Haven & Transitions MLPs)
Alexis Smith is the legal supervisor at the Haven and Transitions MLPs. Smith is the Executive Director at New Haven Legal Assistance Association (LAA). Prior to joining LAA, Smith was an attorney at Greater Hartford Legal Aid for six years, where she practiced in the education and employment units. Smith obtained her B.A. from Duke University and her J.D. from the University of Wisconsin Law School. She has served as president of the George W. Crawford Black Bar Association and Secretary of the Connecticut Bar Association. She currently serves on the Board of Directors for Connecticut Center for Arts and Technology (CONNCAT) Discovering Amistad, Highville Charter School, and Elm City Internationals.
Emily Wang (Transitions MLP)
Dr. Emily Wang is the medical partner at the transitons MLP. She is an Associate Professor at the Yale School of Medicine and Co-Founder of the Transitions Clinic Network. Dr. Wang's research focuses on promoting health equity for vulnerable populations, especially individuals with a history of incarceration, through both prison and community based interventions. She has developed expertise in training former prisoners to become community health workers and researchers through community based participatory research methods. She is Co-Founder of the Transitions Clinic Network, a consortium of 15 community health centers nationwide dedicated to caring for recently released prisoners and defining best practices for the health care of individuals leaving prison. In 2012, the Transitions Clinic Network was awarded the Centers for Medicare & Medicaid Innovation Award to provide care to over 2,000 high-risk, high-cost patients returning from prison and to train and employ former prisoners as community health workers. Dr. Wang is the principal investigator on a number of NIH and institute-funded research projects, including a NHLBI-funded project to improve cardiovascular outcomes in patients with a history of incarceration. She was a member of the Institute of Medicine's Health and Incarceration Workshop (2012) and Means of Violence Workshop (2014). Dr. Wang has a B.A. from Harvard University, an M.D. from Duke University, and a M.A.S. from the University of California, San Francisco.