Monday, March 27, 2017
---
Schell Center Names 2017–18 Fellows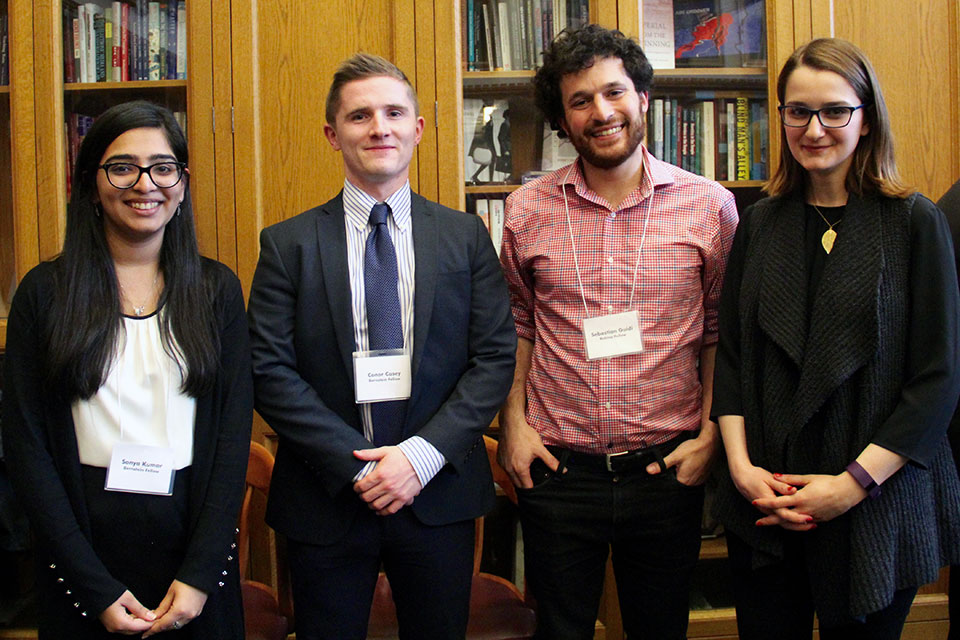 The Orville H. Schell, Jr. Center for International Human Rights announced its fellows for the 2017–18 academic year. Sebastián Guidi '17 LLM and Iulia Padeanu '17 will be Robina Foundation Human Rights Fellows. Conor Casey '17 LLM, Claire Kim '17, and Sanya Kumar '17 LLM will be Robert L. Bernstein International Human Rights Fellows.
The Robert L. Bernstein Fellowships in International Human Rights enable two or three Yale Law School graduating students or recent graduates to devote a year to full-time advocacy human rights work. The Robina Foundation Post-Graduate Human Rights Fellowships were designed to enable several recent graduates of the Law School to work full time in the field of human rights for up to a year.
About the 2017–18 Fellows:
Conor Casey is an LL.M. Candidate from Ireland. He will be spending his fellowship year at the Mercy Law Resource Centre (MLRC), a Dublin-based Public Interest Law Centre dedicated to providing legal assistance and policy advocacy for those who are homeless or at risk of homelessness.
At MLRC, Casey will act as a research and policy officer and assist the center's advocacy and policy objectives in relation to utilizing international and supranational law to promote domestic legal change. This will primarily involve continuing MLRC's engagement with international human rights bodies which supervise Ireland's obligations in the field of housing rights; including the UN Human Rights Council, the UN Committee on Economic, Social, and Cultural Rights, the UN Special Rapporteur on Extreme Poverty, and the Council of Europe. It will also involve spearheading MLRC's strategy of utilizing the critical findings of these international human rights forums to generate political pressure and impetus for legal and policy reform.
Prior to Yale, Casey completed an LL.B. (Law) degree in Trinity College Dublin in 2015. During his time at Trinity he was also elected a non-foundation scholar. Casey also spent a year working as a legal researcher to a Senior Counsel of the Bar of Ireland. During this time, his work focused on the field of European Union law, international environmental law, refugee and asylum law, and European human rights law. In this capacity, he was a member of the official Irish delegation to a case before the United Nations Aarhus Convention Compliance Committee, and assisted in the drafting and preparation of Ireland's written and oral submissions. He has published work on constitutional, immigration, and human rights law in leading Irish law journals.
Sebastián Guidi '17 LLM will spend next year working as a clerk for a judge at the European Court of Human Rights in Strasbourg, France, and for the Research Division of the Court.
Guidi obtained his first law degree in Universidad de Buenos Aires, Argentina. Before coming to Yale, he practiced law and worked as a legislative aide at the Argentinean House of Representatives. Apart from that, he taught constitutional law at Universidad de Buenos Aires and Universidad de Palermo, and he coedited Comentarios de la Constitución de la Nación Argentina with Professor Roberto Gargarella (Thomson Reuters, 2016).
Claire Kim '17 is spending her Fellowship year at the Center for Reproductive Rights' Washington, D.C. office. The Center for Reproductive Rights is a leading global legal advocacy organization, with expertise in both U.S. constitutional and international human rights law. Kim will be involved in both legal and policy work, including working on a publication focusing on religious-refusal clauses in both domestic and foreign policy that impact reproductive health care. Kim's fellowship will also include opportunities to contribute to the Center for Reproductive Rights' day-to-day advocacy efforts and engage in coalition meetings as well as advocacy meetings with officials.
Kim worked as a Student Director of the Allard K. Lowenstein International Human Rights Clinic. She was an Articles Editor for the Yale Human Rights and Development Law Journal and a Submissions Editor for the Yale Journal of International Law. Kim also served as an Outreach Director for the International Refugee Assistance Program at Yale and a Career Development Chair for the Yale Society of International Law. She holds a B.A. in Government (International Relations) and History modified with Russian from Dartmouth College.

Sanya Kumar '17 LLM will be spending her fellowship year at Reprieve, an international human rights organization based in London, which aims to abolish the death penalty or restrict its application worldwide. Her work will focus on South Asian female migrant workers employed in the Gulf States who have been sentenced to death. Kumar will author a report addressing the systemic barriers faced by these women in accessing the legal system and devise a gender-specific rights-based strategy to engage with law makers and policy makers to restrict the use of death penalty. She will identify cases for strategic litigation, and organize public education campaigns around the report.
At Yale, Kumar is an Inlaks Scholar and a Lillian Goldman Perpetual Scholar. Her areas of interest are criminal law, constitutional law, international human rights, and gender and the law. She is a part of the Lowenstein International Human Rights Clinic and has worked with the Capital Assistance Project and the Yale Journal of Law & Feminism. Before coming to Yale, Kumar received her law degree from National Law University, Delhi, where she was a Senior Student Fellow at the Centre for Constitutional Law, Policy and Governance. During law school, she was actively involved in various law reform initiatives—she assisted the Law Commission of India with a project involving review of the criminal justice system, and its report on the death penalty; and worked with the Government of Delhi on issues relating to amendments to rape laws and juvenile justice legislations.
Iulia Padeanu is a 2017 J.D. candidate at Yale Law School. She will be spending her Robina Fellowship year at the European Court of Human Rights, working both as a law clerk to one of the 47 judges and with the Court's Research Division. The position offers a unique opportunity for recent graduates to observe and contribute to the work of the ECHR, one of the most important institutions in the application and development of international law. During the clerkship, Padeanu will research and draft opinions, write comparative legal reports on pressing human rights issues, and observe hearings in both the Chamber of the Court and the Grand Chamber.
Prior to law school, Padeanu served as a Researcher and Facilitator at Co-operation Ireland in Belfast, Northern Ireland, where she wrote extensively on ethnic conflict issues and facilitated an EU-funded peace-building program aimed at integrating British Services families into the Northern Irish community. At YLS, Padeanu has focused on international law, human rights, and foreign policy. She serves as a Student Director for the Yale Law School Center for Global Legal Challenges, an Executive Editor of the Yale Journal of International Law and the Yale Law & Policy Review, and as the Scholarship Chair of the Yale Society of International Law. Padeanu has also worked as a Litigation Summer Associate at Shook Hardy & Bacon, Chicago and Kirkland & Ellis, Chicago. She received her B.A. in International Studies and History from Boston College and her M.A. in Comparative Ethnic Conflict from Queen's University, Belfast.