YLS by the Numbers
---
Yale Law School offers an unmatched intellectual environment with numerous opportunities for students to immerse themselves in the law and make a positive impact on society. Learn more about what sets Yale Law School apart as a leader in legal education.
Centers and Workshops
Faculty and students at Yale Law School can extend the curriculum and further pursue their interests through a variety of centers, programs, and workshops.
Student Life
Yale Law School students are campus and community leaders, taking part in an array of student organizations (as well as editing the School's eight journals) and enjoying the social and recreational opportunities that the New Haven area has to offer.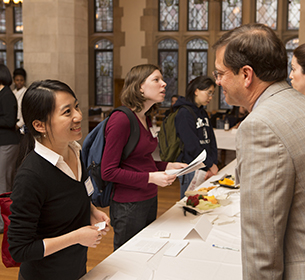 Careers
The Career Development Office (CDO) works with students and alumni to support their searches for rewarding careers by helping them assess their goals, research possible positions, and apply for jobs.
Take a Virtual Tour of YLS
---
Explore our campus and learn more about academics, student life, clinics, admissions, financial aid, and more.
"
The Criminal Justice Clinic has given me the unique opportunity to represent a client in court as a first-year law student. Experiential learning has been the most meaningful part of law school so far, and it has exposed me to the criminal justice system first-hand."
---
Destiny Lopez
Class of 2021