Friday, July 29, 2022
---
The Tsai Leadership Program Wraps Up First Year of Classes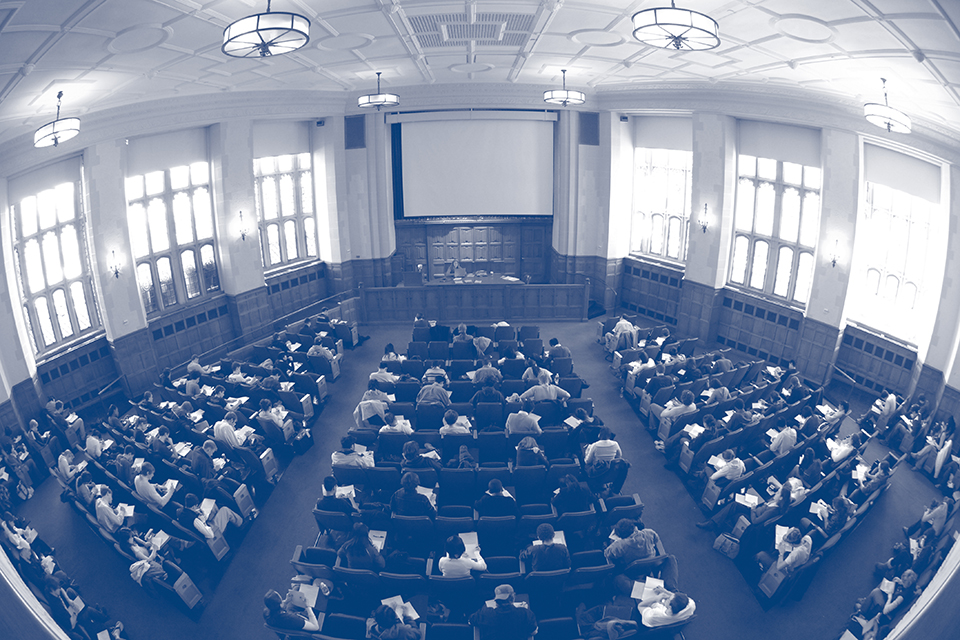 The Tsai Leadership Program — created to provide law students with a cross-disciplinary skill set through courses, specialized immersive program, and workshops — wrapped up its first slate of classes for the 2021–2022 academic year.
"We were fortunate to recruit high-caliber instructors for our courses in The Tsai Leadership Program this past academic year. We received superb feedback about the courses, along with some constructive suggestions for the future that will help our team refine and augment our offerings in the coming academic year. The best part about my new job is having some additional resources to enrich the intellectual life of YLS with gifted teachers and practitioners in our classrooms," said Don Carlson, Senior Executive Director of The Tsai Leadership Program.
Courses offered as part of the program help equip students with an intellectual foundation for a variety of future careers. Spring courses included: Financial Accounting, Corporate Finance, Beyond Reasonable Doubt: Probability and Statistics, Renewable Energy Project Finance, Computing and Society, Everyday Leadership and Nonprofit Leadership.
Yale School of Management Professor Kelly Shue taught Corporate Finance at the Law School in the spring, in which students learned about the various funding sources, capital structures, and investment decisions for firms and organizations. "I hope my students will remember that finance can do a lot of good, through the efficient allocation of capital to productive projects, and finance can do a lot of damage, through poor risk management and deception of the financially unsophisticated," Shue said.
Surveillance, harassment, misinformation, predictive policing, and algorithmic bias were some of the topics covered in Computing and Society taught by Visiting Professor of Law Sarita Schoenbeck in the fall. The course explored the potential risks and harms associated with new technologies while preparing them for leadership positions at the intersection of technology, social impact, and policy.
In Think Like a Founder, Visiting Lecturer in Law Gary Stewart '99 helped students understand the key risk factors inherent when building a successful career as an entrepreneur. Students were challenged to think like founders of high-growth startups and were grouped into teams to develop a scalable idea and create sales pitches, executive summaries, and business plans. At the final session of the class, teams pitched their business ideas to a panel of investors who provided advice on their presentation and selected a team they would most likely invest in if this were a real-life scenario.
In his spring Nonprofit Leadership course that focused on the benefits of working for mission-driven organizations, Visiting Lecturer in Law Richard Buery '97 introduced students to social entrepreneurship and nonprofit leadership opportunities.
"I feel blessed to have had the opportunity to learn with and from an amazing group of students. We spent each week exploring challenges faced by nonprofit leaders, and we were joined by several lawyers — working as nonprofit leaders — who shared their experiences with the class. It was a great experience for me, and I hope the students feel the same," said Richard Buery, Visiting Lecturer in Law.
The Tsai Leadership Program is buttressed by two pillars: The Chae Initiative in Private Sector Leadership and the Ludwig Program in Public Sector Leadership. The Chae Initiative helps students prepare for careers in business, finance, investing, management consulting, and entrepreneurship. The Ludwig Program helps to prepare students for careers in public service, nonprofit, and government.
Visit The Tsai Leadership Program's website to learn more about the program and its course offerings, events, and workshops.