Friday, August 31, 2018
---
WIRAC Family Separation Lawsuit Settles in Court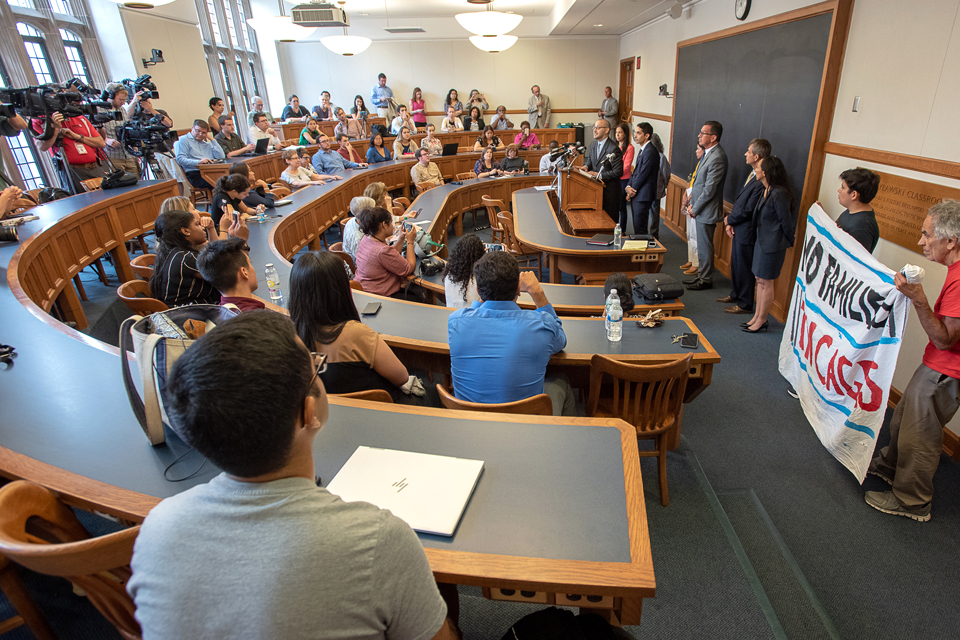 WIRAC holding a press conference this summer on the family separation lawsuit.
This week, the federal government granted temporary legal immigration status to two children who had been forcibly taken from their parents under the Trump Administration's family separation policy. After a federal judge found the government's actions to be unconstitutional and ordered the government to act immediately to redress the trauma it had inflicted on the children, the government granted each child one year of legal immigration status in the United States as part of a settlement agreement to conclude the lawsuit.
These were the first cases in the country brought by children, rather than parents, to challenge the Trump Administration's "zero tolerance" forcible family separation policy. And they are the first cases in which a federal court has held that the government's forcible separation of children from their parents violates the children's constitutional rights.
Beginning in May 2018, immigration agents in Texas wrested the children, nine-year-old J.S.R. and 14-year-old V.F.B., away from their respective parents, held the children in cages, and then shipped them to Connecticut, thousands of miles away from their parents, where they were kept virtually incommunicado. On July 2, 2018, lawyers from Connecticut Legal Services and the Worker and Immigrant Rights Advocacy Clinic at Yale Law School, filed a federal lawsuit on behalf of the children, demanding reunification with their families and redress for the government's abusive actions.
In a ruling issued on July 13, 2018, U.S. District Court Judge Victor Bolden held that the separation violated the children's due process rights, found that the children were suffering from acute post-traumatic stress disorder (PTSD) as a result of the government's conduct, and ordered the government to act immediately to address the trauma. Three days later, in the face of immense community mobilization across Connecticut on behalf of the families, the government transferred the parents from Texas to Connecticut, paroled the parents, reunited them with their respective children and released them from federal custody. At that point, the children's legal status was in limbo: they were subject to re-detention and already had been placed in deportation proceedings.
In the ruling on August 29, 2018, the government resolved the children's legal status by granting them one year of humanitarian parole in the United States. This form of legal immigration status will terminate their deportation cases and enable the children to access the medical care and assistance they need to begin recovering from the trauma inflicted upon them by the government's policy of forcible family separation, and will allow them to pursue additional immigration relief.
Connecticut elected officials have advocated forcefully for the government to take appropriate steps to remedy the egregious harm inflicted by the forcible family separation policy. These have included Governor Dannel Malloy, Senator Richard Blumenthal '73, Senator Chris Murphy, Congresswoman Rosa DeLauro, Congressman Joe Courtney and Connecticut Senate President Pro Tempore Martin Looney.
"The security and safety from being taken from their parents by government agents again is a critical first step in the healing process for our clients. After the harrowing trauma that government put our young clients through, this grant of legal immigration status to remain in the United States and seek treatment is important in bringing stability to their lives," said Aseem Mehta '20, a law student intern with the Worker and Immigrant Rights Advocacy Clinic.
"Our clients were just two of thousands of children who were forcibly and illegally separated from their parents. And they are just two of hundreds of children every year in Connecticut who face removal from this country. So many of them do not even have lawyers — much less the same opportunity to access care, treatment and stability in the United States," said Joanne Lewis, a lawyer with Connecticut Legal Services. "Until they do, this dark chapter in our country's history will continue to unfold.  It's time for Connecticut, and the United States, to step up to ensure fairness and dignity for these vulnerable children and families."
More information about the cases can be found at http://ctlegal.org/freeourkids/.
Connecticut Legal Services is Connecticut's largest nonprofit law firm, dedicated to improving the lives of low-income people by providing access to justice. CLS's free legal assistance and advocacy help vulnerable people meet their basic needs and escape poverty. CLS is the lawyer for immigrant children who are detained without their parents at Connecticut's federally-contracted children's shelter.

The Worker and Immigrant Rights Advocacy Clinic, a part of the Jerome N. Frank Legal Services Organization at Yale School, represents immigrants, low-wage workers, and their organizations in labor, immigration, civil rights, and other matters.