Monday, May 20, 2019
---
Yale Law School Commencement 2019—Working Together and For One Another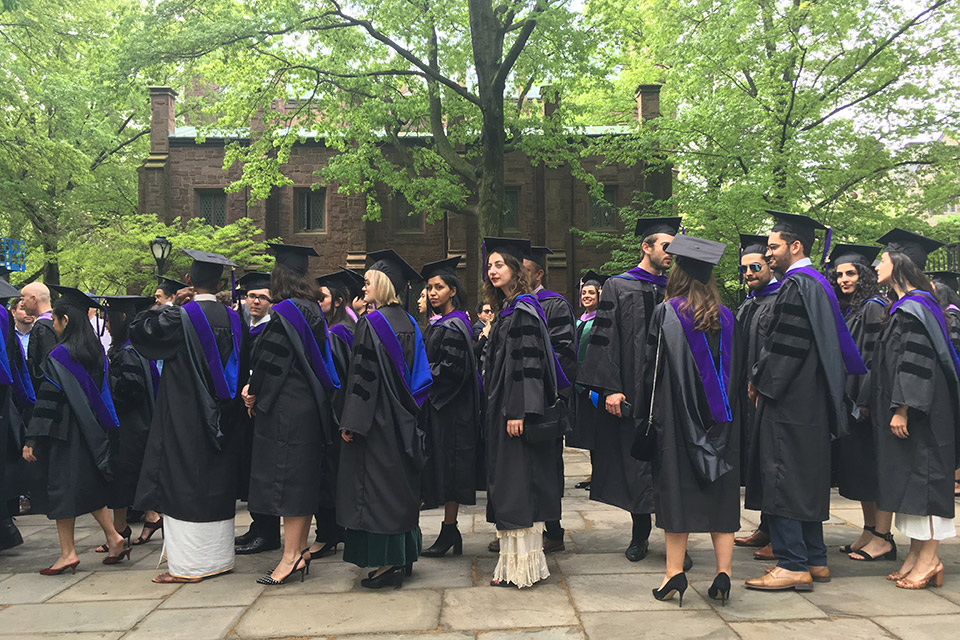 Law School graduates of the Class of 2019 line up at the start of Commencement.
During Commencement ceremonies on Monday, May 20, 2019, more than 200 graduates of Yale Law School were urged to build community and find a fulfilling balance between career aspirations and family when they leave Yale Law School and head out into the world.
EXPLORE PHOTO GALLERIES OF COMMENCEMENT.
WATCH THE FULL COMMENCEMENT VIDEO.
In her remarks to the graduating class, Dean Heather Gerken spoke about the power of working together and for one another: "The daily rhythms of law school and the legal profession can easily make us forget that our individual achievements — remarkable as they are — depend on other people," she said.
"I hope that you'll remember that your greatest accomplishments have been the things you have done together. I don't just mean the fancy achievements that I know we like to tout, like the nationwide injunctions and class actions, or the new issues of prestigious journals. I also mean the quieter but no less impressive work of building community, forging friendships, and sustaining one another."
Judge Guido Calabresi '58, Sterling Professor Emeritus of Law and Senior Circuit Judge of the United States Court of Appeals for the Second Circuit, reminded graduates that no matter their background, they now enter the world as leaders:
"Remember who you are and where you came from. Never forget those, but remember also that now you bear the burden of making decisions."
Neal Katyal '95, former Acting Solicitor General of the United States spoke also spoke about life, the recent loss of a close friend, and the twists and turns one's career can take in the pursuit of happiness.
"I can't give you the recipe to legal success, but I can give you the recipe to a happy life," he said. "Doing what you love, family, empathy, humility, and friendship. That's what makes this place so special. Take a moment, look around. Some of these people are going to be with you your whole life — when you get married, have children, when your parents die. These aren't your competitors or marking sticks. These are your supporters and allies for the rest of your lives."
Katyal currently serves as the Paul and Patricia Saunders Professor of National Security Law at Georgetown Law, and is a Litigation Partner at Hogan Lovells.
Two hundred forty-two degree candidates were honored at the ceremonies Monday, including 212 J.D., 28 LL.M., and 2 J.S.Ds.
---
READ: Dean Gerken's Commencement Remarks.
READ: Neal Katyal's Commencement Remarks.