Allegra Lawrence-Hardy '96
Allegra Lawrence-Hardy '96
Aligning Your Authentic Self
---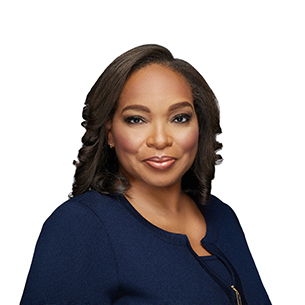 Allegra Lawrence-Hardy '96 spent the first 18 years of her legal career successfully "squeezing my square self into the round peg of traditional law firm leadership." Although she had become one of the 3% of women of color nationwide who achieve equity partner status and one of an even smaller percentage of women-of-color leaders who sit on a firm's executive committee, it was as if only a part of her was present – the part that fit. 
"While leading as a practice group leader and as a member of the highest governing body of a large international firm, I felt like I was only allowing a portion of my authentic self to shine," said Lawrence-Hardy.
Recognizing that being different was actually her greatest strength and that the time had come to put her whole self forward, Lawrence-Hardy left "Big Law" and co-founded Lawrence & Bundy, a litigation firm with offices in Atlanta, Washington D.C., and New Orleans. 
Determined to be a different type of leader, she focused on building a team that is unapologetically and enthusiastically inclusive, where every person is encouraged to be authentic and openly share differing perspectives in search of the best approach to each client's legal challenges.
"As a leader my goal is to highlight each person's gifts, strengths, and talents, and to create a law firm environment that leverages diversity of thought. When we each show up as our full authentic selves, the result is terrific success because our cognitive diversity enriches the outcomes we are able to achieve for our clients," said Lawrence-Hardy.
Her approach in building the firm's team has resulted in courtroom successes and multiple wins that have made national headlines. Another profound shift as a result of her leadership and vision is that the firm is attracting clients who understand that doing the right thing is a business imperative and that share the firm's values of integrity, authenticity, and diversity.
"It takes courage to do the right thing and to show up completely for your clients. We have found that in aligning ourselves around the intention of providing exceptional outcomes for our clients, we absolutely have to bring our whole selves to the process," said Lawrence-Hardy. "We listen to each other. We learn from perspectives that are different from our own. As we embrace curiosity, we create new pathways that include everyone in the conversation."
Lawrence-Hardy would tell those who want to lead differently to: "Be authentic, intentional and strategic. Embrace your unique talents, gifts, and otherness. Celebrate the wisdom of cognitive diversity. Demonstrate resilience and grace. Be as generous with yourself as you are with members of your team. These daily practices ultimately create the culture of your team. Every team will have its big milestones, but true leadership happens in the quiet moments, in the daily habit of excellence that celebrates who we are and what we value."