Leadership Journey Paved by Community Programs
---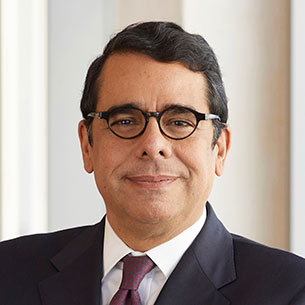 Arthur J. Ochoa, Senior Vice President of Advancement and Chief Advancement Officer for Los Angeles-based health system Cedars-Sinai, attributes his early development as a leader to leadership and community programs he participated in as a youth and young adult.
He was involved in scouting, student government, service clubs, and in college he served as a resident advisor. He also participated in Leadership America funded by the Kellogg Foundation. The program took 50 rising college seniors from across the country through a summer leadership experience that included the flagship program at the Center for Creative Leadership in North Carolina and the executive program at Outward Bound in Colorado.
"The program ended because it was simply too expensive to run, but for about five or six years, it provided extraordinary training designed to give promising young leaders the tools to assume positions of responsibility earlier in their careers and lives and make meaningful contributions to their communities and the broader world," said Ochoa.
As a senior executive overseeing several functions in the health system, Ochoa has had many opportunities to grow and develop new skills. He said having a broad range of experience is essential for someone who wants to lead and so is being comfortable with leading people whose skills are different, and in some ways greater than their own.
"Everyone comes from somewhere in terms of their core training and experience. And as one becomes more senior in an organization, one ends up leading groups that work outside of the leaders' core experience," said Ochoa. "As a leader, one has to become comfortable leading people with skills and experiences outside of their own."
To create a culture for his team to succeed, Ochoa focuses on collaborative goal setting, being a servant leader, hiring the best and allowing them the freedom to do their jobs, and expressing to people how their work contributes to the organization's overall success.
"Smart, high-performing people aren't excited about doing something if they don't understand why it's important and how it fits in to the bigger picture," said Ochoa.
And when conveying an objective to the team, Ochoa finds two skills he learned in law school particularly helpful: how to persuade and how to frame the work in a broader context.
"The law teaches us to develop reasoned approaches to our arguments," said Ochoa. "That same reasoning is critical to share with our teams when we are asking them to achieve an objective."
Trust and listening are also important leadership skills for Ochoa.
"It's difficult to work and collaborate with people and partners whom you don't trust. Working to build trust is critical," he said, adding, "Leadership is rarely about speaking. Mostly it's about listening to understand people and their needs and objectives."
Prior to joining Cedars-Sinai, Ochoa practiced transactional and tax law for individual, corporate, and nonprofit clients at O'Melveny & Myers LLP, and Irell & Manella LLP. Between college and law school, he began his career as an advocate and policy analyst in Washington, D.C.
Ochoa describes his time at Yale Law School as extraordinary because he learned to engage and work with people from all backgrounds and who had a wide array of political, social, and ideological perspectives all in a highly challenging yet supportive intellectual atmosphere.
"I've subsequently learned that the larger the stage on which one leads, the wider array of diverse viewpoints one has to navigate," said Ochoa. "My time at YLS provided critical experience in this regard."
October 2021