A Wide-ranging Career in Government
---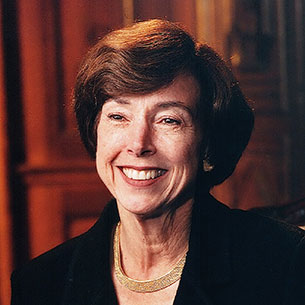 Carla Hills knew she wanted to be a lawyer since she was in grammar school. Leaving California and moving across the country to attend Yale Law School was a pivotal moment in her life and an incredibly formative experience. 
"I had excellent professors and outstanding classmates. There were only seven women in my class (women were not expected to be lawyers in those days!), and each of us enjoyed the camaraderie of our classmates and the excellence of our professors," Hills said.
She credits her public service career path to her work with one Yale Law School professor in particular. 
"I had the privilege and honor of working for J.W. Moore, as he kept current his highly regarded treatise on federal practices (Moore's Federal Practice)," Hills explained. "That experience encouraged me upon graduation to seek a position in the U.S. Attorney's Office in California, which enabled me to litigate cases in the federal courts."
Hills's time at Yale Law School prepared her for a wide-ranging and challenging career, which included a decade and a half of practicing and teaching law followed by high-ranking positions in government. Hills worked as Assistant Attorney General for the Department of Justice in the Civil Division before being appointed to the Cabinets of Presidents Gerald Ford and George H.W. Bush.
She served as Secretary of Housing and Urban Development from 1975 to 1977 and as United States Trade Representative from 1989 to 1993. In the latter role, she led U.S. negotiations in the Uruguay Round of multilateral trade talks, concluded the North American Free Trade Agreement, and entered into a substantial number of trade and investment agreements with countries all around the world. 
Currently, Hills is Chairman and Chief Executive Officer of Hills & Company, International Consultants. The firm provides advice to U.S. businesses on investment, trade, and risk assessment issues abroad. 
Throughout her professional experience, Hills found that listening and learning are the most important leadership skills. 
"I know what I know, but I want and need to know what others know," Hills said. "Careful listening provides a valuable course in life's continuing education. Honesty and loyalty are core values and enormously important in my view. They help build trust, the foundation of others' confidence in you."
She has also seen the value of teamwork.
"Whether practicing law, serving in a government role, or building a firm, all of the positions that I have held over many years have required the talent of a team," Hills said. "In each position, I had the good fortune of working with talented individuals. I cannot claim sole credit. Together, we created the atmosphere needed to create a productive culture and to achieve positive outcomes." 
Before entering government, Hills co-founded and was Partner of a Los Angeles law firm. She also served as an Adjunct Professor at the University of California at Los Angeles Law School, teaching antitrust law. Hills graduated from Stanford University, attended Oxford University's St. Hilda's College, and obtained her LL.B. from Yale Law School. She also holds honorary degrees from a number of colleges and universities including Yale and awards, including the Aztec Eagle, the highest honor given by the Mexican government to a non-citizen. 
"As I look back on my life to date, I feel blessed; blessed by the friends I have made over the years and the opportunities that I have enjoyed," Hills said. "So far, it has been a wonderful journey, and it is not over yet!"
October 2021