A Purpose-filled Journey
---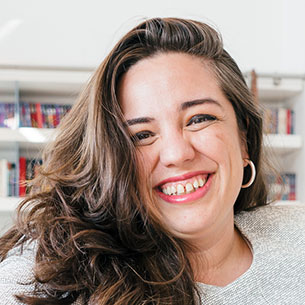 What started as a law school trip to a detention center in Texas to provide legal services turned into a life mission for Conchita Cruz. Cruz and other law students arrived at the border in 2015 to provide support to asylum-seeking families fighting to be released from detention.
"It was clear to us that asylum seekers were being released without basic guidance from the government about what to do next — and they were going to communities across the country with little to no access to legal aid," Cruz said. 
The Asylum Seeker Advocacy Project (ASAP) was founded at Yale Law School in the summer of 2015 when Cruz and her classmates, Swapna Reddy '16, Dorothy Tegeler '16, and Liz Willis '17, saw a legal need to help those seeking asylum at the border in detention and after they were released. 
ASAP is now the largest membership organization of asylum seekers in the United States, with more than 150,000 members from more than 150 countries now living in all 50 states and U.S. territories. Thousands of asylum seekers become ASAP members each week to receive resources on how to navigate the asylum system, connect with other asylum seekers, and join a collective effort to build a United States that welcomes individuals fleeing violence.
"As the daughter of a formerly undocumented Guatemalan immigrant and Cuban refugee, I am committed to working for families fleeing persecution," Cruz said. "I am proud that members of my family and friends are now members of ASAP and are able to receive meaningful support from an organization I co-founded."
Cruz said her experience in law school was critical to finding the right career path for her after graduation, and the personal connections she made along the way will stay with her forever.
"If I had not gone to Yale Law School, I know I would not have co-founded a nonprofit organization. I would not be the co-executive director of ASAP," Cruz said. "Had I not met my classmates Swapna, Liz, and Dorothy, and had we not had the full support of the school administration, our professors, and our peers, we wouldn't have been able to launch ASAP while at Yale. The flexibility and opportunities at YLS give you the time to chart your own path, to start doing the work that inspired you to go to law school, and to find like-minded friends and collaborators for life."
Cruz is currently a Dial Fellow and is a past recipient of a Roddenberry, Skadden, and Gruber Fellowship in Global Justice and Women's Rights. Prior to law school, she served as Deputy Chief of Staff to then U.S. Congressman Jared Polis (D-CO) and as Chief of Staff for New York State Senator Gustavo Rivera. She has worked as a policy and political advisor for progressive local, state, and federal candidates in Colorado, Florida, New Mexico, and New York, and served as a Spanish-language spokeswoman for President Obama's reelection campaign. Cruz has also worked as a community organizer for the Central American Resource Center and hosted a Spanish-language radio show in South Carolina focusing on immigration issues.
October 2021