A Career Working in the Public Interest
---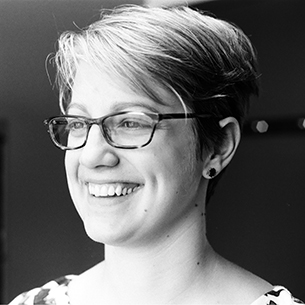 Kaitlin Caurso '10 was previously deputy director for policy and strategic planning for the Office of Consumer Protection and senior counsel for strategic advocacy and Chair of the Strategic Advocacy Committee, New York City Law Department. She has also been a visiting professor at the University of Maine School of Law. 
I grew up in (and love) Maine; I never gave much thought to cities. But from the jump, my legal career has gone pretty much everywhere I didn't expect it to; it is more a set of interconnected loops than a straight line, wandering through work with several cities and states. Today, I chair the Strategic Advocacy Committee at the New York City Law Department, helping to develop impact litigation on behalf of the City and its more than 8 million residents.
In school, I started out focused on domestic violence. I joined the Domestic Violence clinic and targeted my classes. But while I remained passionate about the issue, as a human, I turned out to be poorly suited to the work. By happenstance, I also found myself a part of San Francisco Affirmative Litigation Project Clinic, and enthralled and energized by it. I got to work on civil and human rights and consumer protection issues, through the complicated lens of representing a city. After graduation, I got to spend a year as the San Francisco Affirmative Litigation Project Fellow, helping to run that clinic alongside now-Dean Gerken.
Despite thinking I would never clerk, I then spent a year working for a great District Judge in Chicago, and another for a delightful new First Circuit judge in my hometown. In between, I served in the Consumer Fraud Division at the Illinois Attorney General's Office, where I worked on cases and investigations as local as home repair fraud and as far-reaching as credit rating fraud leading up to the financial meltdown. Those years were extraordinary exposure and training for me, and pointed me toward a public or private sector consumer litigation job. But instead I moved to New York to join the brand new Bill Drafting Unit at the New York City Council. In about two years there, I worked on projects ranging from local traffic rules to civil rights and employment regulation. I got to learn intimately the legal structure of New York City, and hone the skills and tools of non-executive governance.
Looking to further broaden my skills, in 2016 I joined the New York City Law Department, where I had summered as a 2L, in the Legal Counsel Division. In some ways, my work there mirrored my City Council work; I researched, drafted, negotiated, and revised legislation. But I added rulemaking, program implementation and a widely varied advice practice to my portfolio, working for and alongside extraordinary colleagues. I was eventually loaned to the Office of Counsel to the Mayor for six months, and when I came back to the Law Department, it was in a new role (that circled back to my prior work): as chair of the Law Department's new Strategic Advocacy Committee. I now help the Law Department assess and develop impact litigation ideas from across the City and around the country into potential litigation or other action. I have to use a bit of everything I have picked up along the way — about investigation, claim assessment, city structure and laws, and institutional relationships. I'm never bored.
Mine hasn't been a tidy career arc, and there hasn't been a master plan. I've always wanted to work in the public interest, but I often wasn't quite clear where that was taking me. Along the way, I've discovered that the people I work with matter as much to my job satisfaction as the work that I'm doing. For a long time, I thought that if I was doing work that I cared about, that was enough; in reality I am dramatically happier and more effective when working with people who are smart, upstanding and passionate about their work. I've found that the kind of tool I'm using (litigation, legislation, regulation) matters less to me than finding a way to address the problem I'm faced with.
Perhaps surprisingly, I often advise law students to spend some time at a private firm. Many careers veer in and out of the private sector. At points, I have been lucky enough to choose between public and private sector options. I am grateful for the choices that I have made, but each time I have wished that I had taken time earlier to see how the private sector suited me.
If you are interested in working in state or local government, I recommend it highly, if you are willing to drink from a firehose. Nearly every day I get to work on a thorny legal question, dig into significant misdeeds, or confront questions of access and equity. Finding the right state or local job takes a lot of homework, though. (Or experimentation. Or both.) Ask around for the office's, and division's, reputation. Find out how it handles attorney development. Ask how long people stay, and where they go when they leave. Find out if coworkers socialize. Ask what changes across political administrations, and what you can expect to do in your first, third, fifth and tenth year. No one of these questions will tell you whether the agency is a good fit, but if you are like me, they are key to finding a place that you can do work that matters without burning out. If you are willing to put in a bit more legwork, you can find an extraordinary spot to grow as a lawyer.
Updated August 2021