When Finance and Technology Meet
---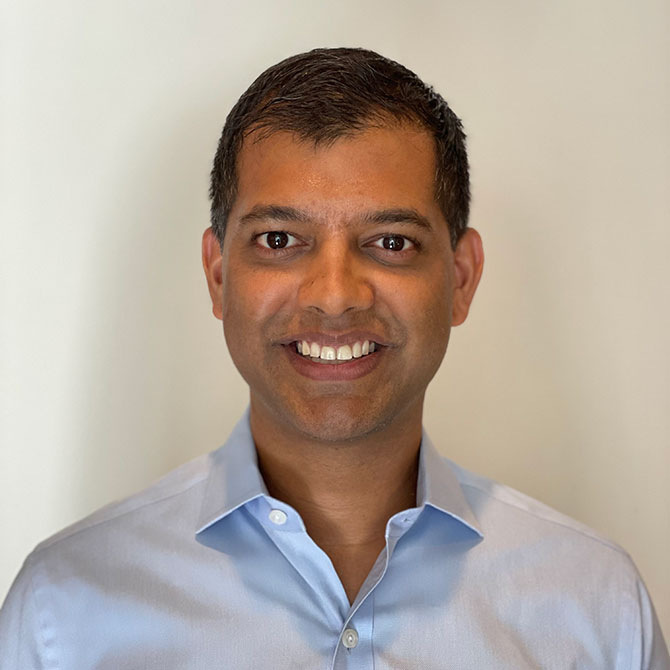 Krishna Rao's leadership journey has been non-linear.
"I started my career in management consulting, which was a good training ground, but ultimately, I wanted to be part of making and being held accountable for key decisions," Rao said.
That desire led him to investing after law school where he learned the importance of breaking down complex problems into their component parts and using this approach to form his own opinion.
"At Blackstone, I was constantly challenged to have a perspective that was well reasoned, supported by data, and not always in line with the consensus," Rao said. "I brought this foundation to working in operating roles in the technology sector — first at Airbnb, and now at Cedar. This phase of my career has been about leading larger teams, working with cross functional peers, and focusing on long-term outcomes that advance a company's mission."
Rao is the Chief Financial Officer of Cedar, a technology platform that is transforming the U.S. healthcare financial experience for consumers. As the first CFO of the company, Rao is responsible for overseeing Cedar's finance and legal functions, helping to drive growth and strategic decision-making for the company.
Prior to Cedar, Rao was the Global Head of Corporate and Business Development at Airbnb. In this role, he led or supported financings totaling more than $10 billion of equity and debt capital, including Airbnb's initial public offering in December 2020. During his time at Airbnb, Rao built and led the Corporate and Business Development team, which identified, executed, and integrated acquisitions, investments, and strategic partnerships for Airbnb globally. 
"It is essential to understand the building blocks and nuances of any team you are a part of. Execution is in the details, and they matter — if you don't understand the fundamentals of your business or organization, there is no way you can effectively lead it," said Rao. 
Prior to Airbnb, Rao worked as a Principal at Blackstone in the Private Equity Group in New York where he was involved in the evaluation and execution of transactions in the consumer, retail, business services, and financial technology sectors. In this capacity, Rao was on the board of three private companies and an observer on a public company board.
At different points in Rao's career, he struggled with what to do next: how much risk to take on, when to move to the next role, and where he would learn the most. His transition from investing to working in the technology sector was not without hurdles. "Moving from Blackstone to Airbnb was particularly difficult because the jobs were so different," said Rao. "Working effectively within a company is challenging and requires a sustained focus on cross functional collaboration. I wasn't very good at working across teams, functions, and geographies when I joined Airbnb because I had never spent time in an operating role." He adds, "I was fortunate to have understanding peers and generous mentors that taught me how to navigate a fast-growing company and get things done. Those lessons were invaluable both at the time and as I moved into other roles." 
Self-awareness is key to how Rao creates a productive culture. "I try to acknowledge my blind spots and hire strong team members that complement the gaps in my skills and experience. I am always looking to work with talented leaders that push my thinking; I empower them to make their own decisions and make their own mistakes," said Rao. "Talented people want autonomy and trust, and if you don't give that to them, they go elsewhere." 
Rao also noted the importance of empathy and transparency. "Making a genuine effort to understand each role on a team and the challenges specific to that role is a good foundation for building strong working relationships," said Rao. "I am direct and transparent with the people I interact with. I want to hear real-time feedback that is critical and constructive so we can get better continuously instead of waiting months to change something in an incremental way."
Prior to Blackstone, Rao worked at Bain & Company as a management consultant in San Francisco and New Delhi where he focused on growth strategy and private equity due diligence engagements. Rao received an A.B., summa cum laude, from Harvard College and a J.D. from Yale Law School.
Yale Law School had a profound impact on Rao's career. He said people frequently ask him, "Why did you go to law school?" Rao initially found the question a tough one to answer given his career path. Upon reflection, it was the intangible lessons that stood out most. "My experience at YLS was more about learning creative problem solving, how to lead with purpose, and how to see the other side of an argument than it was about studying any specific legal topic," said Rao. "I started law school during the Great Recession and my interactions with leaders in the public and private sector at that time really shaped how I thought about my own path. I was fortunate to have a set of experiences during my three years at YLS that I can consistently draw upon as I face challenges and pursue new opportunities."
If Rao could give advice to his law school self, he would encourage taking more calculated risks. "Law students are by nature risk averse and many follow very traditional paths not because they want to, but because they don't even consider the alternatives," said Rao. "Spending three years at YLS with ample time to learn and explore is a luxury I only partially appreciated at the time. Because you are surrounded by incredible people, it is easy to start with what others are pursuing and think incrementally instead of beginning with a blank slate." He adds, "In short, I would tell my law school self to think more expansively and creatively about my career, take more chances, and be more comfortable with failure."