Diving Deep for Data-Driven Change
---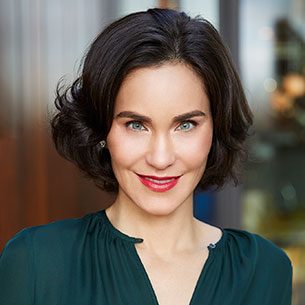 Laura Arnold's reliance on research and evidence as a curious and accomplished student became the hallmark of the foundation she now helms and has proven to be a potent weapon against some of the most intractable problems of our times. She is widely recognized as an innovator and leading voice in reforms to the criminal justice and health care systems, advocating for solutions in areas she describes as deeply broken, inefficient, and unjust.
Arnold is co-founder and co-chair of Arnold Ventures, a national philanthropy she and her husband, John Arnold, established in 2010. Through the organization, the Arnolds primarily focus on four issues: criminal justice, healthcare, education, and public finance. But they are also changing the conversation about how philanthropists can create meaningful change: namely, through research. For Arnold, a former corporate lawyer and oil company executive, that approach is closely related to her Yale Law School education.
"Systemic transformational change is possible but only through leadership steeped in the principles that Yale Law School champions: bold thinking, a willingness to take risks, and a dedication to evidence-based research and decision-making," said Arnold.
The core mission of Arnold Ventures is "to invest in evidence-based solutions that maximize opportunity and minimize injustice." Some of the research Arnold Ventures supports is on how to improve the quality of research itself — an undertaking that prompted one publication to describe the Arnolds as "Medicis for 'research integrity.'"
Arnold speaks this language of data-driven change. She hosts a podcast on which she shares the mic with the most influential names in a wide variety of public policy areas. She serves on the advisory board at Stanford PACS, a research center that seeks to explore and share ideas that drive social change. And she once gave a Ted Talk entitled "The Four Most Dangerous Words? A New Study Shows."
"I believe that true leadership is forged through an unwavering commitment to follow the data and evidence where it guides us, even when it's not always popular to do so," said Arnold.
True leadership means taking multi-pronged, unconventional approaches to problem solving, rather than seeking the more immediate results that philanthropy sometimes favors. For instance, to address another of its priorities — lowering prescription drug costs — Arnold Ventures funded a study that showed that prescription drug prices have increased by 68% since 2012. With these findings, it has advocated for patent system reforms. The organization then invested in a nonprofit generic drug company to stabilize the supply of essential generic medications administered in hospitals. 
The Arnolds became full-time philanthropists with the creation of Arnold Ventures, which combines their earlier grant-making foundation with their advocacy and political efforts. It was not their first act of leadership in the world of giving. They were early signers of the Giving Pledge, in which signers publicly commit to donate the majority of their wealth to address some of society's most pressing problems. 
More recently, Arnold became a founding partner of the REFORM Alliance, a national criminal justice advocacy organization in 2019. She joined the group as a founding partner, along with leaders from the worlds of sports, business, and entertainment. The alliance is dedicated to reducing the number of individuals in a punitive system of mass incarceration, the revolving door of probation and parole, and the penalizing nature of fees and fines. 
"America needs bold, visionary, systemic change to its criminal justice system," said Arnold. "The kind of change that doesn't settle for tweaks to the status quo but asks instead how we would design our system if we had the chance to do it over, in the smartest and fairest ways possible."
October 2021