The Producer
---
Any good writer will tell you that it's a stretch to introduce a couple of circus clowns to create a plot complication. But for Lily Fan '04, it's a true story — and it worked.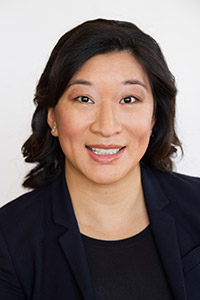 After graduating from the Law School and practicing at two firms, Fan was working as counsel in the New York State Senate when two performers from Cirque de Soleil asked her to help them produce an original show. Now a veteran theater and documentary film producer, Lily has supported the Broadway productions of Three Tall Women, The Iceman Cometh, Beautiful, and The Band's Visit, and the national tour productions of An American in Paris, On Your Feet, and Something Rotten. Her awardwinning documentary Weiner focuses on Anthony Weiner's 2013 campaign for New York City Mayor. Other projects include the ACLU documentary, The Fight, and a Showtime docu-series& Couples Therapy. The Yale Law Report spoke to Fan in 2018 about her career path.
What is the day-to-day work of a producer like?
A producer has to be strategic and fearless in shepherding a creative process. The key is to have the foresight for what is missing from the market and what the audience would appreciate and then commission the right ensemble to create works together accordingly. The job is not pushing paper in an office — it is most rewarding to meet new people everyday, hear pitches and pursue new ideas, and develop and maintain proper relationships so the products can get the developmental investment and attention they need to survive. Most importantly, I have to know when to quit when a creative process is not working. With Weiner, I was the first and only front money producer to see the potential of the project. For three years, I recognized the talent of the filmmakers and acted as their cheerleader and helped with crafting the best story with scenes we had shot.
Tell us a little about your career path after law school.
I started my career practicing law at two firms—first at Shearman & Sterling, and then at Morrison & Foerster. In 2008, I left Morrison & Foerster to became the statewide volunteer coordinator for the Obama campaign in Pennsylvania. I returned to my firm briefly after the win, but knew I needed a career change. I was given the opportunity to serve as Counsel to the Standing Committee on Social ervices in the New York State Senate. There was a steep learning curve in doing legislative work, but I truly loved being part of the action. When we lost the majority in the State Senate, I decided to make another change. I had some TV experience from my college years and started networking and learning a lot about producing live theater. Eventually I got the opportunity to also work on documentaries, my most favorite form of education and communication. Now eight years later, I have been involved in multiple Tony Awardwinning plays and musicals and have won the 2016 Sundance's Grand Jury Prize for the documentary Weiner.
What led you to move into producing?
While serving as Committee Counsel, I was asked to moonlight as a lead producer for friends who were performing as disgruntled clowns at Cirque du Soleil who developed their own physical comedy show. It was completely serendipitous that I got to produce a wellreceived and profitable show as my first. I still remember the audience's roaring laughter that chilled my body with adrenaline. By the second performance, I knew I was not going back to a law firm.
How has your legal background influenced your work as a producer?
Knowing the law, being able to ask the right questions, and mastering critical thinking are helpful skills to have in life. My Yale Law School education adds a layer of context to my judgment and taste and results in a unique producing angle. Because of my educational background, there is perhaps a reasonable expectation of righteousness and good ethics from my colleagues that I work hard to live up to.
Updated September 2021