A Career as an Assistant U.S. Attorney
---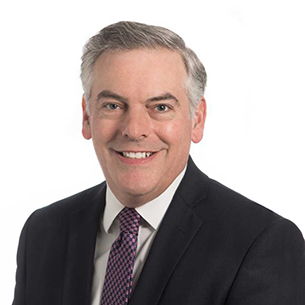 In August 2021, Matthew Axelrod '97 was nominated by President Biden to be Assistant Secretary for Export Enforcement, Department of Commerce. The interview below talks about his career as an Assistant U.S. Attorney.
From 2003 to 2009, I served as an Assistant United States Attorney in Miami, Florida. From 2009 to 2013, I was on detail to Main Justice, where I worked as a Senior Counsel to the Assistant Attorney General for the Criminal Division and then as an Associate Deputy Attorney General. After spending 2014 in private practice, I returned to DOJ in February 2015 to serve as the Principal Associate Deputy Attorney General, responsible for helping the Deputy Attorney General run the day-to-day operations of DOJ. I left DOJ again in 2017 and am now a partner at Linklaters, where I do internal investigations and white collar defense work.
I graduated from the Law School in 1997 and then spent two years clerking, first for the Hon. Ralph K. Winter on the United States Court of Appeals for the Second Circuit and then for the Hon. Janet C. Hall on the United States District Court for the District of Connecticut. After the clerkships, I moved back to my hometown of Boston, where I spent a little over three years working as a litigation associate for the now defunct law firm Hill & Barlow and then six months working at a litigation boutique, Donnelly, Conroy & Gelhaar.
Perhaps because SDFL is one of the larger U.S. Attorney's Offices, there is a dedicated Appellate Section. A number of AUSAs work there permanently, but it is also the section to which all new AUSAs are assigned for a few months when they first start in the office. Spending a few months writing appellate briefs gives new AUSAs a chance to acclimate themselves to the office and to begin to familiarize themselves with some recurring issues that arise in federal criminal practice.
After the short stint in appeals, new AUSAs typically move on to the Major Crimes Section. Major Crimes handles all of the cases that come to the office reactively, rather than as the result of a long-term investigation. For example, drug couriers attempting to bring cocaine in through the airport, bank robberies, felons found in possession of a firearm—all of these are typical matters handled by Major Crimes AUSAs. The section is incredibly fast-paced and AUSAs are in court virtually every day. In my two years in Major Crimes, I had 15 jury trials (at the same time, the folks in the Appellate Section let me argue three cases before the Eleventh Circuit). I'm not sure of the exact statistics, but I've heard it said that the Major Crimes Section alone tries more cases each year than most entire federal districts. I don't know why that is, but I do know it offers an unparalleled opportunity to learn how to try cases.
After Major Crimes, AUSAs in SDFL are typically transferred to the Narcotics Section, the Economic Crimes Section, or the Special Prosecutions Section. In Narcotics, AUSAs work larger drug cases, usually involving wiretaps and multiple defendants. The district is unusual in that many of the narcotics defendants are not here in the United States, but in Central or South America. Because these individuals have shipped large amounts of cocaine or heroin to the United States, they are subject to the United States' criminal laws. SDFL AUSAs will indict them and then seek to have them apprehended in their home countries and extradited for trial. For example, during my time in the Narcotics Section, I was part of the team that convicted two founders of the Cali cartel, who had been extradited to Miami from Colombia. In Economic Crimes, AUSAs work mostly document-intensive fraud cases, such as bank fraud and healthcare fraud. The Special Prosecutions Section focuses its work on combating violent crime and crimes against children.
After my tenure in the Narcotics Section, I worked in the office's Public Integrity/National Security Section. The Section conducts national security and terrorism investigations as well as corruption investigations of public officials, including corrupt law enforcement officers. As one example, I was part of the team that convicted the Sheriff of Broward County on fraud and tax charges related to undisclosed private business dealings he had with people who were also doing business with his office.
In short, I cannot imagine a better job as a lawyer than being an AUSA. When I applied to work as one, I wanted a job where I was doing work that mattered, where I was fighting about issues like justice and liberty rather than about money, and where the marching orders were to do the right thing rather than to win at all costs. I am happy to report that the job of an AUSA is all those things and more.
As a final note, if you really want to be an AUSA, do not let repeated frustrations with the application and acceptance process deter you from your goal. I started applying for an AUSA position in my hometown of Boston as far back as 2000, but was unsuccessful in landing a position. In 2003, despite the fact that my wife and I had bought a house that we liked and despite the fact that we had a one-and-a-half year old toddler, we decided that I should broaden my search. Accepting the job in Miami meant uprooting my family and leaving Boston. At the time, it was not easy to take that leap. But, looking back, it was the best thing I ever could have done.
Updated August 2021