At the Intersection of Civil Rights and Health Law
---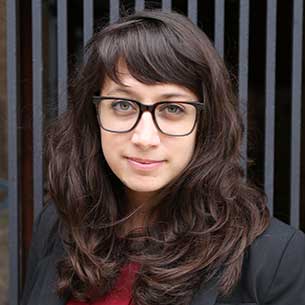 Sarah Grusin '14 was previously a Justice Fellow at Loevy & Loevy, and spoke then about her experience.
As a Justice Fellow at Loevy & Loevy, I litigate civil rights cases on behalf of individuals whose rights have been violated in the criminal justice system.
All of my cases address abuses of state power, for instance, police brutality and unlawful arrests and prosecutions. I frequently represent prisoners who have been unconstitutionally denied medical care during their incarceration. Most of my clients are individuals who have been wrongfully convicted as a result of hidden, fake, and manufactured evidence—due process violations at their initial criminal trials. We bring civil lawsuits to hold the police accountable for wrongful imprisonments of innocent individuals, which cost years, and often decades, of their lives.
What is unique about my work at Loevy & Loevy is that, in addition to working on issues I am passionate about, I get to do the hands-on work of a trial lawyer. My interest in civil rights litigation was sparked during my summer at the National Health Law Program, where I worked on civil rights class-actions to ensure individuals received Medicaid benefits. After a one-year clerkship for Judge Pallmeyer in the District Court for the Northern District of Illinois, I knew that I wanted to be in the courtroom arguing motions and presenting testimony. My position at Loevy & Loevy has allowed me to do exactly that. I have worked on every stage of litigation, from drafting complaints, to taking depositions, to briefing dispositive motions, and presenting witnesses at federal and state court trials.
Jumping in to such a fast-paced and high-stakes practice has been overwhelming at times. But I am grateful for my time at Yale because it taught me how to regularly pause and reflect on the larger impact of my practice. My fascination with health law has always been in the challenge of finding systemic solutions to widespread problems, and Yale gave me endless opportunities to explore those issues. In the Immigration Legal Services Clinic, I learned how to harness the power of an individual narrative, and to faithfully tell my clients' story while navigating the legal requirements. In classes like Remedies, and student groups like YHeLPS, I learned to evaluate the different tools lawyers can use to best impact systemic change. Now, in my current role, I seek to use civil litigation to achieve systemic change, and routinely draw on those insights gained during my time at Yale.
Updated August 2021