Monday, April 20, 2020
---
2020 Bernstein and Robina Human Rights Fellowships Announced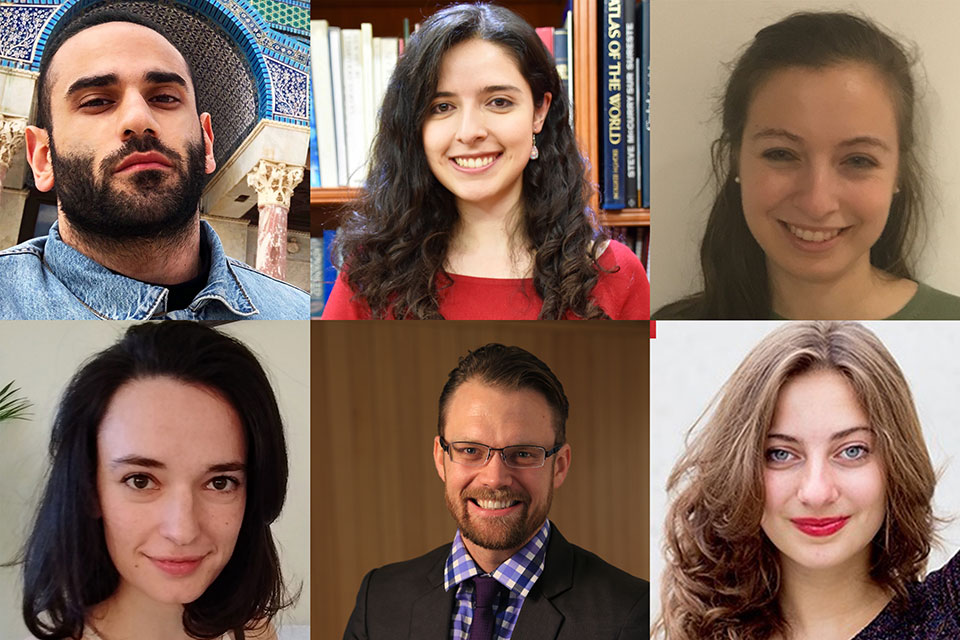 The Schell Center for International Human Rights announced the recipients of its postgraduate fellowships for the 2020–21 year. This year, three graduating law students were awarded the Robina Foundation Human Rights Fellowship, and three were awarded the Robert L. Bernstein Fellowship in International Human Rights. Both fellowships fund full-time human rights work for recent graduates of Yale Law School. The 2020 cohort of Fellows will be based at organizations around the world, pursuing a range of projects that further human rights.
About the 2020–21 Fellows:
Laith Aqel will be a Bernstein Fellow at the Global Echo Litigation Center, a non-profit legal organization dedicated to bringing strategic human rights litigation. Based in the Middle East, Laith will work with local communities to build capacity and develop skills to address human rights abuses and support accountability efforts. At Yale, Laith was a member of both the Peter Gruber Rule of Law Clinic and the Allard K. Lowenstein International Human Rights Clinic. He also served as Executive Editor for the Yale Journal of International Law, Policy & Legal Director for the International Refugee Assistance Project, Student Director of the Center for Global Legal Challenges, and Chair of the Middle Eastern and North African Law Students' Association. Laith was also a 2018–2019 Fox International Fellow, spending a year conducting research at Boğaziçi Üniversitesi in Istanbul. He holds a B.A. in Social Research and Public Policy from New York University Abu Dhabi.
Patricia Cruz Marín (LL.M. 2020) is spending her Bernstein Fellowship year at the Center for Justice and International Law (CEJIL), an organization that accompanies victims of serious human rights violations through the different stages of procedure in the Inter-American System of Human Rights. She will be working in the Washington, D.C. offices in the elaboration of a report on the compliance of the judgments of the Inter-American Court of Human Rights, and assist in the investigation and preparation of legal strategies for the hearings related to compliance of the judgments of the Inter-American Court of Human Rights. During her time at Yale, Patricia was Articles Editor of the Yale Journal of Law and Feminism and a member of the Allard K. Lowenstein International Human Rights Clinic. Patricia holds a LL.B. from the Universidad Nacional Autónoma de Mexico (UNAM) and a B.A. in Political Science from the Instituto Tecnológico Autónomo de Mexico (ITAM). Prior to Yale, Patricia worked elaborating research in the area of Human Rights and Constitutional Law, and was the Legal Coordinator of the Clinic Against Human Trafficking of the ITAM.
Talya Lockman-Fine (J.D. 2020) will spend her Bernstein Fellowship year working at the International Senior Lawyers Project, focusing on building government legal capacity for sustainable development and socioeconomic rights. During law school, Talya was a member of the Allard K. Lowenstein International Human Rights Clinic, Reproductive Rights and Justice Project, and Community and Economic Development Clinic, and was Editor-in-Chief of the Yale Human Rights and Development Law Journal. Talya spent summers working for Koe Koe Tech in Yangon, Myanmar and for the Central Virginia Legal Aid Society in Richmond, Virginia. Prior to law school, Talya worked for Dalberg Advisors in Dakar, Senegal and New York City. She holds a B.A. in Ethics, Politics, and Economics from Yale College.  
Paul Rink (J.D. 2019) will be based in Eugene, Oregon as a Bernstein Fellow for Our Children's Trust, a nonprofit public interest law firm that provides young people from diverse backgrounds with strategic, campaign-based legal services aimed at securing their rights to a safe climate. During his time as a fellow, he will support existing youth-based climate change cases in Canada and Mexico and will help identify and develop cases in other foreign jurisdictions. In addition, he will assist legal advocacy before international human rights law bodies and mechanisms. Paul has conducted thorough research and written extensively on youth-driven climate change litigation. An article he wrote on this topic received a silver medal from the International Sustainable Development Law Centre in the 2018 Climate Law and Governance Day essay competition. He also contributed a chapter entitled "Helping Kids Stand Up for Their Rights: The Role of Climate Change Litigation" to the 2019 publication A Better Planet: 40 Big Ideas for a Sustainable Future. Paul earned joint degrees from Yale Law School and Yale School of Forestry and Environmental Studies in 2019. He is currently completing a yearlong Fox International Fellowship in Mexico where he has been researching the influence of private enterprises on international environmental law.
Louise Willocx (LL.M. 2019) will spend her Robina fellowship at the Special Jurisdiction for Peace in Bogotá, Colombia. She will be clerking for Justice Julieta Lemaitre in the first case against the FARC, which concerns the kidnapping of civilians and military officials. Since her LL.M. at Yale, Louise has worked with a barrister at Doughty Street Chambers assisting with the drafting of submissions for major extradition and human rights cases and has worked at the research department of Laura Devine Immigration in London. Louise earned her LL.M. as a Belgian American Education Foundation Fellow and was a member of the Allard K. Lowenstein International Human Rights Clinic and the Title IX Working Group. She also volunteered at a closed detention center in Texas for the Dilley Pro Bono Project and at a women's prison in Connecticut for the York Prison Debating Society. Prior to her LL.M, she obtained a Bachelor's and a Master's in Law and a Bachelor's in Philosophy at KU Leuven, Belgium. During her studies, she interned at the International Criminal Court, the Belgian Embassy in Washington, D.C., at a renowned human rights firm in Belgium and worked as a research assistant in International Law.
Abigail Pershing (J.D. 2020) will spend her Robina Fellowship year working at the European Court of Human Rights in Strasbourg, France. During her time in law school, Abigail was a student director of the Lowenstein International Human Rights Clinic, a co-director of the Medical-Legal Partnership at the Haven Free Clinic, a volunteer with the International Refugee Assistance Project, and a Coker Fellow. She was also an editor of the Yale Law Journal, the Yale Journal of International Law, and the Yale Law & Policy Review. Before law school, Abigail served as a Peace Corps Volunteer in Senegal, West Africa. She received dual Bachelor of Arts degrees in Sociology and Public Policy from the University of Chicago in 2014.