Friday, November 10, 2017
---
A Call to Serve
As a small child, Aaron Haviland '19 moved from Manhattan to Haiti, traveling around the world with his family through his father's various State Department postings.
Around the same time, his classmate, Tianyi "Tian Tian" Xin '19, left Dalian, China to move to Texas with her family for a better life in the United States.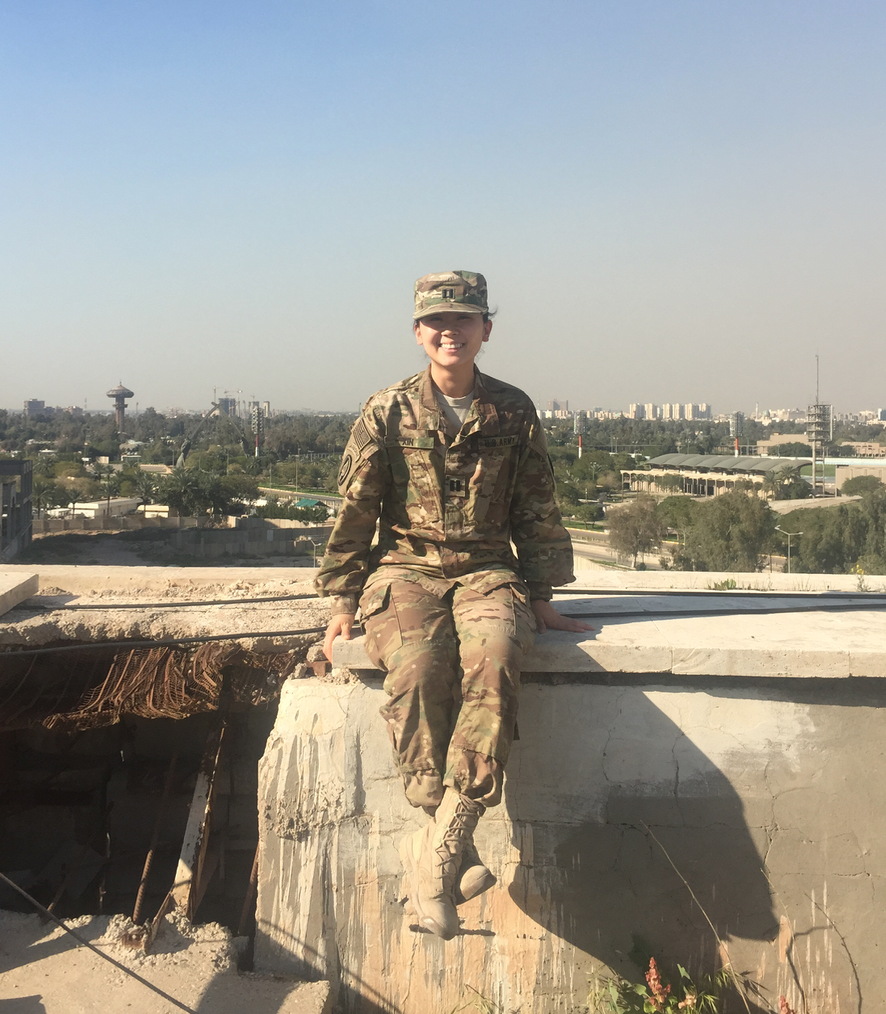 Despite these contrasting childhood experiences, both Haviland and Xin remember a strong calling at a very early age to service.
"I've always had a strong sense that I needed to give back to my adopted country from a very early age." Tianyi "Tian Tian" Xin
"I had always grown up knowing I wanted to serve," said Haviland, recalling how his uncle was killed in the 9/11 attacks. "I had grown up around Marine security guards at the U.S. Embassies where we lived and always looked up to them."
"I've always had a strong sense that I needed to give back to my adopted country from a very early age," recalled Xin, who grew up in Texas where her parents worked to achieve the American dream.
Xin was drawn to the U.S. Military Academy at West Point, serving as an Officer in the Army upon graduation, while Haviland gravitated to the U.S. Naval Academy and ended up in the Marines. Both served in a multitude of roles in the military and happened to deploy to Afghanistan within two years of each other — Xin as an individual augmentee in the Army's 75th Ranger Regiment in 2014 and Haviland with 3d Battalion, 9th Marine Regiment in 2012.
Immediately following their service, both students arrived in New Haven in the fall of 2016, drawn to Yale Law School's intimate community and driven by an intellectual curiosity and interest in international law.
Today, their shared experiences in the military and sense of calling to serve the country they love are what bond them here at Yale Law School, even as they engage in different interests and activities.
"Aaron is one of my favorite people at the law school. On paper, we shouldn't be friends at all," said Xin. "We had very different upbringings, we're on opposite ends of the political spectrum, and we root for competing teams in a very intense college football rivalry of Army versus Navy."
"What brings us together is a shared common experience of having served our country in uniform." — Aaron Haviland
"But I respect Aaron a great deal and what I admire about him, is that at the end of the day, we can both put our differences aside and focus on our common interests in the law and on our love of country."
"Tian Tian is one of the most hard-working and well-rounded people I have ever met," said Haviland. "She always looks for common ground and makes friends with everyone, even those with whom she disagrees. Most importantly, she is an amazing friend and one of my favorite people at Yale Law School."
Their special friendship embodies the relationship many veterans at the law school have formed with each other. Together through the Yale Law Veterans student group, Xin and Haviland work to come up with fun, social activities that bring student veterans together for support and a sense of community. The group helps incoming students navigate the financial aid process and keeps veterans bonded together during their time here.
"We all look out for each other," said Xin. "We're a small enough group where everyone knows each other and we've all got each other's backs."
"We all come from very different backgrounds and have different —sometimes conflicting — political and ideological beliefs," said Haviland. "Our goal, as a group, is not to push a political agenda. In fact, we go out of our way to make sure that we are not perceived as partisan. What brings us together is a shared common experience of having served our country in uniform."
Watch Video Profiles of Aaron and Tian Tian