Thursday, May 25, 2017
---
Capstone Symposium Held for Human Rights Students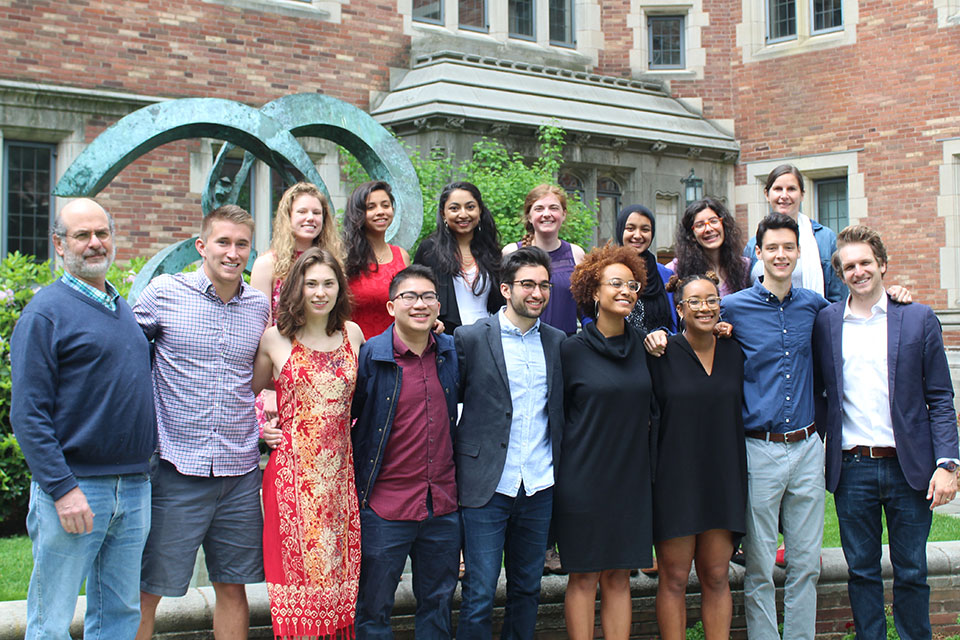 Yale College's Multidisciplinary Academic Program in Human Rights (MAPHR) convened its first annual Senior Capstone Symposium on Monday, May 1, 2017. The fifteen graduating seniors in the Program presented their capstone projects—the equivalent of a senior thesis—to an audience of fellow Human Rights Scholars, professors, advisors, and friends. 
The projects reflected a diversity of topics, disciplines, modes of thought, and approaches to advocacy that the students have been exploring for the past two years in the Program. Students explored the promise and threat for public education of low-fee U.S.-based, for-profit education companies in Uganda; evaluated the work of the Essmart Global's Smart Farmer Association in distributing financial services and agricultural techniques in Tamil Nadu, India; and developed a blueprint for helping the International Organization of Migration better protect against human trafficking in post-crisis situations in the Middle East and North Africa.
Topics spanned international issues of concern and domestic U.S. problems. These, included a powerful account of reparative justice in response to punitive drug policies in New York State, an online tool to connect refugee families in New Haven with local services, a synthesis of harms done to human beings and to nature by corporations' polluting industrial practices in communities along Indiana's south shore of Lake Michigan, and a series of published op-ed pieces exploring the rhetoric of the 2016 presidential campaign and the days following the election.
A number of students focused on the field of human rights education itself, drafting curricula for Dr. Deqo Mohamed's Hope Village community school in Somalia and critically reassessing the content of social studies education in the Caribbean.
Several students turned to the aesthetic and explored human rights issues through artistic projects. Students curated a collection of seditious art from Malaysia, wrote a screenplay exploring the challenges facing Central Americans seeking asylum in the United States and the lawyers who struggle to help them, and collaborated to write songs and choreograph dance that grappled with the tension between idealism and cynicism in representing the suffering of others. 
A full list of projects can be found in the symposium schedule. 
Professor Jim Silk, the Binger Clinical Professor of Human Rights at Yale Law School and Director of MAPHR, reflected in his opening remarks on working with this first class of Human Rights Scholars. He said that seeing them develop their final projects from research and experience that was meaningful to them was "one of the most rewarding experiences [he's] had at Yale." Silk added, "Each Scholar has, in a relatively short time, become an expert, with remarkably thorough knowledge of and rich insights into complex issues." 
Paul Linden-Retek, a Schell Center Fellow who teaches and advises students in the Program, said he most valued the care and thoughtfulness with which students conducted their capstone work. "These projects each reflected a sensitivity to the difficulty of the issues presented and a deep sense of responsibility for understanding and then, where possible, for offering solutions or ways forward," he said.
 
Students formally began their project work in the capstone colloquium taught by Silk and Linden-Retek in the Fall 2016 semester. Most also drew heavily from their prior coursework and internships undertaken the previous two summers as part of the Human Rights Program.
This class of Human Rights Scholars was the first to complete the Program, which began in spring 2015. Prof. Silk told the group, in closing, that he deeply valued not only their diligent intellectual work but also the generosity and respect they have shown one another. Drawn from across majors and fields of study, their interests and priorities often diverged. "Sometimes," Linden-Retek added, "so did their normative and political commitments. But they were exemplary in building a community of multi-disciplinary learning and friendship that has laid a foundation for the classes of Human Rights Scholars who follow."