Monday, May 22, 2023
---
Celebrating the Class of 2023 — Advancing the Cause of Justice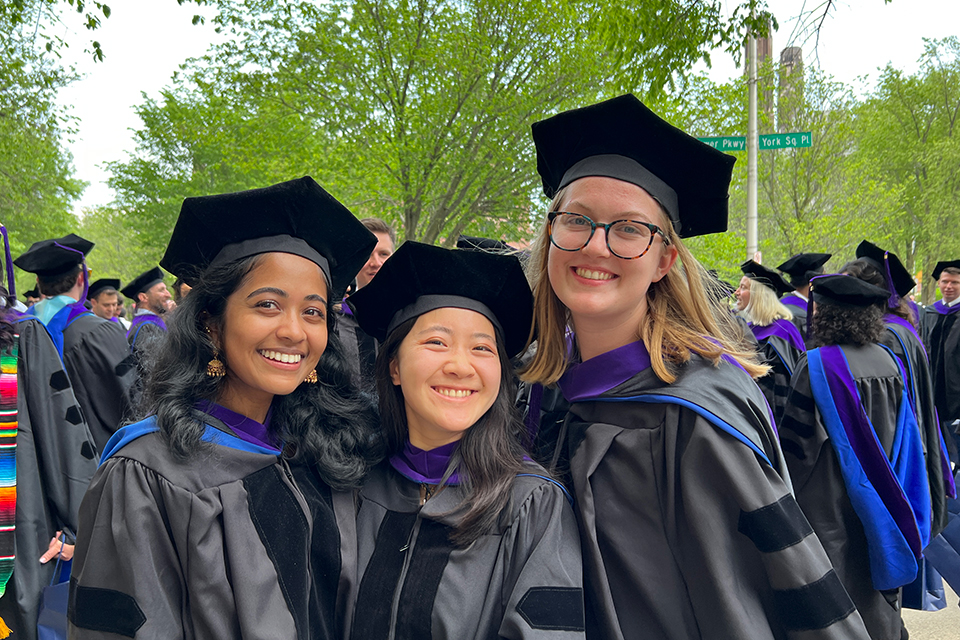 This year's Yale Law School Commencement honored 243 degree candidates.
Members of the Yale Law School community, as well as family and friends of the Class of 2023, came together to celebrate the graduates during their Commencement ceremonies on May 22. This year's Commencement honored 243 degree candidates as well as the first class of Hurst Horizon scholars.
Under sunny skies in New Haven, graduates were led in a procession by the Mattatuck Drum Band to the University-wide ceremony held on Yale's historic Old Campus where they were recognized by President Peter Salovey and Dean Heather K. Gerken. Sterling Professor Emeritus of Law and former Dean of the Law School Guido Calabresi '58 was presented with an honorary Doctor of Laws for his lifetime of achievements.
Following the ceremony, Law School graduates made their way to the Lanman Center of the Payne Whitney Gymnasium for an individual ceremony. Dean Gerken began her address to the gradates by applauding them for not only making it through law school, but doing so in the midst of a global pandemic.
"We are in awe of what you've achieved," said Gerken. "Graduating from Yale Law School is no mean feat, but you did it during some of the most challenging years in living memory…You navigated a period of extraordinary uncertainty with courage and determination."
She continued, "I cannot promise that the world that awaits you is any more predictable. What I do know for sure is that your law degrees are well-earned, hard-fought, and markers of genuine achievement."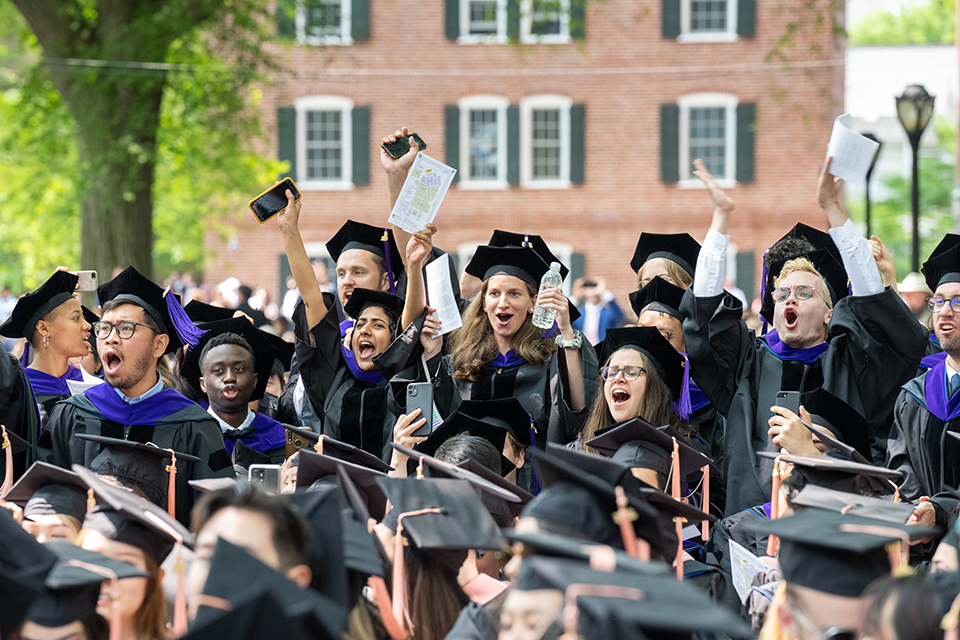 The faculty speaker chosen for this year's Commencement was Jacquin D. Bierman Professor in Taxation Anne L. Alstott '87. Throughout her remarks, Alstott encouraged graduates to remember that the law is dynamic and can serve to either advance justice or impede it.
"Remember where you are from. The people who love you, the people who recognized your potential, the people who gave you a second chance also taught you about justice," Alstott said. "Use your power, use your privilege, to fight oppression and to create a legal community in which every one of us stands in a relation of equality to others."
Guest speaker Reshma Saujani '02, a leading activist, movement builder, and social entrepreneur spoke next to the class. Saujani is the founder of Moms First and Girls Who Code and has been recognized as one of Fortune's World's Greatest Leaders, Fast Company's 100 Most Creative People, and Forbes's Most Powerful Women Changing the World. 
Saujani implored graduates to "make a career of care," one which focuses less on their vocation and more on their values.
"Whether you go into academia, the judiciary, private practice, or outside the field entirely, care will be the ultimate measure of success," said Saujani. "It's a world where care is not an afterthought, or a sacrifice; rather, it's the very core of who we are as lawyers, and who we are as people. You all hold the power to create this world. But more than that, you have the responsibility to create it. Because in this class, there's no question whether you'll take action to make the world a better place — the only question is: How?"
Guido — as he is known to all — delivered the final remarks, 65 years after his own graduation from Yale Law School. In her introduction, Gerken referred to his reputation in academia and on the federal bench, but also what he has meant to generations of Law School students and alumni. 
"It is almost impossible to capture what Guido means to this community. He is its intellectual heart and emotional soul," Gerken said.
In addition to the four degrees he earned from Yale College, Oxford, and Yale Law School, Guido has been awarded some 50 honorary degrees in the U.S. and abroad.
Of his many pieces of sage advice, one of the most notable to the assembled crowd was "whatever you do, do not settle for less than what is best for you."
This year's Commencement honored 243 degree candidates, comprising 220 J.D., 22 LL.M., and one MSL.