Tuesday, April 12, 2022
---
Chai Feldblum Addresses Attitudes Toward People with Disabilities and Employment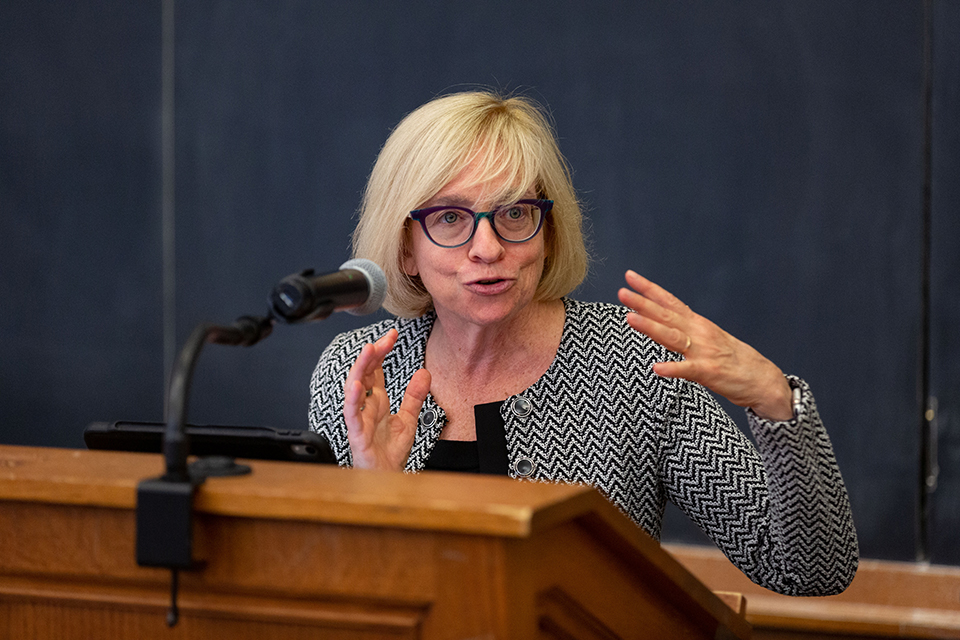 Chai Feldblum, a leading civil rights advocate and legal scholar, delivered the 2022 Thomas Lecture on April 11, 2022.
"Chai possesses an unyielding belief in the capacity for good — a steadfast dedication to studying, applying, and advancing the law in pursuit of justice," Dean Heather K. Gerken said in her opening remarks.
Feldblum has devoted her career — which spans work in the public and private sectors and academia — to advancing civil rights, particularly for people with disabilities, LGBTQ+ people, and women.
"Chai is here speaking about disability rights, but I also want to acknowledge her pioneering work to support and protect the LGBTQ+ community," Gerken said. "At a moment when the rights of the LGBTQ community, particularly trans people, are under attack in so many parts of this country, it is essential to honor Chai's work and reaffirm the commitments of this profession, this university, and this law school."
As Legislative Counsel to the ACLU AIDS Project in the late 1980s, Feldblum played a leading role in drafting and negotiating the Americans with Disabilities Act of 1990 and the ADA Amendments Act of 2008. She also led the drafting and negotiating of the Employment Non-Discrimination Act, a bill to prohibit discrimination in employment on the basis of sexual orientation and gender identity. In 2019, in recognition of her pioneering work, the LGBTQ+ Bar awarded her the Dan Bradley award, its highest honor.
"Equality is the touchstone of our profession. We owe an enormous debt to Chai, our beloved Bill Eskridge, and generations of students and activists who have worked hard to build these commitments into the law, embed these norms into our profession, and make space for love and friendship within our communities," Gerken said. "Our LGBTQ+ students, faculty, and staff are cherished members of this school; they deserve our respect and support, especially during these painful and difficult times. There is still so much more work to be done so we thank you Chai for leading us forward."
Feldblum's talk at the Law School, titled "Transforming Employment for People with Significant Disabilities," examined how attitudes toward people with disabilities have shifted from charity to civil rights, with the latter epitomized by the Americans with Disabilities Act.
"It's about ensuring full employment opportunities for people with significant disabilities," Feldblum said. "They deserve access to good jobs that pay a sufficient income and can provide a sense of meaning. This outcome is possible. We know of and we have the type of accommodations and employment supports that are needed…Now what we need is an effective strategies that combines changes in social norms with the effective leveraging of several types of law."
Nondiscrimination laws are limited in their capacity to move the needle on increasing employment for people with significant disabilities and Feldblum argues we must complement those laws by leveraging the government's market power to incentivize the hiring of people with significant disabilities.
"We need to supplement the civil rights approach with a market power approach because that potentially could be the most significant and successful way to increase employment," Feldblum told the audience.
From 2010 to 2019, Feldblum was one of five commissioners on the Equal Employment Opportunity Commission (EEOC), which enforces federal law against employment discrimination. During her EEOC tenure, Feldblum focused on legal protections for employees with disabilities and those who are pregnant. She co-chaired the EEOC's Select Task Force on the Study of Harassment in the Workplace.
Prior to establishing a civil rights consultancy last year, Feldblum directed Workplace Culture Consulting at Morgan Lewis & Bockius, where she was also Partner. Between 1991 and 2010, Feldbaum taught at the Georgetown University Law Center, where she created and led the Federal Legislation Clinic, partnering with students to represent nonprofit organizations working for legislative change and social justice.
The James A. Thomas Lecture was established in 1989 in honor of Dean James A. Thomas '64 and his many years of service to Yale Law School. It brings to the Law School a scholar whose work addresses the concerns of communities or groups currently marginalized within the legal academy or society at large.