Monday, November 14, 2022
---
Conference Celebrates Professor Judith Resnik's "Managerial Judges"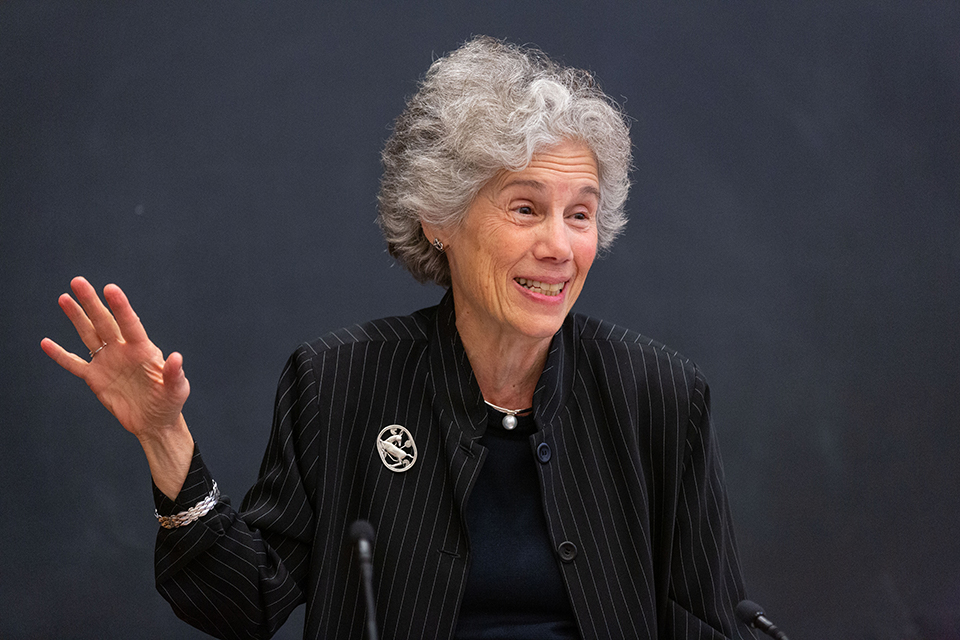 Arthur Liman Professor of Law Judith Resnik speaks at the conference honoring the 40th anniversary of her influential paper "Managerial Judges."
Yale Law School recently hosted "Managerial Judges @ 40," a conference honoring Arthur Liman Professor of Law Judith Resnik. Organized by several of Resnik's former students who are now law professors, the Nov. 4 conference commemorated the 40th anniversary of Resnik's groundbreaking Harvard Law Review article "Managerial Judges." 
In her article, Resnik described how the work of judges had become "case management" and noted that "no one — neither judges, court administrators, nor legal commentators — has assessed whether relying on trial judges for informal dispute resolution and for case management, either before or after trial, is good, bad, or neutral." 
The program began with welcome remarks from Dean Heather K. Gerken, who said that Resnik has "fundamentally changed the way that we understand civil procedure, the federal judiciary, the rule of law, and the relationship between democracy and the courts." 
Gerken also highlighted how Resnik remains at the center of theory and practice. 
"Judith has committed herself to bettering the world and our country's legal institutions with her brilliant ideas and care for others," Gerken said. "She keeps pressing forward even in the most challenging of times, like this one."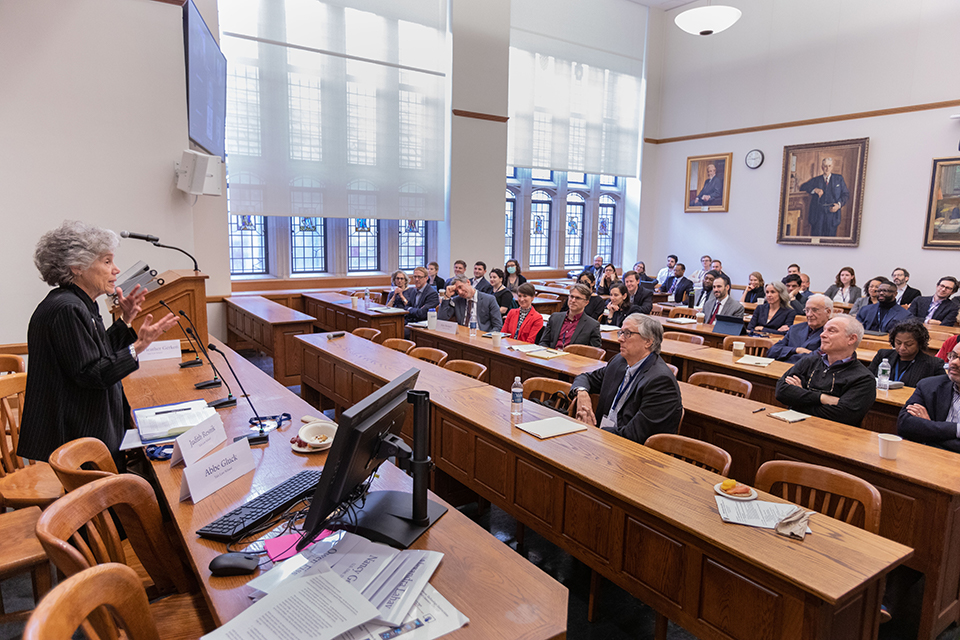 The welcome continued with remarks from Alfred M. Rankin Professor of Law Abbe Gluck '00, who took Federal Courts with Resnik as a student. 
"I have been so lucky to call her teacher, mentor, friend, and colleague," Gluck said, adding that the impact of Resnik's article is not merely in how often it is cited by other scholars, but in how varied the citations are across fields of law.
Resnik welcomed the group with reflections on the experience of publishing "Managerial Judges" — her first law review article — in a male-dominated field in 1982. She recalled how she was pressured by the president of the Harvard Law Review to justify her methodology with a footnote, which she staunchly refused to do, a judgement call which has stood the test of time.
The event highlighted the resonance that Resnik's paper still has today. 
Friday featured a roundtable discussion titled "What is Procedural Scholarship? Domains, Canons, and Conventions," followed by three panel discussions on various aspects of judging. The program concluded with a conversation between Resnik and Supreme Court Associate Justice Sonia Sotomayor '79. 
Yale Law School faculty participating in the program included Owen Fiss, Sterling Professor Emeritus of Law, and Tom Tyler, Macklin Fleming Professor of Law. Alumni panelists included former U.S. District Court Judge Nancy Gertner '71, U.S. District Court Judge Myron Thompson '72, and Associate Justice of the California Supreme Court Goodwin Liu '98. 
"In addition to the warm gathering of diverse academics, judges, and lawyers — most of whom had not been my students — it was gratifying to see the use of this article as a prompt to understand current concerns about the role of judges and of courts," Resnik said. 
"In state and federal systems, legions of litigants are lawyer-less, and resources are scarce. Atop the challenges of proceeding single file, issues of when and how to aggregate are of central concern. In short, I learned a lot in listening to papers, commentary, and the exchange as we explored together what judges, circa 2022, could and ought to do in order to expand avenues to legal remedies." 
Program details from "Managerial Judges @ 40" are available on the conference website.