Thursday, November 14, 2019
---
Cristina Vélez Valencia Discusses Social Programs for Venezuelan Refugees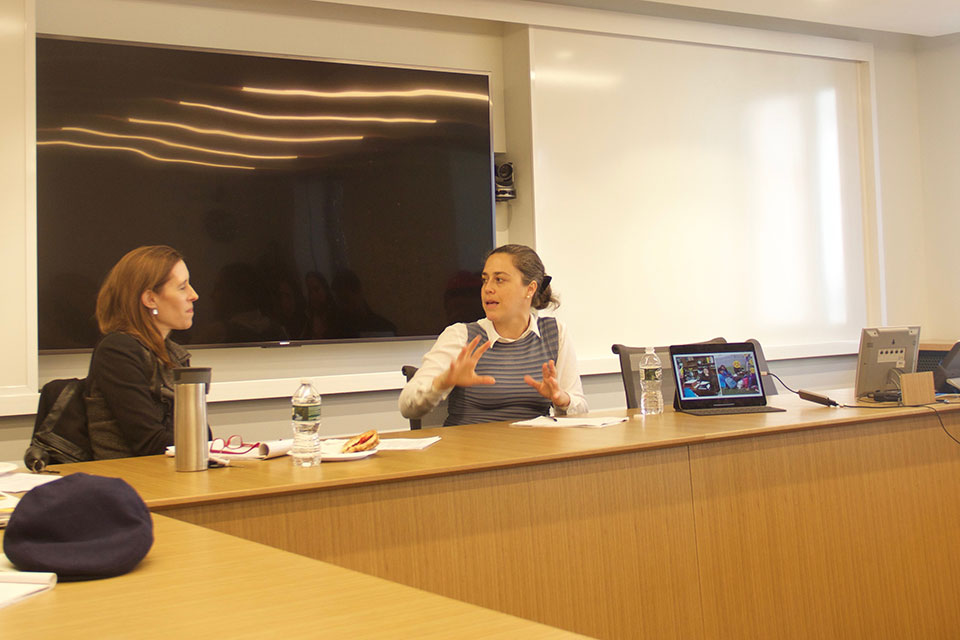 Cristina Vélez Valencia explained her unexpected role in creating social assistance programs for refugees settling in Bogotá.
Cristina Vélez Valencia, a Yale Greenberg World Fellow and the former Secretary for Social Integration for the Mayoralty of Bogotá, spoke on November 13, 2019 about her recent efforts to implement programs for the "unprecedented" number of Venezuelan refugees crossing the border into Colombia. The event was sponsored by the Center for Global Legal Challenges and the Schell Center for International Human Rights as part of the Center for Global Legal Challenges' Newman Lecture Series.
Gerard C. and Bernice Latrobe Smith Professor of International Law Oona Hathaway '97 introduced Vélez's background as the Secretary for Social Integration in the Mayoralty of Bogotá, Colombia until June 2019. Vélez, Hathaway explained, "developed social policy in a city of over seven million residents and she was responsible for implementing programs for early childhood, aging populations, homelessness, youth, people with disabilities, and LGBTQ communities." This responsibility extended to implementing programs for Venezuelan refugees since, Hathaway noted, 30 percent of Venezuelan migrants reached Bogotá. (In Latin America, the definition of a refugee is broader than the international legal definition, and most Venezuelan migrants can be considered refugees by default.)
Vélez had not expected her role to involve responding to a massive influx of refugees. In Bogotá, she said, the government had outlined protocols for challenges ranging from natural disasters to the massive emigration of Colombians. However, the city had "never thought of the possibility of being a host during a refugee crisis," Vélez explained.
While Venezuela "was by far the richest country [of its region] twenty years ago," Velez explained, the country's economic circumstances have grown dire in recent years. In 2016, Vélez said, the "first waves of migrants leaving Venezuela because of the economic situation" reached Colombia looking for "new opportunities" or simply "transiting through [the country] to travel further south."
Bogotá was quick to support the refugees, despite legal obstacles, Vélez said. In one of the city's first cases, a woman at risk of femicide called Mayor Enrique Peñalosa to seek social services and asylum. There were "no legal ways of receiving her," but the city government insisted on doing so in spite of the legal vacuum, Vélez explained. As more migrants arrived in Bogotá, the city maintained this approach. Veléz emphasized that the Mayor of Bogotá told her "to do everything that is legal" in order to open social services to migrants. Where they faced legal challenges, he recommended that she "be creative." The city sought to "find legal justifications" for protecting victims of domestic violence, sex workers, and other particularly vulnerable subgroups of migrants. In the midst of this legal maneuvering, Vélez said, they began to see the "first hints of a crisis," and "started opening services [such as] schools, programs, and elderly attention centers."
According to Vélez, by September 30, 2016, 1.5 million Venezuelans were living in Colombia. 350,000 of these Venezuelans were living in Bogotá. In the next few years, Colombia would receive 2.6 million Venezuelan migrants, and the "migration flow hasn't stopped," Vélez said. In addition to Venezuelans who settle in Colombia, Vélez highlighted "pendular migrants," or migrants who "come to border cities, buy things, and go back." Around 40,000 pendular migrants cross the border every day, according to Vélez.
Vélez said that a survey at that time revealed 91 percent of the migrants were 18 to 50 years of age and that 67 percent of them did not have access to health insurance. Twenty percent of them were unemployed. In response, Mayor Peñalosa began opening additional services for refugees. He was "very vocal" about his efforts, Vélez said, and as a result "started to get positive attention" in a time when his popularity was declining. Vélez explained that the favorable media attention Mayor Peñalosa received meant that "other mayors from other cities didn't feel they could go against the migrants' arrival." Additionally, the Mayor was able to "form a strong front to negotiate with the national government" in order to change laws that "give better attention to migrants."
Bogotá's government began using "international treaties" as their "legal framework to make decisions," Vélez explained. They saw this choice as both ethical and pragmatic, Vélez said, given that Colombian cities were "constantly competing to attract migratory influxes." Prompted by the obligation to assist refugees outlined in international treaties, the government of Bogotá installed a "legal aid stop in bus terminals" to help migrants know "what to do when they arrive." They began providing social services "to more than 70,000 migrants" — which "attracted attention from the President of Germany, celebrities, the VP of the World Bank, [and] Caroline Kennedy" among other international figures, Vélez said.
The government began "[providing] social integration services before they started [providing] humanitarian services out of timing," Vélez said. Once they began focusing on humanitarian aid, Vélez explained, they used "the experience Bogotá had in giving attention to other vulnerable populations." For example, the city had established "a legal clinic and legal aid and representation for women years prior" — one of their "most successful programs" — and they "transferred their expertise" from services for women to "victims of the armed conflict and homeless people." Because Bogotá had expanded its humanitarian measures to provide citizenship, services, and work permits to many migrants, the city "started to attract people," Vélez explained.
To "define a route for migrant attention," Vélez explained, the government "had to open a refugee camp in the city," at which point the phase of "humanitarian attention" evolved. The city opened a shelter for migrants as well as for families and children that were asking for money on the streets. By October 2018, the camp had swelled to over one thousand people "in tents and shacks around a train station," Vélez said, so the government transferred people in this "irregular camp" to a larger camp opened in a soccer field. Vélez acknowledged that the camp was "controversial," but emphasized that it adhered to the "legal conditions" necessary to be open, such as "providing running water." Trouble arose, she continued, when Bolivarian militia members infiltrated the camp and began "deliberately starting fights." The government was able to close the camp by January of this year, Vélez said.
In her closing remarks, Vélez expressed optimism for the future of migration into Bogotá. According to Vélez, the newly-elected Mayor of Bogotá, Claudia López, will most likely not face as many obstacles when making decisions in favor of migrants. She is hopeful that the multitude of precedents set during her service will ensure ongoing assistance to migrants.