Friday, April 19, 2019
---
David Smolansky Speaks on Venezuela's Present Crisis and Future Outlook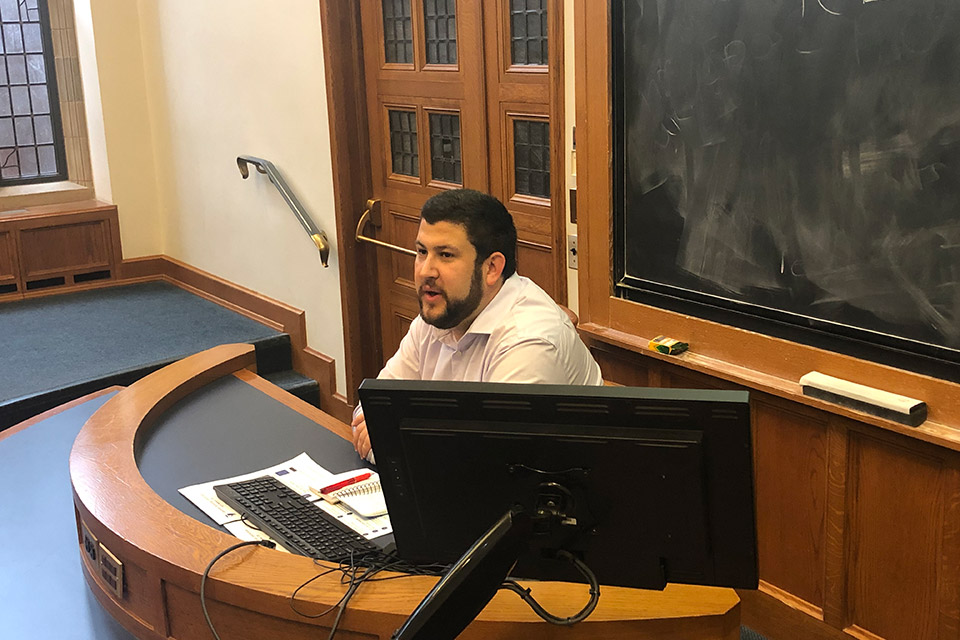 On April 18, 2019 David Smolansky spoke at the Schell Center about the state of human rights in Venezuela. Smolansky was elected mayor of El Hatillo, Caracas when he was 28, making him the youngest local authority of Venezuela. But soon, Smolansky was driven into hiding, then forced to flee the country because of his opposition to President Nicolás Maduro's regime. In his talk, he spoke about the current challenges facing his home country and his hopes for overcoming them.
Smolansky began by focusing on the "deep infrastructure problems" currently facing Venezuela. He spoke about power outages threatening Venezuelans' safety, lamenting that "a country that used to provide electricity not only for 30 million of its own population but also for parts of Colombia and Brazil, is suffering from power outages because of corruption."
Lack of access to food and medicine is also a problem, according to Smolansky. He explained that two-thirds of the population is not eating three meals per day. "People are starving because of shortages of food or dying because of shortages of medicine," he said — problems made worse by the Maduro regime interfering with the delivery of aid of the international community. "Humanitarian aid is blocked and burned while people are dying," Smolansky said.
People suffering these deprivations face serious threats if they choose to protest their situation, Smolansky added. He showed a video explaining the powerful "anti-riot" technology that the Maduro regime has used on protestors in Venezuela, which led to the deaths of 157 Venezuelans during four months of protests in 2017. As mayor, Smolansky remembered, "I visited the cemetery for five consecutive weeks to bury student activists [aged] seventeen…twenty-one…"
Facing infrastructure problems and a violently repressive regime, many Venezuelans have been forced to leave the country. Smolansky cited estimates that the population of refugees and migrants coming from Venezuela — already the second largest refugee population in the world — could swell from 3.7 million people to 5.5 million. "The best solution for stopping the refugee crisis is restoring democracy and freedom in the region," Smolansky argued.
Smolansky insisted that because of this national crisis, "nine out of 10 Venezuelans want Maduro out." He argued that Maduro's only remaining supporters in Venezuela are his generals, who have benefited from illegal economies such as human trafficking and drug trafficking.
Internationally, he said, Maduro is supported by "the tyrants of the world." Many of the governments he was referring to have direct access to Venezuela. Rejecting the fear that "a U.S.-led coalition is trying to invade Venezuela," Smolansky contended that "Venezuela has already been invaded." He estimated that more than 40,000 Cuban intelligence agents are on the ground in Venezuela, "involved in the persecution of anyone who thinks differently from Maduro."
Smolansky has his hopes set on Interim President Juan Guaido. Smolansky knows Guaido from their joint leadership of student movements in Venezuela and celebrated him as representing something different from Venezuela's repressive status quo. "In less than 100 days, everything has changed," Smolansky said. He noted that 54 nations recognize Guaido as interim president and that "he has got the support of the vast majority of Venezuelans, inside and outside Venezuela." Moreover, he said, "Guaido has become a new face of the politics in Venezuela, an emerging leader from a generation that doesn't know anything different from growing up in a dictatorship."
With the strides that Guaido has made, Smolansky concluded, "I am convinced that this is the closest moment for us to regain and restore democracy and freedom in Venezuela." He expressed hope that one day, he could give his children "the opportunity to grow in my country — not to have to flee."