Monday, August 21, 2017
---
Dean Gerken Welcomes Most Diverse Class in YLS History
Dean Heather Gerken delivering the convocation address during the first day of orientation.
The most diverse class in Yale Law School history arrived at the Sterling Law Building in New Haven on Monday, August 21, 2017, with 205 newly minted law students taking the first step in their legal careers.
In the Yale Law School Class of 2020, 53 percent of students are women and 48 percent are students of color. Additionally, 21 percent of students are the first in their immediate families to attend graduate or professional school and nine percent are the first in their immediate families to graduate from college.
"In my 12 years of being Dean of Admissions, having read almost 40,000 admissions files, I can attest that this new class of admits is truly the most diverse along every dimension," said Associate Dean of Admissions Asha Rangappa '00. "I'm so proud of our stellar admissions office, which has worked closely with the Yale Law School faculty to achieve this amazing result."
During the convocation address, Dean Heather Gerken—who assumed her new role in July – noted how thrilled she was to be welcoming such an accomplished and diverse group of people to Yale Law School.
Gerken also welcomed new graduate and transf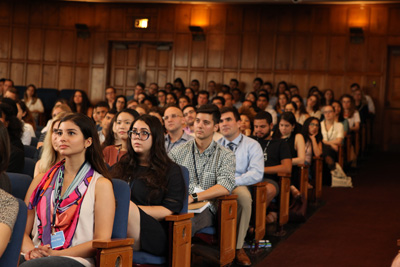 er students, including 23 LLM students, two MSL students, two new candidates for the JSD degree, three new candidates for the PhD in Law, and eight transfer students to the Class of 2019.
Speaking to a packed auditorium, Dean Gerken offered poignant advice about what it means to be a member of the Yale Law School community and how students should think about their time here.
"I want to offer three pieces of advice from someone who has watched 17 law school classes graduate," said Gerken. "There are secrets to success at Yale and, more importantly, secrets to knowing what success really is."
The first lesson, Gerken noted, is to "learn like a kindergartener... Learn in a fashion that is unselfconscious, uninhibited, unflappable."
Gerken told the students that in coming to law school, they will be mastering an entirely different skill set from anything they have ever done before — one that is difficult to prepare for.
"You have to get knocked back in order to learn something new, and there's no shame in failure," Gerken said.
Describing her Constitutional Law small group last year, Gerken noted how nearly every student told her privately that they felt as if they were falling behind.
"I knew, of course, that they were all amazing and all learning to be lawyers at a blazingly fast pace," said Gerken. "They just couldn't see it yet."
The Class of 2020 includes students with a diverse set of backgrounds and remarkable array of talents and professional experiences.
Students hail from 12 different countries, 32 different states, and from 73 different undergraduate institutions. Together, they have lived and worked in 66 different countries, read and speak 34 different languages, and hold 46 advanced degrees in subjects ranging from Art History to Applied Mathematics.
Those in the incoming class have worked as a geophysicist, as an investment associate in biotechnology, as a union organizer, and as a staffer for the White House Council of Economic Advisers. Students have also done work internationally, with a classmate who served as a professional interpreter; another who worked for the Iraqi Refugee Assistance Project in Jordan; and two who were members of the Peace Corps.
With such an accomplished group of students, Gerken's second piece of advice recast a tradition of past deans, who normally tell the new class that it is time to get off the treadmill and slow down. She said the deans have made this speech for exactly the right reasons. But "when you tell 200 high achievers to get off the treadmill, they won't have any idea what that means."
Gerken explained that her advice, instead, was to "run, not race."
"Train, train hard and even sprint," Gerken added. "Get off the treadmill, sure, but instead of sitting still, run. . . This is your profession, after all. Take a run at it."
In doing so, Gerken encouraged students to push themselves without making it a competition among their peers. "When you race, your success becomes dependent on someone else's failure. You are always taking a path chosen by others, not yourself. You are always looking over your shoulder for the person catching up and worrying about the person up ahead."
"When you run, you do it for your own satisfaction," Gerken added. "You relish the sense of accomplishment when you get a bit faster, go a bit farther. . . Most importantly, when you run, you choose your own direction."
Lastly, Gerken paid homage to former Dean Guido Calabresi '58, telling the students that it was most important to take care of one another, particularly during politically turbulent times.
She urged students who disagreed with each other to hash things out over coffee, not email, and to respect differences while also challenging each other.
"Being part of a community means challenging one another and setting community norms," said Gerken. "This community will matter more to you than just about anything else, but only if you are really a part of it."
In closing, Gerken told students to seize the moment and enjoy the journey over these next three years.
"You are my first class as dean," remarked Gerken. "Three years from now, I will be speaking to you at graduation. I could change a few words in this speech, and my advice would basically be the same. These are the years when you will figure out how to live greatly in the law. The time to start is now."