Monday, February 15, 2021
---
Documentary Spotlights Pauli Murray '65 J.S.D.
A new documentary, "My Name is Pauli Murray" explores the life and legacy of Pauli Murray '65 JSD. Photo: Wikimedia Commons/Carolina Digital Library and Archives
The visionary life of Pauli Murray '65 J.S.D. has been captured in a new documentary film with the release of My Name is Pauli Murray, which premiered at the Sundance Film Festival this year.
Upon graduation in 1965, Murray became the first African American to receive a J.S.D. degree from Yale Law School. Murray then went on to lead a life committed to civil rights, Black activism, gender equality, faith, and art.
Directors Betsy West and Julie Cohen kept coming across Murray's name during the research and filming of their acclaimed 2018 documentary RBG. West and Cohen noticed that Ruth Bader Ginsburg had put Pauli Murray's name on the cover of her first women's rights brief before the Supreme Court.
"A law journal article Pauli had written in 1965 was one of RBG's inspirations for using the 14th Amendment as a tool to fight for gender equality," Cohen said. From there, they became drawn into learning more about Murray's life and legacy.
After law school, Murray served as counsel for civil rights cases, working to challenge discrimination via the court system. Murray cofounded the National Organization for Women, served as a vice president of Benedict College in South Carolina, and became the first person to teach African-American Studies and Women's Studies at Brandeis University. Later in life, Murray was ordained as an Episcopal priest, and received an honorary degree from the Yale Divinity School in 1979.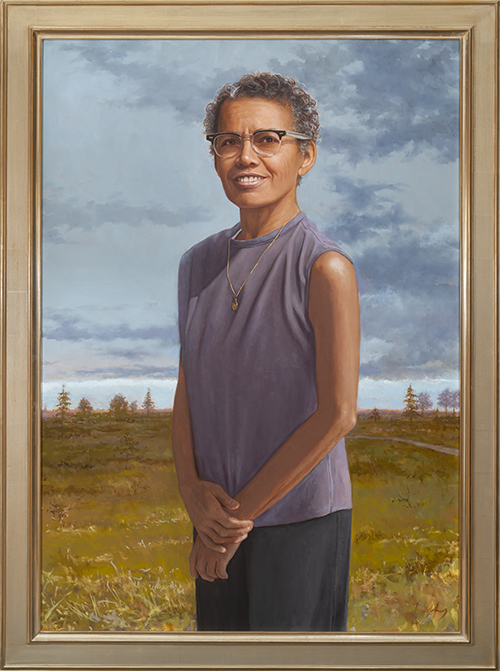 The film includes scenes of the 2018 portrait unveiling of Murray at the Law School. The ceremony paid tribute to Murray's record as a trailblazer in civil rights and women's rights who contributed immensely to the dismantling of segregation and discrimination.
The documentary, along with the portrait unveiling and the 2018 opening of Pauli Murray College at Yale University, add to the growing recognition of Murray's achievements.
The documentary is told largely in Murray's own voice, thanks to archival audio and interviews dating back to the 1970s. "We didn't need a narrator. We had Pauli," Cohen said.
Born in 1910 in Baltimore and raised in the segregationist South, Murray was fiercely involved in the Civil Rights movement form an early age and grew into an eloquent and driven leader of racial and gender equity. Murray graduated from Hunter College in 1933 with a degree in English literature before enrolling in Howard University Law School in 1941 where Murray graduated as class valedictorian.
After being turned away from Harvard which only accepted men, Murray received an LL.M. at the UC Berkley School of Law and became the first Black deputy attorney general in the state of California in 1946. Murray published numerous works — academic as well as creative prose and poetry — throughout a long career. A thread throughout Murray's life and work was Murray's conception of gender identity, as Murray often sought to create the language that might answer questions regarding gender expression and nonconformity. Murray's work and legacy on this subject have shaped the gender studies of today.
Interviewees in My Name is Pauli Murray include the Honorable Inez Smith Reid '62 LL.B. and Congresswoman Eleanor Holmes Norton '64 LL.B., longtime friends of Murray from Yale Law School; Justice Ruth Bader Ginsburg; Tina Lu, the Head of Pauli Murray College at Yale University; and other friends, family, and former students of Murray.