Monday, March 22, 2021
---
The Enduring Racism of American Agriculture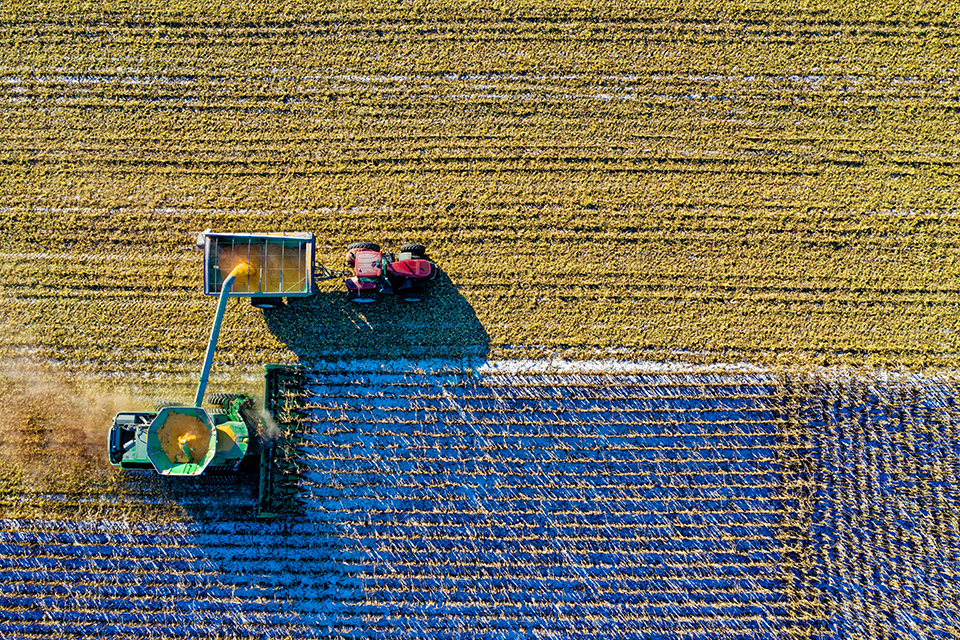 The Law, Ethics & Animals Program (LEAP) hosted Professor Thomas Mitchell and farmer Carlton Sanders for a discussion on the role of the theft of Black farmland in the development of modern American agriculture and its ongoing impacts on farmers of color.
The March 3, 2021 talk was presented as part of LEAP's One Health Speaker Series, and was cosponsored by the Center for Race, Indigeneity, and Transnational Migration, the Yale Sustainable Food Program, the Yale Animal Law Society, the Yale Environmental Law Association, and the Environmental Law Clinic at Yale Law School. The talk was moderated by LEAP Student Fellow Helia Bidad '22.
Mitchell, whose research focuses on the ways the legal system has dispossessed Black farmers and landowners, began his part of the talk by noting that when he started his career 25 years ago, "there were hardly any academics, legal or otherwise, who were addressing these issues impacting Black farmers and landowners." Though Mitchell said that the scope of the problem has not diminished since then, the tides seem to be shifting. "There is at least some recent hope in terms of increased interest among academics in law and sociology and anthropology and forestry and other disciplines, and there has been substantial media coverage," he said.
When most Americans think about the history of African American property ownership, Mitchell continued, they are likely to think about Union General William Tecumseh Sherman's infamous broken promise of "40 acres and a mule" to newly emancipated slaves. Yet Mitchell argued "what is less appreciated is between 1865 and about 1910 or 1920, African Americans actually acquired 16 to 20 million acres of agricultural land in the South, mostly through private purchase" — a steady accumulation of property Mitchell called "truly heroic" given aspiring Black landowners' constant exposure to violence and denial of legal services and credit.
In 1910 — the high-water mark of Black land ownership — there were around 950,000 Black owners and operators of American farms. Today that number has dropped to 45,000. Mitchell explained that though there are a number of structural reasons for this "precipitous and dramatic" decline, one of the main causes has been state partition laws, the abuse of which has contributed to widespread land loss among families who own tenancy-in-common properties, a disproportionate number of which are African Americans.
In 2010, Mitchell served as the principal drafter of the Uniform Partition of Heirs Property Act (UPHPA), which improves the ability of heirs' property owners to maintain ownership of their properties and attempts to prevent involuntary and predatory land dispossession. "At the beginning of my career, the consensus opinion among law professors and lawyers was that no states would ever take up this reform," Mitchell said of the bill. "People thought I was hopelessly naive." Yet over the past decade, the act has passed 17 state legislatures, including eight in the South.
Following Mitchell's presentation, Sanders spoke about his personal experience with Koch Foods, a poultry company which he said discriminated against him until he was forced to file for bankruptcy in 2018. Afterward, he said, his farm was sold for below-market value to a relative of a Koch employee. Following the loss of his farm, Sanders' health deteriorated, culminating in a stroke and heart attack.
"They didn't like Black people," Sanders said of Koch Foods. "[The poultry business] was designed for white guys, and when Black guys try and get in it, they make sure to get you out one way or another." Sanders added, "It's just a tough thing for a Black guy to try and have a farm nowadays. They want to weed out all the Black guys."
In October 2019, Sanders filed a lawsuit accusing Koch Foods of fraud, breach of contract, and violating the Civil Rights Act. The lawsuit also accuses the company of violating the Packers and Stockyards Act, which regulates meat companies.
"Koch, and its employees, acted illegally and unconscionably in a manner that prevented [Carlton] Sanders from growing chickens in a fair and profitable manner, subjecting Sanders to agricultural servitude, akin to the abuses subjected to Sanders's ancestors, who were slaves brought over from Africa against their will," the lawsuit read.
"I'm lucky I'm still living," Sanders said. "I've been hurt so bad and so low, I didn't think it was possible to be treated like this in America."
Thomas W. Mitchell is a professor at the Texas A&M School of Law, where he is the Co-Director of the Program in Real Estate and Community Development Law. He is an editor of and contributor to The New Legal Realism: Translating Law-And-Society for Today's Legal Practice, and his writing has appeared in journals such as the Northwestern University Law Review, Alabama Law Review, Wisconsin Law Review, and Florida State University Law Review. Mitchell received his J.D. from Howard University School of Law, and an LL.M. from the University of Wisconsin Law School, where he served as a William H. Hastie Fellow. In 2020, he was named a MacArthur Fellow.
Carlton Sanders is a farmer and litigant from Mississippi. His lawsuit against Koch Foods is ongoing.
By Jack McCordick '22 YC