Thursday, March 31, 2022
---
Exhibit on Civil Rights Attorney Constance Baker Motley on Display at Law Library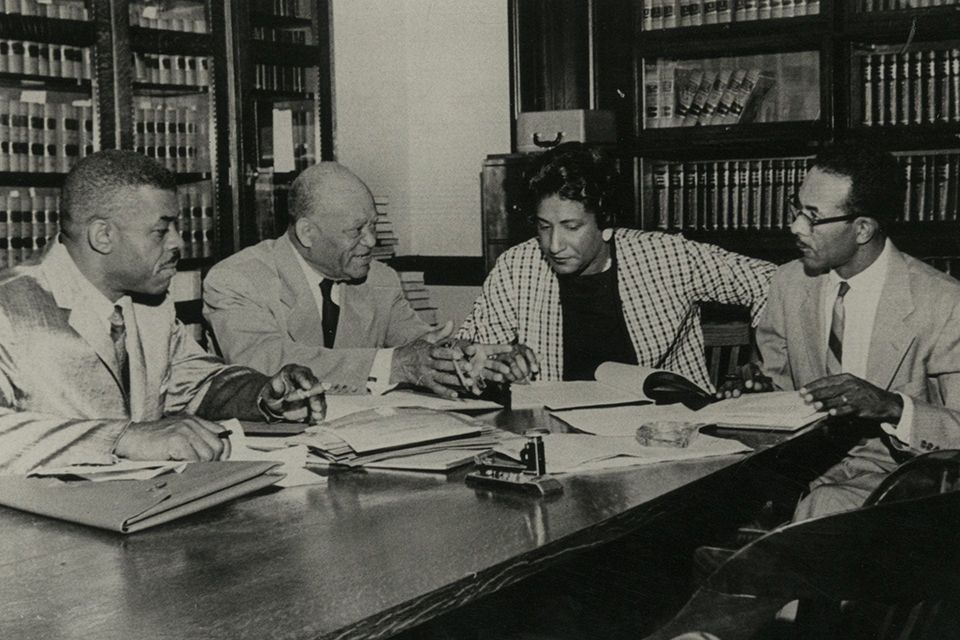 Constance Baker Motley (second from right) with attorneys (l to r) Donald L. Hollowell, A.T. Walden, and Howard Moore Jr. from the NAACP Legal Defense Fund in 1958.
The life and legacy of Constance Baker Motley as seen through images, news clippings, letters, her autobiography, and her commendations constitute a new exhibition at the Lillian Goldman Law Library, curated by Kathryn James and organized by Jordan Jefferson, Marinda Monfilston, and Fallon Thomas.
"Constance Baker Motley: Lady of the Law" is the latest of several Yale University celebrations of the pioneering civil rights lawyer since the 2021 centennial of her birth. Events have included book talks, virtual screenings and discussions, and an International Women's Day program. The current exhibition at the Law Library showcases photographs, letters, awards, and other items kept by Motley and her family, including her niece, Constance L. Royster.
The idea for the exhibit began when Marinda Monfilston of Yale University's Office of Diversity and Inclusion reached out to Jordan Jefferson, Associate Director for Research and Instructional Services for the Yale Law Library.
"When [Monfilston] approached me about the opportunity to host an exhibit dedicated to Judge Motley, I thought it was a great opportunity to highlight a woman who is very important to the New Haven and legal community," said Jefferson.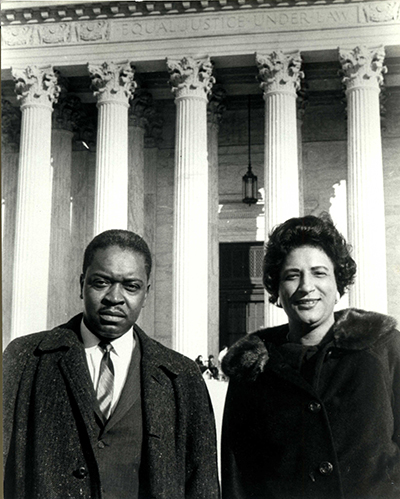 James, the Law Library's Rare Book Librarian and Thomas, Community Liaison for the New Haven Hiring Initiative, were also instrumental in helping the exhibition come to life.
Thomas said Motley's accomplishments have often gone unnoticed and the discrimination cases she litigated are still relevant today.
"The fact that African Americans are still experiencing so many 'firsts' today, makes us question how progressive the law has been over the years," said Thomas. "We all have a lesson to learn from Judge Motley's journey and while today's culture tends to dismiss issues of the past, her work was revolutionary."
Motley was a true trailblazer. Born in New Haven in 1921, Motley was the ninth of 12 children and graduated from Hillhouse High School in 1939. With the financial assistance of New Haven businessman Clarence W. Blakeslee, she began college at Fisk University before transferring to New York University after her first year. She then went on to receive her law degree from Columbia Law School in 1946.
After law school, Motley became the first female staff attorney at the NAACP Legal Defense Fund. In 1964, she became the first Black woman to serve in the New York State Senate. The following year, she was elected Manhattan Borough President, the first woman and first Black person to serve in the role.
In 1966, President Lyndon Johnson nominated her to a seat on the U.S. District Court for the Southern District of New York, becoming the first Black woman to serve as a federal judge.
Faced with gender discrimination in the courtroom, Motley built a career fighting for civil rights and social justice in transportation, public housing, and education. She won nine out of 10 cases she argued before the U.S. Supreme Court. She assisted on nearly 60 cases.
"Judge Motley was one of the great women of the civil rights movement who kept that work alive throughout her entire life," said Jefferson. "Her career spanned decades and changed the course of history, but people don't know her name or read about her in history books. I think what makes her so relevant today is that she did the work. She saw injustice and was determined to fight it to make a better America. She dedicated her entire career to equity and justice and sadly, that fight is still raging today."
Motley was instrumental in several desegregation cases across the South including the high-profile case that allowed James Meredith to register and be admitted to the University of Mississippi. She also wrote the brief for the landmark case Brown v. Board of Education.
Monfilston said that she hopes that visitors to the exhibit learn about Motley and feel proud of a local heroine — one she said deserves the same recognition as Motley's civil rights peers Thurgood Marshall and Dr. Martin Luther King Jr.
James described the exhibit as bringing together histories that start with Motley's childhood in New Haven and ending with the dedication of her house in Chester, Connecticut, as a nature preserve and landmark of the Connecticut Freedom Trail.
"The exhibit is how Motley wanted her story to be written and how she wanted to be remembered," said James.
The exhibit "Constance Baker Motley: Lady of the Law" can be seen on the second floor of The Lillian Goldman Law Library through May 26.