Friday, May 29, 2020
---
Fellow Spotlight: Bernstein Postgraduate Fellow Britta Redwood '17
Britta Redwood '17, second from left, at the filing of the complaint regarding torture and arbitrary detention by the Syrian government.
Current Robert L. Bernstein Fellow Britta Redwood '17 is spending her fellowship year at the European Center for Constitutional and Human Rights (ECCHR), where she works within the organization's International Crimes and Accountability Program. Based in Berlin (though currently working remotely), she is focusing on litigation against Syrian government officials accused of committing war crimes and crimes against humanity. Redwood has helped draft a complaint against Syrian officials based on the testimony of five refugees. This complaint was eventually submitted to Norwegian prosecutors. Reflecting on the process, she said it has made her "really appreciate the fact that, especially when it comes to human rights law...so much of the real work that people in this field do" — such as arousing and maintaining public interest in an issue — "is about creating the political will to enforce the law."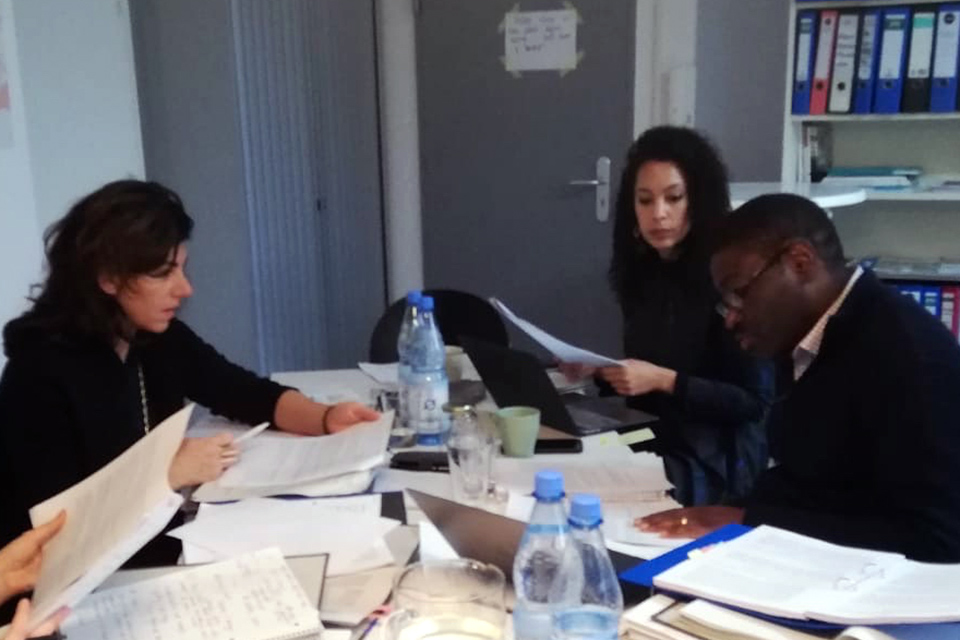 Redwood began thinking about law school when she was working in a small NGO in Egypt that served refugees from Sudan and Iraq. Surrounded by lawyers, she cherished working with clients. After this first "taste for human rights law," she said, she was "motivated to attend law school." At Yale Law School, she was a member of the Allard K. Lowenstein International Human Rights Clinic where she came into "close contact" with clients who had endured traumatic hardships, a perspective and experience she describes as "special" and "sobering."
In Berlin, she has worked primarily on writing the complaint submitted to prosecutors in Norway. This project entailed meeting with Syrian torture victims who had been detained in different areas of Syria. Each victim had a different background and some were self-described activists while others were not, but they shared experiences of torture and detention at the hands of the Syrian regime. Because the Syrian government has been "oppressing its citizens for the last thirty years," Redwood said, she understood that many victims from ECCHR's large pool of contacts were too traumatized to recount their stories.
While interviewing the five victims she ultimately worked with, Redwood learned about their individual stories and the details of their detentions. Some of them were "active" in their opposition to the Syrian government, "taking part in protests and posting on Facebook." One victim, a middle-aged woman, was placed "in line for torture or death in detention" together with other friends for "distributing medical supplies to children" and becoming "involved with activists." Another victim did not engage in politics, yet he was arrested and detained three different times. The government, Redwood said, sometimes tries to "extract confessions" from random people whilst intimidating other civilians with "no specific goal." Numerous children have also been "detained and killed in custody." According to Redwood, one's risk of being detained or tortured in Syria "is not only about what you're doing, but who you are and where you are."
"In the same arbitrary way that people are selected for detention, cases are also resolved and people are released," Redwood explained. After facing multiple detentions at the hands of different branches of government, her clients faced a "long and arduous journey over land and sea" to Norway where they immigrated as refugees. After interviewing her five clients, Redwood used their testimonies as the basis for her complaint in addition to her own research.
Redwood's 80-page complaint also included extensive research on the inner workings of the Syrian government, including its intelligence practices, detention centers, and wartime policies, as well as the Norwegian legal system, under which she was submitting the complaint. Redwood provided such comprehensive background information to incentivize prosecutors to investigate the crimes, which they are not legally obligated to do. She has also worked to motivate them to action by "working with the media, participating in press conferences, talking with the prosecutors to encourage them, and making sure they are aware of what [their] peers in other countries are doing." She must convince prosecutors, she explains, that pursuing this case against "high-level people" in the Syrian government is the "legally, morally, and politically right thing to do."
Propelling Redwood's project is the concept of universal jurisdiction. According to Redwood, universal jurisdiction is "the idea that certain countries will investigate and prosecute crimes that occur outside of their borders, even if victims and perpetrators are not citizens or residents." In this case, universal jurisdiction allows foreign attorneys to prosecute "some of the most serious war criminals committing war crimes and crimes against humanity abroad."
Redwood submitted the complaint in November 2019 to the prosecutor's office in a "big, white envelope" alongside one of the victims whose testimony was used. Seeing her client hand the envelope to the police herself, despite not being able to read English, was a symbolic moment for both Redwood and the woman. Regardless of whether or not the case goes to trial, Redwood believes their attempt to "further accountability" is "really powerful" and "has value in and of itself."
A lawyer's job, as Redwood now sees it, exceeds her past expectations. She has discovered a need to "work on all fronts" of the political sphere — with the media, vocal political figures, and the public — all in an effort to raise awareness, interest, and engagement with the issues she is using the law to amend. "Often a lawyer's job is just a matter of following procedures and drafting," Redwood said. "Here, I have found that it's a lot of convincing, making personal appeals, and working on all kinds of fronts to make your case."