Tuesday, November 1, 2022
---
Former Secretary of State Hillary Clinton '73 Headlines Transformational Leadership Week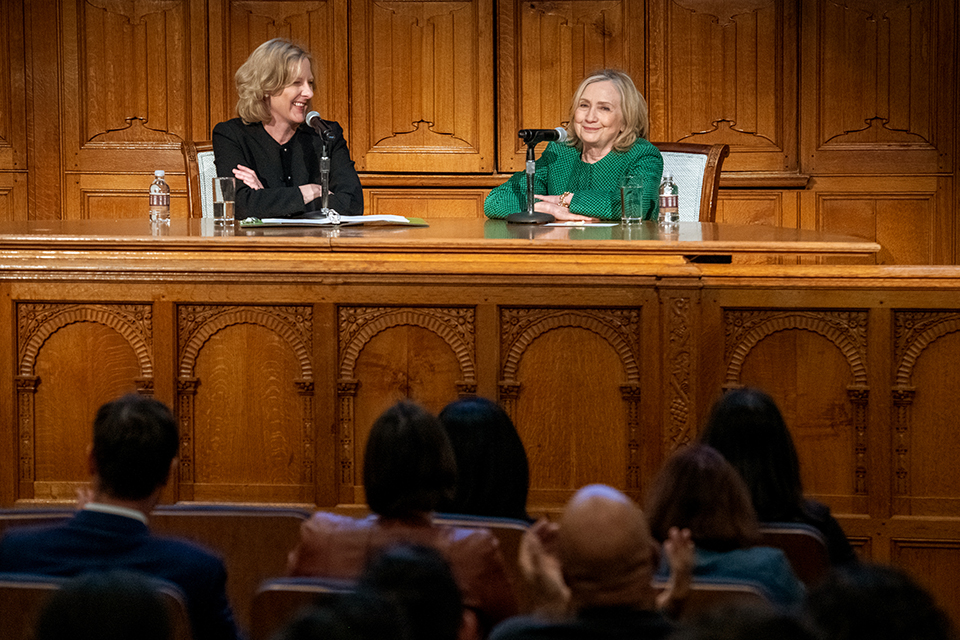 Dean Heather K. Gerken and former Secretary of State Hillary Rodham Clinton '73 held a conversation in which Clinton described her career path and how she defines leadership.
The Tsai Leadership Program hosted Transformational Leadership Week, a series of major events at the Law School that brought experts from both the public and private sectors to talk to students about their work as leaders.
The events of the week focused on the principle that leadership development starts with an examination of the self. In addition to Hillary Rodham Clinton '73, who has served as secretary of state, U.S. senator, and first lady, speakers included Rhonda Joy McLean '83, President and CEO of RJM Leads and former Deputy General Counsel of Time Inc., and Gretchen Rubin '94, bestselling author and host of the podcast Happier with Gretchen Rubin.
"It is through the work of looking inward, reflecting, observing, and listening that we can then be better equipped to lead others," said Mary Herrington, Executive Director for the Chae Initiative in Private Sector Leadership. "You don't need fancy tools to do this work; it's actually already in our arsenal."
On Oct. 25, McLean conducted an interactive workshop titled "From Conflict to Collaboration: How Transformative Leaders Build Community."
Weaving personal stories throughout the workshop, McLean defined transformational leadership, explained the difference between leading and managing, discussed conflict resolution strategies, and shared her own personal views on leadership.
"Transformational leadership is a kind of leadership that causes change, envisions the future, and emboldens leaders. Leaders think broadly — where are we, and where do we need to go?" McLean said.
Dealing with conflict is inevitable and unavoidable, McLean told students. One must first acknowledge the conflict, then clarify the issue to find the underlying causes before you can resolve the conflict.
"Transformative leaders bring involved parties to the table to create a sense of fairness. They identify the solutions, seek agreement, and follow up to monitor the solution," McLean said.
In her workshop, McLean told participants that transformational leaders look for bridges to find a common cause or concern, build a bridge if one doesn't exist, and if they don't see a bridge or can't build one; become a bridge to help the parties move toward resolution. Students were divided into five groups and given real-life scenarios to solve by applying the principles shared during the workshop, with McLean providing feedback to each group.
Rubin focused her seminar on Oct. 27 on her work on the "Four Tendencies." Her talk was titled "Understand Your Tendency: Learn Whether You are an Upholder, Questioner, Obliger, or Rebel and How This Self-knowledge Can Transform Your Leadership." Each tendency, Rubin said, has strengths and weaknesses and identifies how one responds to expectations. Participants took a quiz in advance to determine which moniker best described their individual tendencies. Rubin emphasized that this self-knowledge can help people understand and manage themselves and their relationships with others better.
"When we understand what's true for us, we gain more compassion for others, and also for ourselves," Rubin said.
Rubin explained that there is no right or wrong tendency, rather it is understanding one's own tendency that fosters self-awareness and self-empathy.
"The fact is no one is right, and no one is wrong. We just have our own way of working. So, the question is not who should prevail," said Rubin. "Is there a solution that would allow everybody to thrive to be their happiest, healthiest, most productive?"
The week culminated with a conversation between Dean Heather K. Gerken and former Secretary of State Hillary Clinton '73 before a capacity crowd in the Levinson Auditorium, where Clinton described her career path and how she defines leadership.
Clinton said leaders are found at all levels and in various settings — families, communities, organizations, businesses, universities, and more.
"For me, leadership is about setting goals, bringing people together, having the energy and the commitment to follow through on what you say you're going to do," Clinton said. "Having enough of an empathetic or at least connective understanding of the people you are trying to lead so that they will follow your leadership. Because a leader without followers is not much of a leader."
WATCH THE VIDEO: Dean Heather K. Gerken in Conversation with Hillary Rodham Clinton '73
In her own experiences, Clinton said she has aimed to work with people who complemented her own strengths.
"I have always believed in my own leadership experiences that it was critically important to surround myself with people who had strengths I didn't have, who had diverse perspectives and experiences I didn't have," she said.
While a student at Yale Law School, Clinton said she didn't have a vision for her future as a lawyer. However, she found a passion in trying to alleviate poverty and other challenges facing children including how the legal system did or didn't serve them. Clinton extended her education by a year to focus on children's health and well-being through work with the Yale Child Study Center. She was part of a movement that was just beginning to bring precise definition to the emerging concept of "child abuse." She believes she was first person from Yale Law School and with a legal background to do rounds to visit with and study abused children at Yale New Haven Hospital.
Clinton discussed her journey in public service as a U.S. Senator from New York and later Secretary of State during the Obama administration, her thoughts on democracy and the political divides of the current moment, and what brings her joy.
"The divides are really deep, and they're exacerbated by disinformation and misinformation and manipulation of people's emotions and identities to the extent that it feels really personal to so many people on literally both sides of the divide," she said.
Dialogue across divides is essential to a vibrant society and a healthy democracy, Clinton said.
"We weren't all raised the same way, we didn't have the same experiences. That can be...really good for making better decisions if we actually listen to each other."
In her closing remarks, Clinton said, "I remain deeply committed to making sure that our country doesn't go backwards, and we don't see our rights stripped away. And, we don't see authoritarians assume power, because I agree that we're in a fight between democracy and autocracy. You know, there's a lot of examples of autocracy going on in the world today. I want us to continue to be the beacon of democracy, and that's not going to be easy."
Don Carlson, Senior Executive Director for The Tsai Leadership Program emphasized the common theme of self-reflection that permeated the week's events.
"What passes for 'leadership' is so often just unreflective reaction," he said. "Transformational Leadership Week showed us that our approach to leadership can be so much more thoughtful and intentional if we take the time to understand ourselves better. We can't hope to understand the needs of others and lead them effectively until we better understand our own emotions, needs, values and priorities. The week's motto could be, 'Leader, know thyself.'"
The Tsai Leadership Program, launched nearly a year ago, seeks to develop a curriculum for the next century as well as to teach critical skills to develop future leaders who are ready to tackle a diverse set of challenges in the private and public sectors.
For more information on The Tsai Leadership Program, visit the website.