Thursday, June 1, 2023
---
Fostering Future Changemakers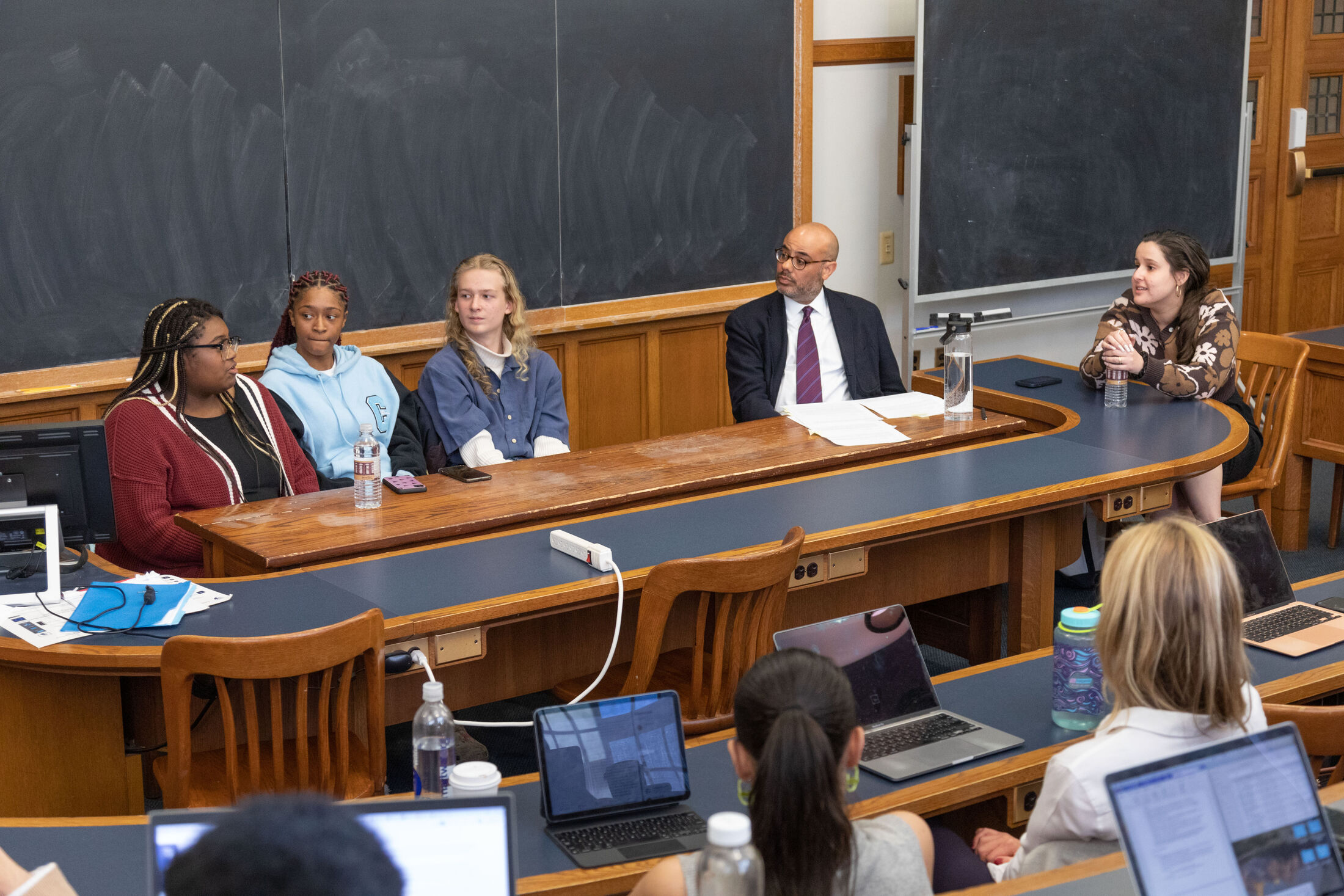 Cooperative Arts and Humanities High School students Jordan Nixon, Alina Bajomo, and Matthew Judd speak to Professor Justin Driver's Education Law class with YLS student Emma Perez '23.
The students in Michael Greer's history class at Cooperative Arts and Humanities High School (Co-Op) in New Haven are in for a uniquely compelling lesson plan. The topic: constitutional law. 
Their teacher for the morning is Emma Perez '23, a Yale Law School student who has been discussing the fundamentals of the Constitution with them, particularly in regard to the First and Fourth Amendment rights for students in schools, throughout the 2022–2023 school year.
"I think this material is so important because it allows students to conceive of themselves as rightsholders and changemakers, rather than just subjects of rules and discipline," said Perez. 
The class is part of the Marshall-Brennan Constitutional Literacy Project, a national civics education program that sends law students into public high schools to teach courses in constitutional law and oral advocacy. Perez, who plans to pursue a career as an adolescent public defender after graduation, is one of several Yale Law School students who volunteer as teaching fellows in the program, which partners with New Haven Public Schools (NHPS). Robert R. Slaughter Professor of Law Justin Driver is the faculty advisor for the program at YLS.
In the classroom, NHPS students are encouraged to reflect on the law and challenge perceived injustices through critical thinking and oral advocacy in addition to learning the basics of their constitutional rights. Broderick Johnson '23, who taught at James Hillhouse High School this past school year, explained the topics that he covered in class. 
"We began with foundational lessons on civics, the role of the Constitution, and how the courts work. We have also focused on the equal protection clause of the 14th Amendment and traced the constitutional battles for racial equality from slavery to affirmative action. One of the main features of the Constitutional Literacy Project course has been preparing students for moot court competitions where students can showcase what they have learned through oral arguments about hypothetical appellate cases. This year's case presented interesting First and Fourth Amendment issues concerning whether and when a school can ban books from campus and when a school official can legally search a student's bag without consent."
Yale Law School students feel called to participate in the program for various reasons. Some were drawn to the opportunity to teach young thinkers, while others see it as a chance to become more connected to the New Haven community. For Nathan Hernandez '24 — who taught with Johnson at Hillhouse — it was both. 
"I was excited to teach! I had a teacher in high school whom I credit for changing the trajectory of my life. I had a kind of rough upbringing, but she expanded both the way I viewed my future and taught me that I could demand more of myself and my community to help those in need. I figured that if I could pay even a tenth of that forward that this would be a rewarding effort," said Hernandez. "I was also attracted to the opportunity to see more of and do more in our community here in New Haven."
The program is a substantial time commitment for the Law School students and requires a significant amount of work outside of the classroom in addition to their own heavy academic load. They commit to traveling to Washington, D.C., for the national moot court competition and overseeing the daylong moot court competition at the Law School, all of which is unpaid. 
"[The Marshall-Brennan program] lets students who will soon be able to participate in our democracy know that the Constitution is theirs and encourages them to take up their duty of citizenship."—Broderick Johnson '23
Johnson said his involvement during this past school year included attending and preparing lesson plans for his 80-minute class which met two to three times a week and helping students prepare for two moot court competitions. Despite the great deal of heavy lifting that teaching required, he felt it was well worth it. 
"Education opened doors in my life to opportunities that I never could have imagined when I was in high school," said Johnson, who is a first-generation college graduate from a low-income background. "I wanted to get involved with the Marshall-Brennan program because it's important that kids understand that opportunities like these are out there, and that students dream big and appreciate the agency that education offers."
The class culminates with the moot court competition at the Law School in the spring, where NHPS students have the chance to showcase the legal knowledge and public speaking skills that they have been mastering throughout the year. The event is especially touching for the YLS fellows, who get to see how far their students have come since the beginning of the school year. 
Watching the students develop an understanding for the law and its real-world implications has been one of the most rewarding aspects of the program for the fellows. Aaron Siegel '24, who taught with Perez at Co-Op, noted how students were able to apply what they learned in the classroom to a situation taking place at their school.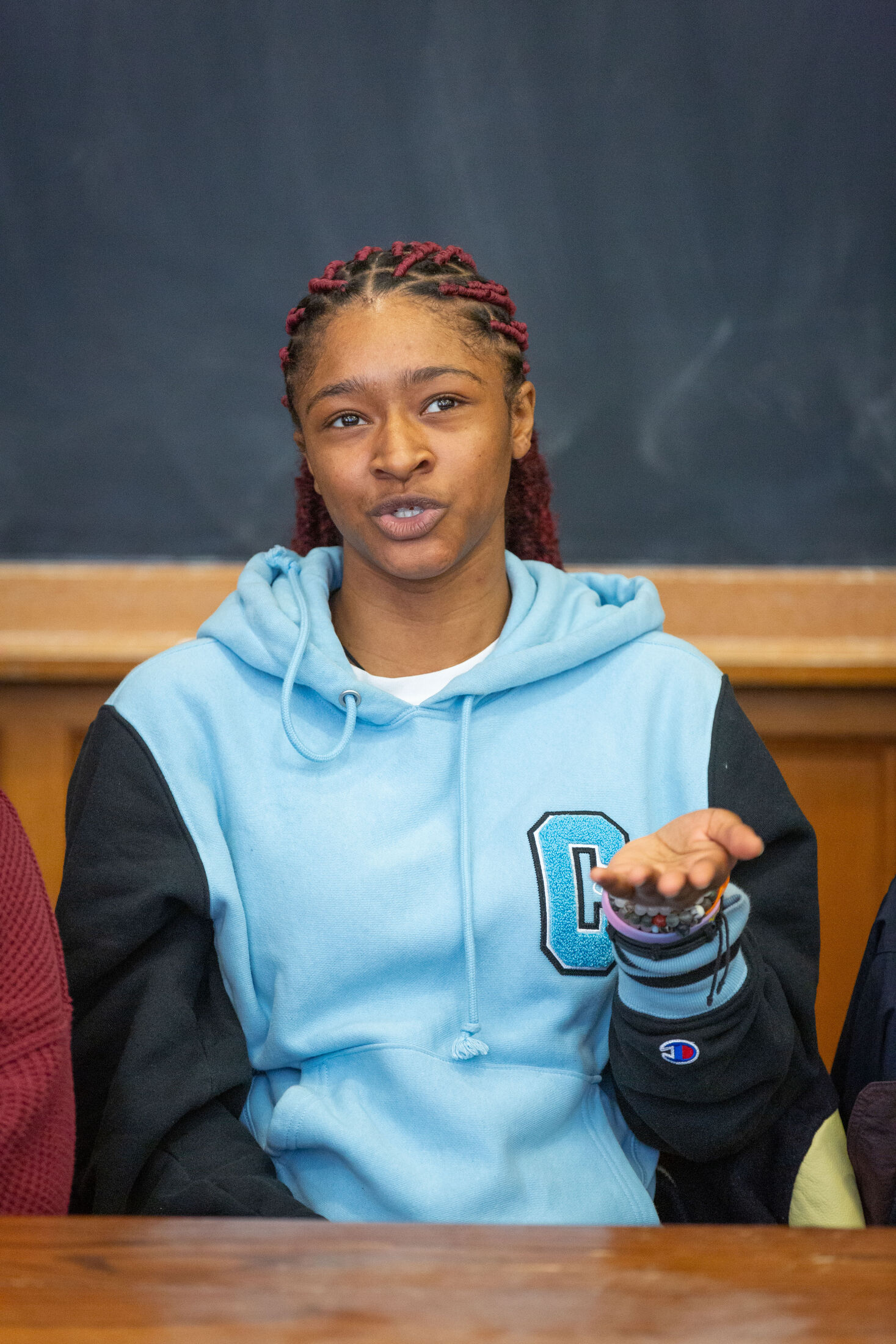 "One of my favorite memories, amidst all the laughs and fun, was last year when there were protests at the school about an incident involving something inflammatory a teacher had said in another class. The students had a method of thinking through the First Amendment issues posed by the incident and the resulting protests. We saw them able to apply what they were learning to a live issue in school."
Hernandez recalled a similar event that took place in his class at Hillhouse.
"There was a day when one of our kid's friends was messing with his backpack, and he started yelling out 'TLO!' [referring to the landmark case of New Jersey v. T.L.O, which determined that public school officials cannot conduct unreasonable searches and seizures under the Fourth Amendment] which we'd covered in class."
In addition to gaining a deeper understanding of constitutional law, NHPS students walk away from the program with the knowledge of how they can create impactful change in the world and the confidence that will empower them to do so. 
"Ideally, they'll finish the year more confident in their public speaking abilities, which we hope will pay dividends throughout their lives. But we also want them to finish the course with an understanding of the bedrock principles that our nation was founded upon, an understanding of how the constitution shapes their lives, and a desire to join our constitutional conversation," said Hernandez. "We have really robust, respectful disagreement among the class on nearly all the issues we cover, and so I hope this experience leaves them feeling better equipped and excited to participate in our democracy." 
Perez said that watching her students develop their confidence over the course of the school year has been one of the most gratifying parts of the program for her. 
"It has been deeply personally fulfilling to work with students as they come into their own and form their own ideas of the world. I hope that my students walk away with a clearer understanding of the law and power, as well as their place in the system," she said. 
Overall, the program has proven to be a significant experience for the Yale Law School students and becomes increasingly vital in today's political climate. 
"Marshall-Brennan has been one of, if not the, most meaningful aspects of my time at YLS," said Siegel. "In any legal education, it's so important to have the perspective of people who have not yet been inculcated with legal jargon and made-up rules. It's especially important if that perspective comes from kids who are beginning to grapple with questions of laws and rights, and how we should engage as a society." 
Johnson added, "This program is particularly important in 2023 as threats to democracy have become more fierce and faith in the Supreme Court and other governmental institutions has significantly diminished. The Marshall-Brennan program is democratic constitutionalism in action. It lets students who will soon be able to participate in our democracy know that the Constitution is theirs and encourages them to take up their duty of citizenship."